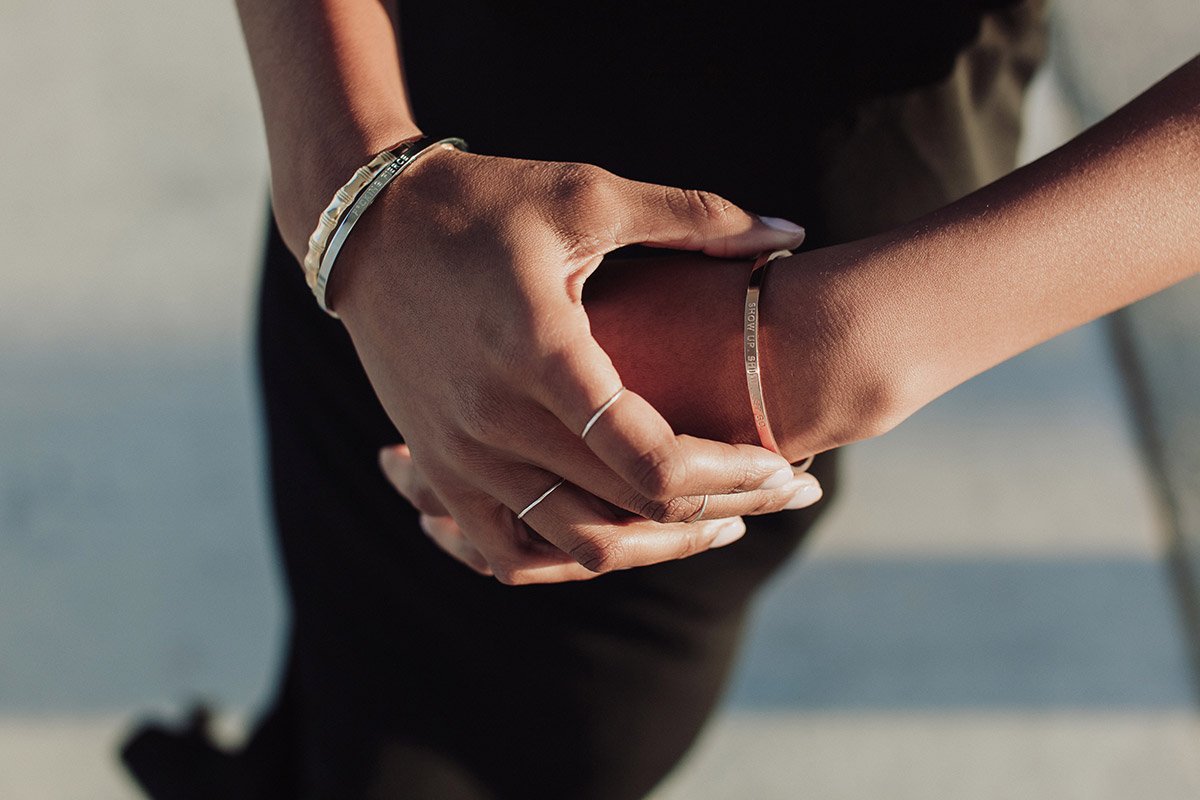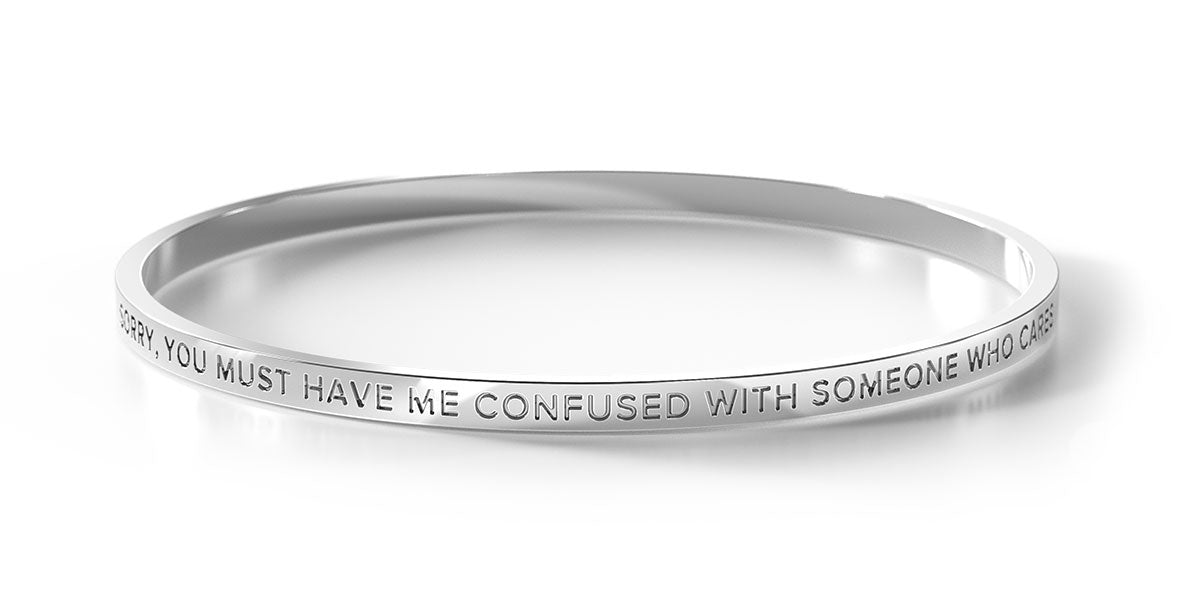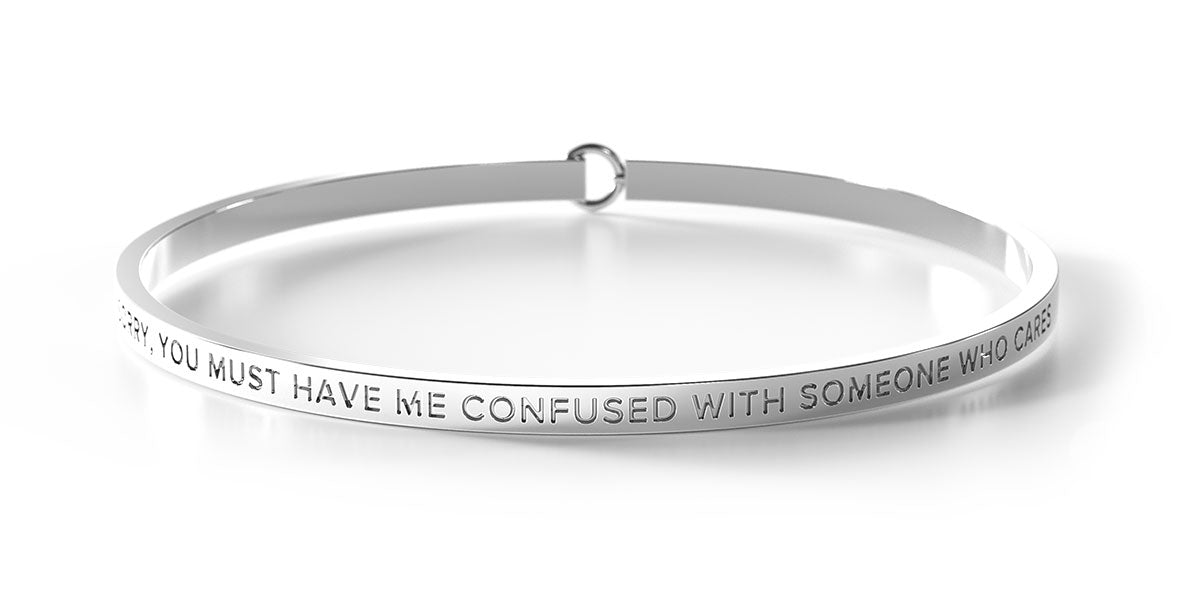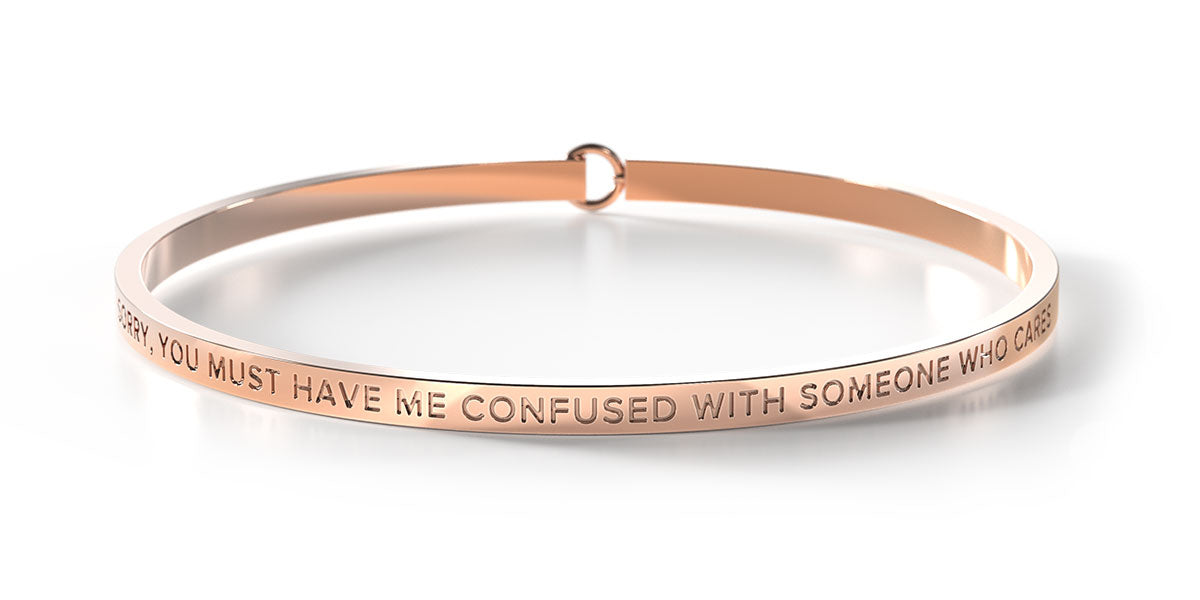 Sorry, You Must Have Me Confused With Someone Who Cares
 I actually don't fucking care sometimes.
But I feel compelled to act like I do.
As a Mum, there's plenty I do have to pretend I care about:
Roblox
The LA Lakers
Beanie Boos
Someone's new puppy and how its the cutest puppy EVER
Stranger Things, Cobra Kai, YouTube idiots commentating on other YouTube idiots
So I don't have any extra mental "pretending to care " space for other BS people feel compelled to share
Your imaginary sports team that you spend hours selecting
Any dream you have had at any point of your life 
Your daily outfit posts on Instagram 
What you are going to eat, are eating or have eaten ever
What you make doing craft with your kids on a rainy day
Maybe I look interested?
Sorry, You Must Have Me Confused With Someone Who Cares
So this bangle is for those of you
Fresh out of fucks but still playing the game
Politely nodding at the supermarket and
Wearing headphones at your desk

Hitting the obligatory likes on Facebook
And unnecessary hearts on Insta
Because it is much less rude than saying
Sorry, You Must Have Me Confused With Someone Who Cares
x
 

Orders dispatched Monday, Wednesday & Friday mornings Melbourne time.

We offer Free Shipping (2 - 5 business days delivery) for all Australian jewellery orders! 

Orders including Clothing are flat rate $10 Australia wide.

You can upgrade to Express Post (2 - 4 days business days delivery) for just $10!

Internationally:
It takes 3 - 5 weeks to be delivered, and you can track your order through Australia Post. Shipping starts at $15.

If a product has been indicated as ** PRE-ORDER ** this means it's not in stock (yet). Usually these will be sent in 4 - 5 weeks from order. However, please refer to the product page for the exact details.

If you have ordered a Custom Bangle, these are made to order and will take around 7 -10 days to arrive 

Returns & Exchanges

Our bangles are designed to make you feel happy, empowered and freakin' awesome - so if there is a problem, we gotta fix it!

If you've accidentally ordered the wrong size or are not happy with your bangle, we'll be happy refund you, and then you can order the correct one! For more details you can read our returns & exchanges policy.
Product details

Our bangles are made with love from high quality stainless steel. They are 100% hypoallergenic, and nickel & lead free.

Size & Fit

If you're not sure what size to choose please use our sizing chart to help you find your way. You'll need to measure the widest part of your hand / knuckle circumference, while your hand is mooshed. (And yes, mooshed is a word). 

If you're still totally stuck, we recommend that you purchase a regular size bangle. We do offer exchanges if it doesn't fit!

Clasp bangles

Thinking of getting one of our clasp style bangles? Great! The clasp style bangle  eliminates the need for you to base your sizing on your hand. It can be stretched out to fit over wrists instead, woo! It's a regular size (63.7mm) when closed. 

The clasp fits around 80% of people so it is perfect for gifting!


Bangle not available in your size or preferred colour? Consider ordering it as a Custom Bangle!
Choose options