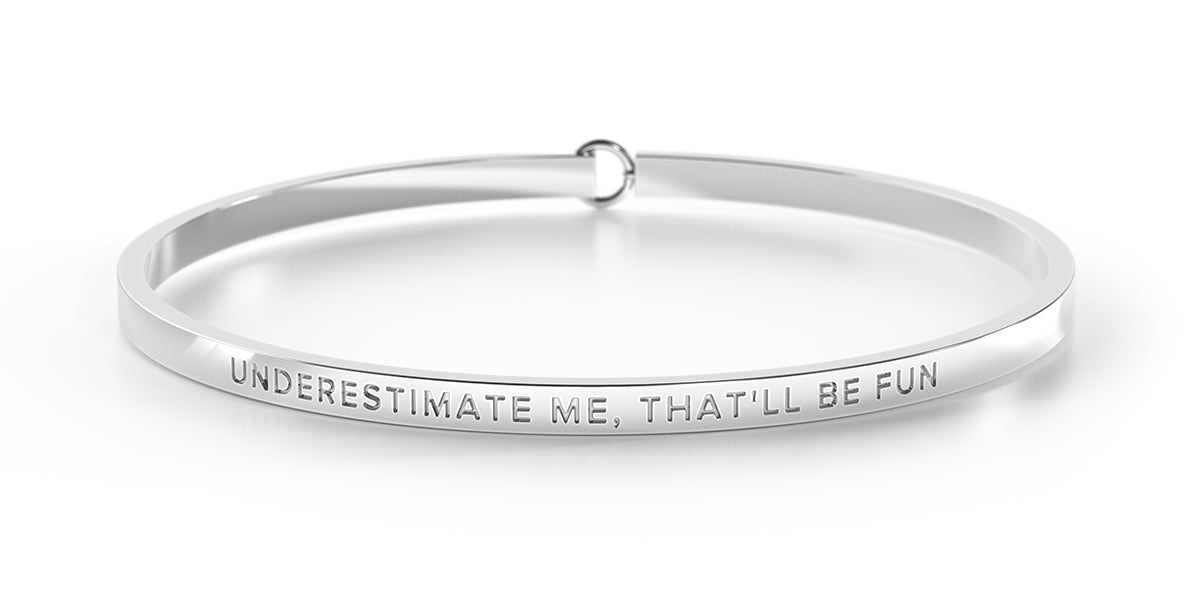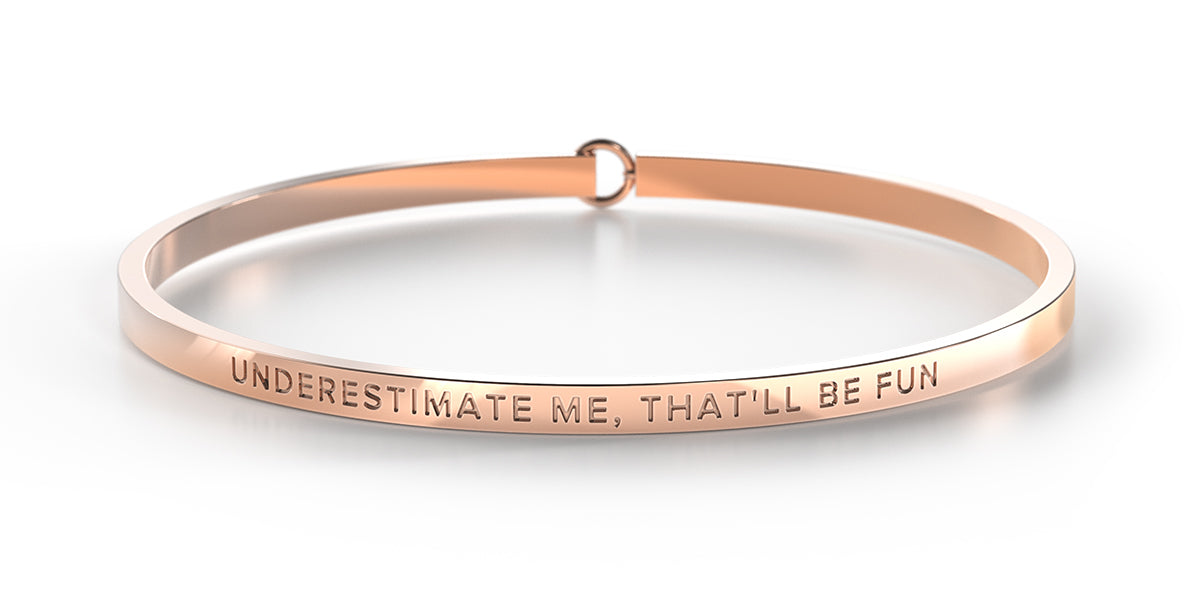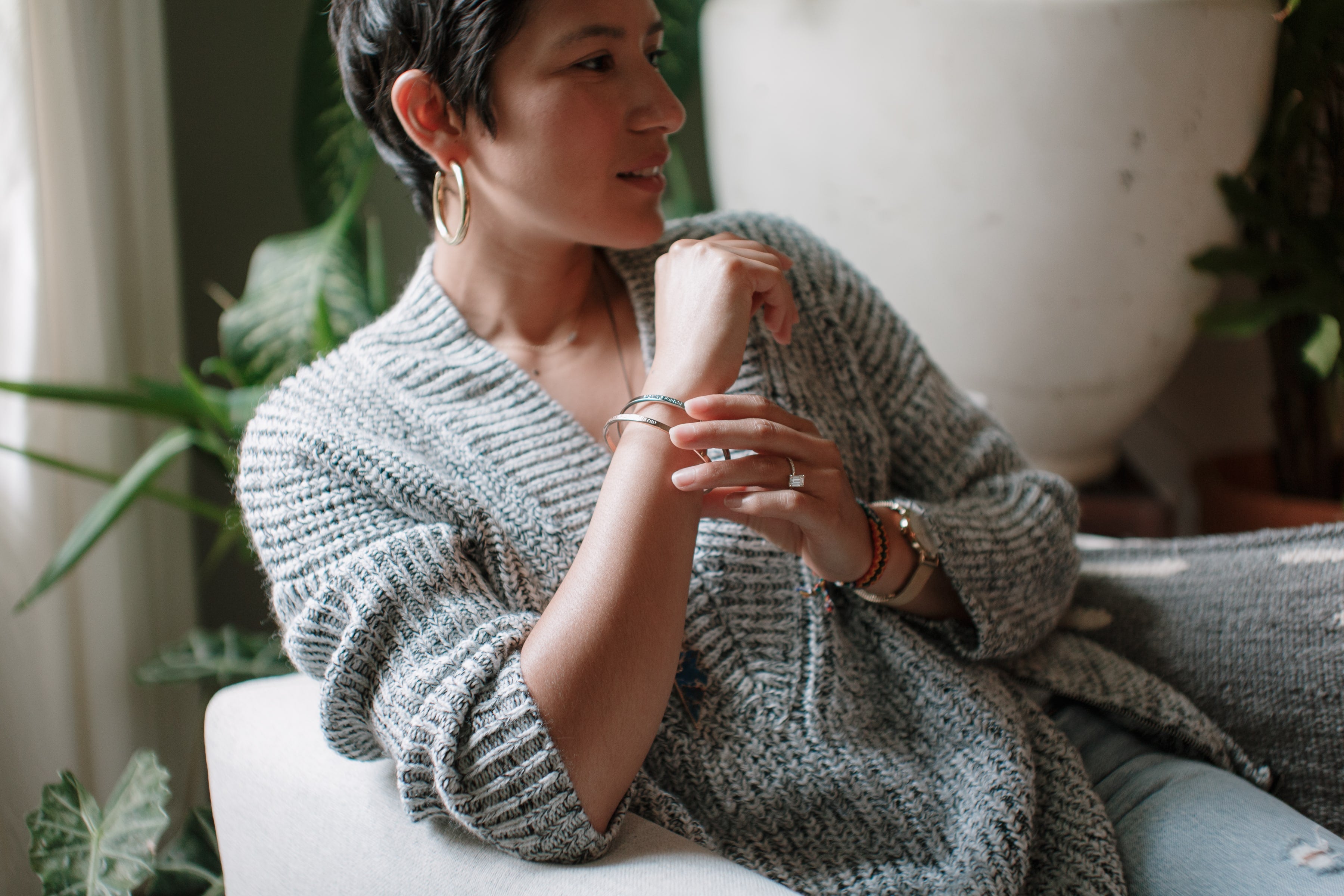 Underestimate Me, That'll Be Fun
I wasn't really supposed to amount to anything. 

At least in the eyes of the people who supposedly 'knew me best'. 
As a kid, I got labelled early on as 'the difficult child'. You know - the ones won't just shut up and follow the rules. I was too outspoken. Too loud. I questioned authority. And as I moved into my teenage years, I was way too rebellious and uncontrollable. 
I had 'the bad kid' label slapped onto me, and I was never expected to do much with my life. Apparently my mother said I was the child 'most likely to end up jail'. (Thanks for all the support mum. Lol.)
It took me a long time to realise that they were wrong. 
And even longer to realise that I was capable of far more than I'd ever been told that I was. 
There is no one in the world that knows how strong you are - no one but you.
But yet, there are people in the world who believe they do. 
They think they know your limits. 
They think they know exactly what you can and can't do. 
Sometimes they'll wrap their beliefs up in those little passive-aggressive digs.
"Maybe this is too much for you…"
"Are you sure you're up for this?"
"Why can't you just be like X instead…"

"Remember when you... (point out a minor shortfall that happened ages ago to dampen your spirits)"
It's like they take some kind of joy in sucking the life out of you when you're excited about something new. A new project, new job, new relationship. 
"Do you really think you can do this?" they say.
Or the worst one goes like

"Sure, that's great. Good for you." (read: I see you're excited, but I don't think you're capable enough to follow through. I don't want to cause any issues by bringing it up so I'll just agree and change the subject.)
You know what I want to say to these people?
Thank you.
Because every. Single. Time. you questioned my skills, my abilities, or what I was capable of?
It unleashed a superpower.
A sense of determination that only doubt could create. 
A superpower that started with the thought 'Underestimate me, that'll be fun."
And after that, you bet I smashed every single challenge I took on. 
I wasn't supposed to build a non-profit organisation that raised millions of dollars for women and girls (and is still going today).
Underestimate me, that'll be fun.
I wasn't supposed to raise $10,000 to launch this bangle company - oh, and then I raised $25,000 in 3 weeks just for good measure.
Underestimate me, that'll be fun.
I definitely wasn't supposed to survive an incurable illness and 3 year saga of leaving abusive relationships, families and losses.
And yet, I did. 
In spite of every single person that doubted me. 
So now I can say quite proudly.
Underestimate Me, That'll Be Fun.
'Cause the ones that said 'you can't' or 'you won't' are the ones who are scared that you will.
Stick it to them and repeat after me.
Underestimate Me, That'll Be Fun.
And then show them what you're made of.
Pssst... are you wanting this one in our solid sizes? you can order it as a Custom Bangle here.
 

Orders dispatched Monday, Wednesday & Friday mornings Melbourne time.

We offer Free Shipping (2 - 5 business days delivery) for all Australian jewellery orders! 

Orders including Clothing are flat rate $10 Australia wide.

You can upgrade to Express Post (2 - 4 days business days delivery) for just $10!

Internationally:
It takes 3 - 5 weeks to be delivered, and you can track your order through Australia Post. Shipping starts at $15.

If a product has been indicated as ** PRE-ORDER ** this means it's not in stock (yet). Usually these will be sent in 4 - 5 weeks from order. However, please refer to the product page for the exact details.

If you have ordered a Custom Bangle, these are made to order and will take around 7 -10 days to arrive 

Returns & Exchanges

Our bangles are designed to make you feel happy, empowered and freakin' awesome - so if there is a problem, we gotta fix it!

If you've accidentally ordered the wrong size or are not happy with your bangle, we'll be happy refund you, and then you can order the correct one! For more details you can read our returns & exchanges policy.
Product details

Our bangles are made with love from high quality stainless steel. They are 100% hypoallergenic, and nickel & lead free.

Size & Fit

If you're not sure what size to choose please use our sizing chart to help you find your way. You'll need to measure the widest part of your hand / knuckle circumference, while your hand is mooshed. (And yes, mooshed is a word). 

If you're still totally stuck, we recommend that you purchase a regular size bangle. We do offer exchanges if it doesn't fit!

Clasp bangles

Thinking of getting one of our clasp style bangles? Great! The clasp style bangle  eliminates the need for you to base your sizing on your hand. It can be stretched out to fit over wrists instead, woo! It's a regular size (63.7mm) when closed. 

The clasp fits around 80% of people so it is perfect for gifting!


Bangle not available in your size or preferred colour? Consider ordering it as a Custom Bangle!
Choose options