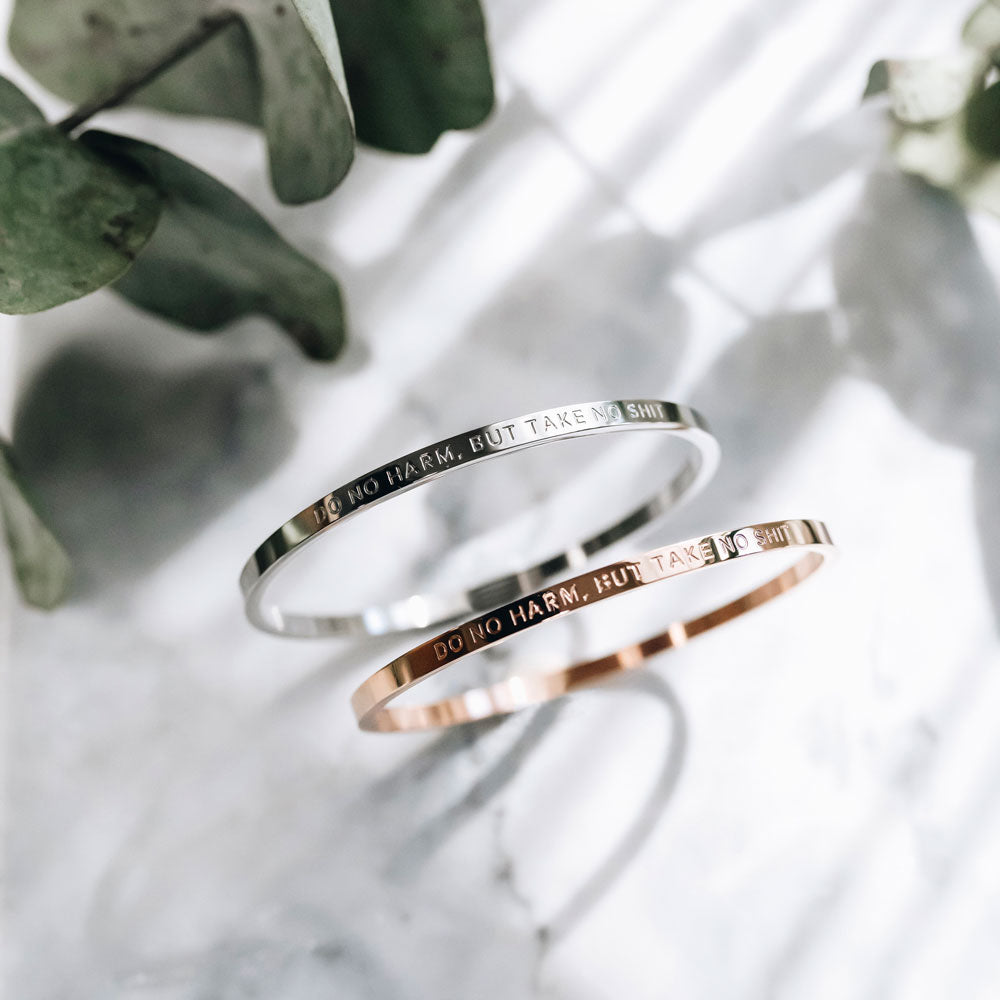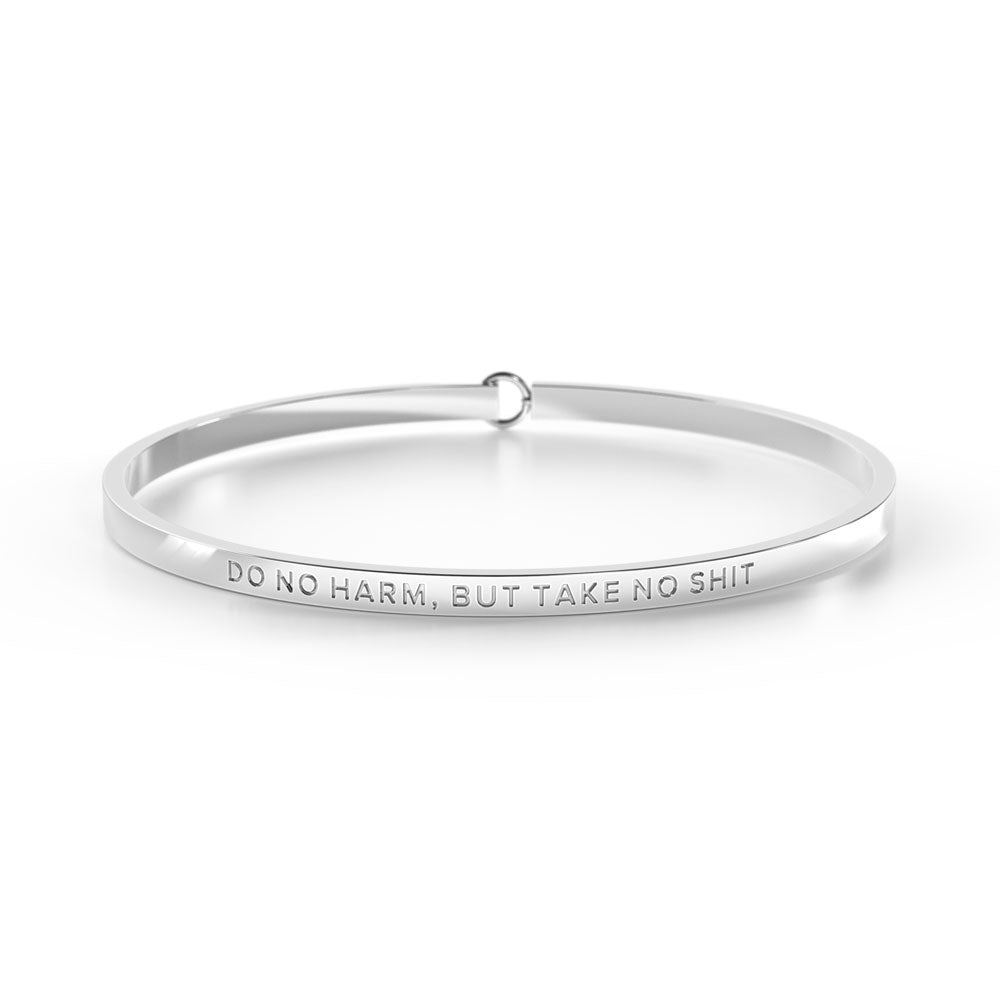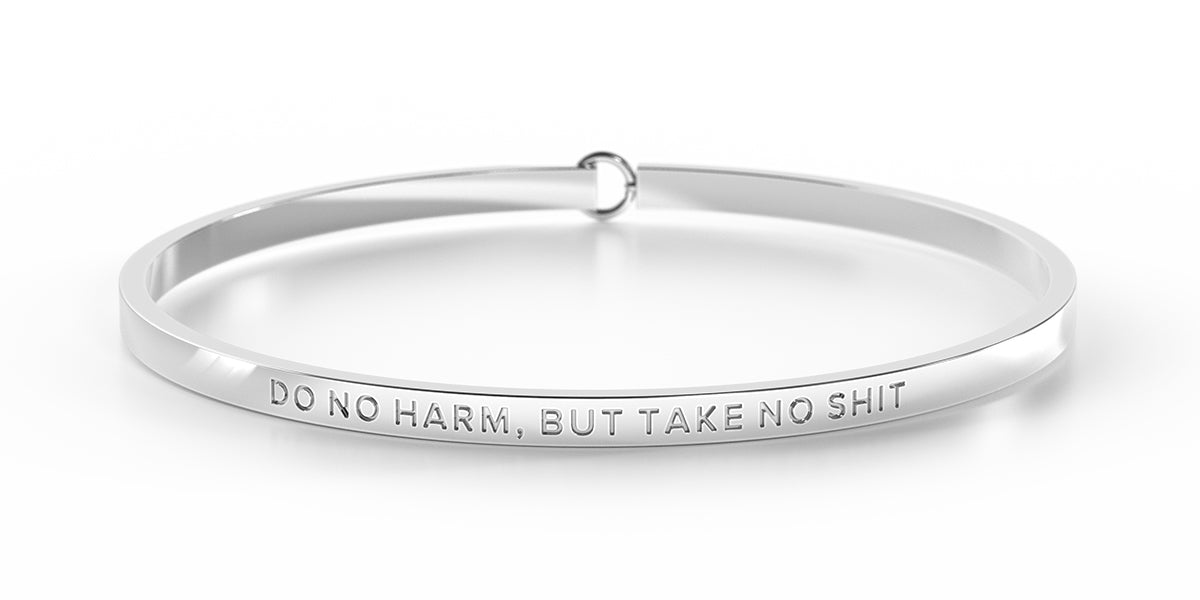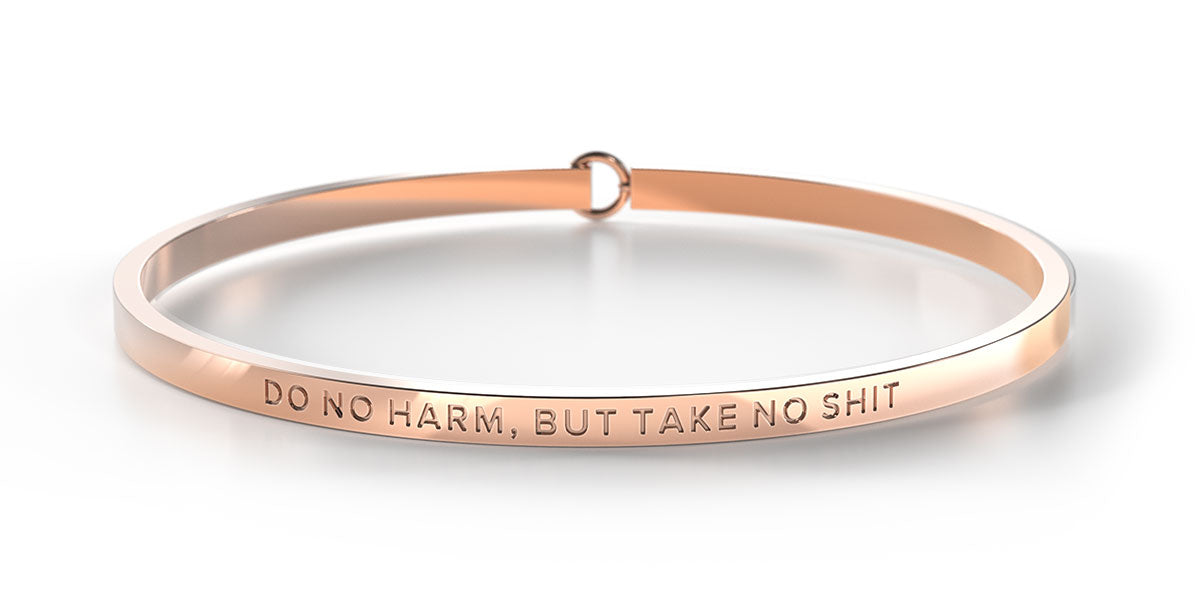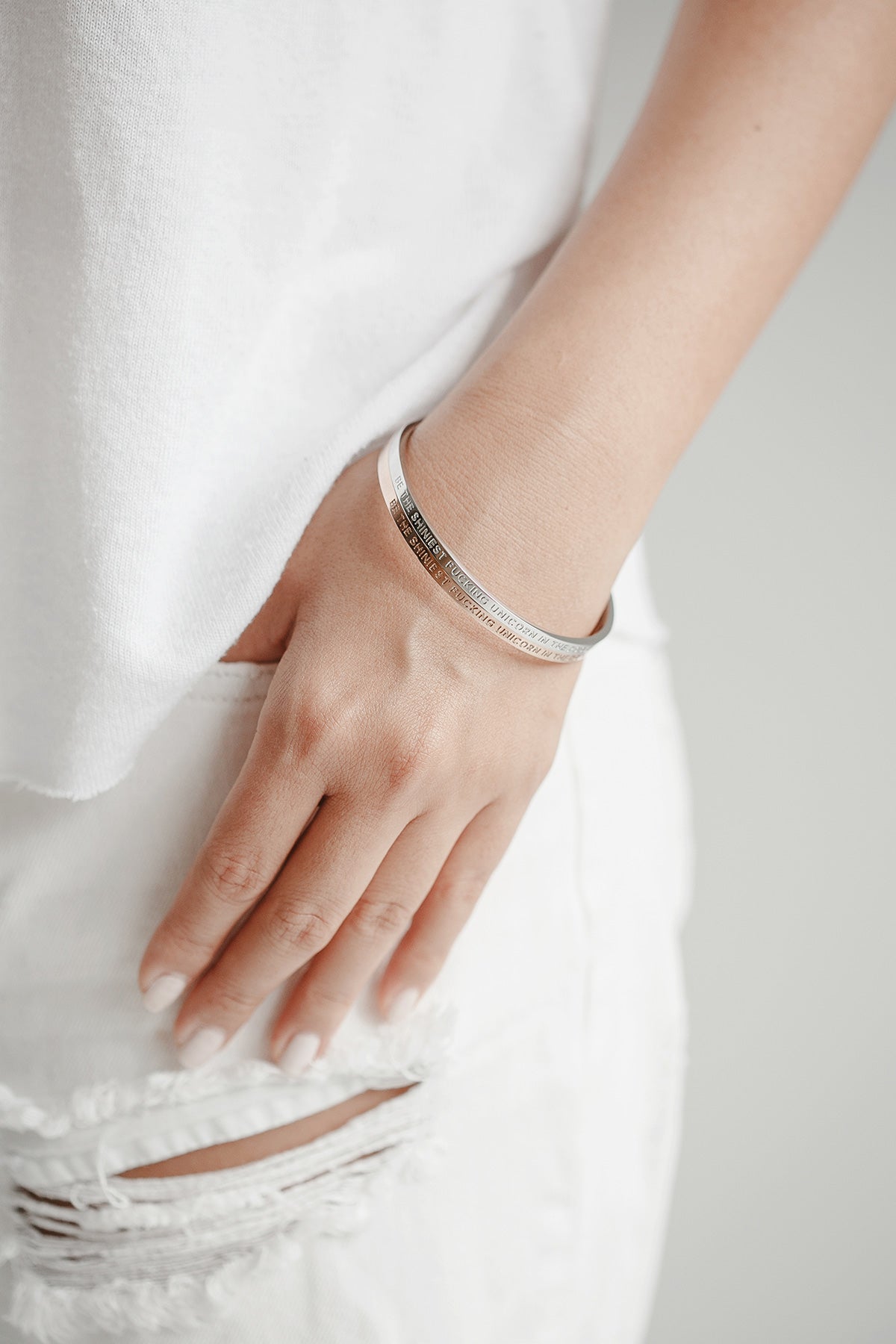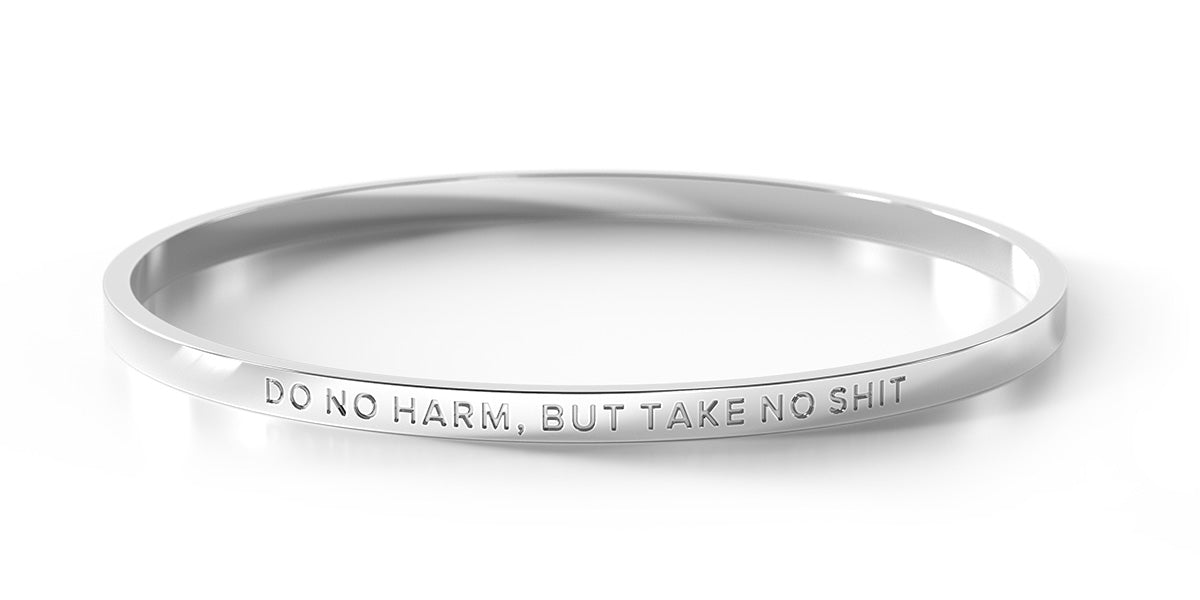 Do No Harm, But Take No Shit
This one is for the people-pleasers, and the women who struggle to stand up for themselves.

Do No Harm, But Take No Shit.

I like to think of myself as a reformed people pleaser.

But for the first 3 decades of my life? Not so much.

I can't even count the number of situations where someone has said something, done something or acted in a way that didn't sit well with me.

That time a family member was leaving nasty comments on the Be. Bangles page? I let that go on for a few months before I finally banned her from the page. And in staying true to my people-pleasing origins, I then APOLOGISED to her for banning her, even though she was the one trolling me. (Goddamn gurl).

The time a housemate kept telling me how I was 'allowed' to live in the house we were both paying for? I towed the line and did everything she told me to do until I finally spoke up 3 months later. (It didn't go well).

The times when an employee would give me the silent treatment every time I gave her feedback or asked for changes to her some of her work? I never said anything. I freaked out that she was ignoring me and just stopped giving feedback.

For most of my life I've carried the belief that it's more important to be "nice" and "liked" than to speak up about my own opinions and needs.

I put my own needs at the very bottom of the list, and operated as a dirt eater. It's like I had a label on my head that said - "Oh, you want to kick dirt in my face? Go ahead! Do it! And then, with a mouth full of mud, I'll apologise to you and make excuses for your behaviour."

Oh man, and the excuses I made were endless.

"Maybe they didn't mean it."

"Maybe I'm reading it wrong."

"Maybe they're just having a really bad day."

"I don't know what's going on in their life, this probably isn't about me."

And I know I'm not the only one guilty of this. I wonder how many women reading this email are 'putting up with' situations for the fear of being disliked. Or not rocking the boat. Or wanting to please people rather than speak up about what's important to them.

Well, consider this bangle a wake-up call.

Do No Harm, But Take No Shit.

You deserve to be treated with respect.

You have the right to say what is and isn't okay with you.

You don't have to take shit from ANYONE. EVER.

Like seriously, EVER.

Do No Harm, But Take No Shit.

So, to my fellow people pleasers and dirt eaters. Now's the time. Speak up, stand up and take no shit.

Do No Harm, But Take No Shit.
Quote from - Moïra Fowley-Doyle, Spellbook of the Lost and Found
Pssst... are you wanting this one in our solid sizes? you can order it as a Custom Bangle here.
 

Orders dispatched Monday, Wednesday & Friday mornings Melbourne time.

We offer Free Shipping (2 - 5 business days delivery) for all Australian jewellery orders! 

Orders including Clothing are flat rate $10 Australia wide.

You can upgrade to Express Post (2 - 4 days business days delivery) for just $10!

Internationally:
It takes 3 - 5 weeks to be delivered, and you can track your order through Australia Post. Shipping starts at $15.

If a product has been indicated as ** PRE-ORDER ** this means it's not in stock (yet). Usually these will be sent in 4 - 5 weeks from order. However, please refer to the product page for the exact details.

If you have ordered a Custom Bangle, these are made to order and will take around 7 -10 days to arrive 

Returns & Exchanges

Our bangles are designed to make you feel happy, empowered and freakin' awesome - so if there is a problem, we gotta fix it!

If you've accidentally ordered the wrong size or are not happy with your bangle, we'll be happy refund you, and then you can order the correct one! For more details you can read our returns & exchanges policy.
Product details

Our bangles are made with love from high quality stainless steel. They are 100% hypoallergenic, and nickel & lead free.

Size & Fit

If you're not sure what size to choose please use our sizing chart to help you find your way. You'll need to measure the widest part of your hand / knuckle circumference, while your hand is mooshed. (And yes, mooshed is a word). 

If you're still totally stuck, we recommend that you purchase a regular size bangle. We do offer exchanges if it doesn't fit!

Clasp bangles

Thinking of getting one of our clasp style bangles? Great! The clasp style bangle  eliminates the need for you to base your sizing on your hand. It can be stretched out to fit over wrists instead, woo! It's a regular size (63.7mm) when closed. 

The clasp fits around 80% of people so it is perfect for gifting!


Bangle not available in your size or preferred colour? Consider ordering it as a Custom Bangle!
Choose options