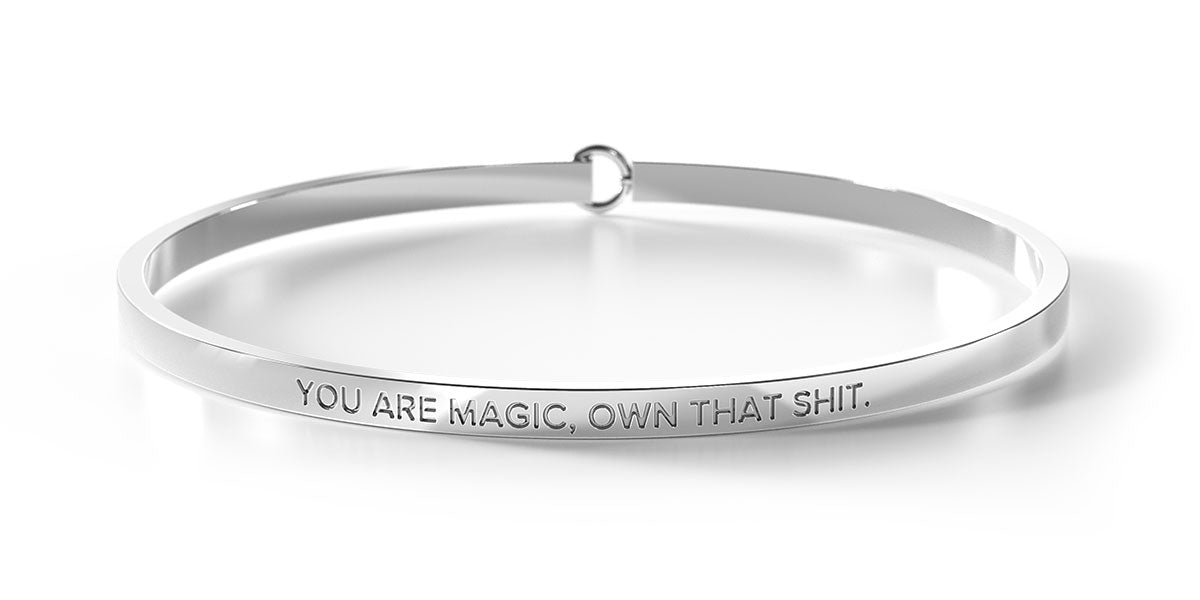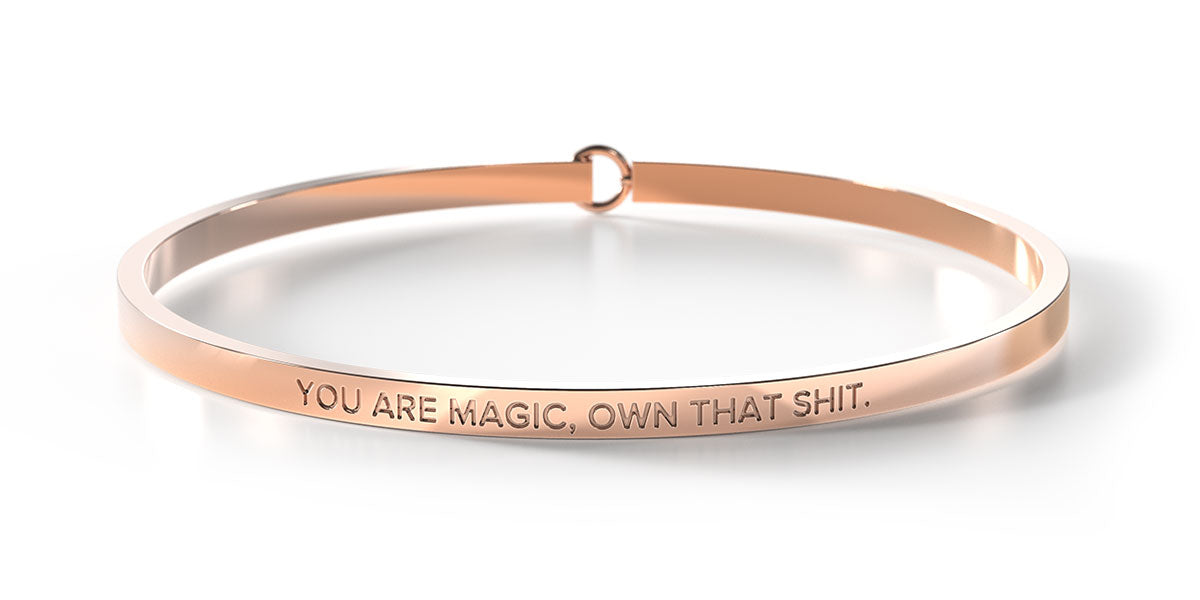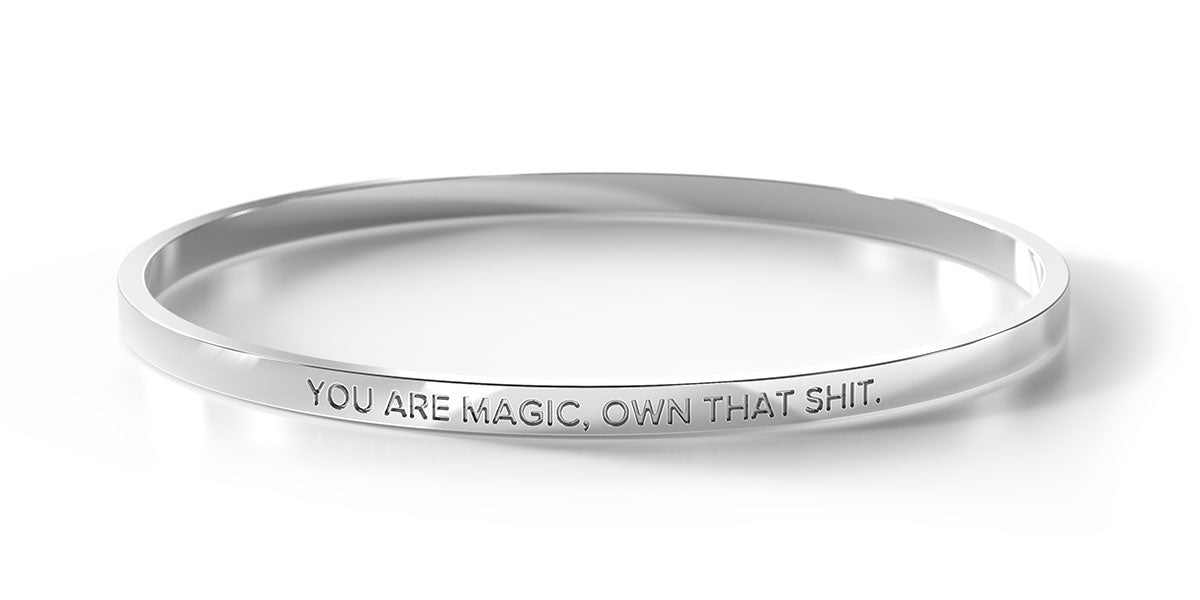 You Are Magic, Own That Shit.
We are all magic in our own way, sometimes we just have a hard time recognising it. We're too close to ourselves and consumed in our thoughts to see just how our magic impacts the world around us. But it's always there.
For those times when you feel lost, we want this bangle to be the friend that reminds you that You Are Magic, Own That Shit.

We all need a friend that reminds us we are magic. And with this, our Be. Team, Nikki and Sarah, have decided to share the reasons why we think of each other as magic. This is what we hope the bangle will serve to everyone, a way to remind yourself or a loved one that they have magic, and that they just need to own who they are.
Without further ado - we give you The Be. Team Magic Compliment-athon: 
"Nikki is magic because she has a heart of gold. She is a beacon of support and is always there to lend an ear or a shoulder to cry on. But on the other hand, Nikki is also strong, and knows her boundaries. She is the most dedicated person you will ever meet, and makes any workplace shine when she is a part of it. Nikki, You Are Magic, Own That Shit. "
- Sarah
"Sarah is magic because she sees what others don't. You might mistake her quietness and think she is enclosed in  her own world, but she sees all and understands more than you would ever know. Extremely bright and creative, Sarah carries "stuff" that would cause most people to stop and take cover, but she continues to push forward with a level of courage that inspires me on my darkest days. There's no-one you would want on your team more than Sarah. She takes our crazy ideas and makes them happen. Sarah, You Are Magic, Own That Shit."
- Nikki
Let this bangle be the reminder you need. Because, You Are Magic, so Own That Shit.
 

Orders dispatched Monday, Wednesday & Friday mornings Melbourne time.

We offer Free Shipping (2 - 5 business days delivery) for all Australian jewellery orders! 

Orders including Clothing are flat rate $10 Australia wide.

You can upgrade to Express Post (2 - 4 days business days delivery) for just $10!

Internationally:
It takes 3 - 5 weeks to be delivered, and you can track your order through Australia Post. Shipping starts at $15.

If a product has been indicated as ** PRE-ORDER ** this means it's not in stock (yet). Usually these will be sent in 4 - 5 weeks from order. However, please refer to the product page for the exact details.

If you have ordered a Custom Bangle, these are made to order and will take around 7 -10 days to arrive 

Returns & Exchanges

Our bangles are designed to make you feel happy, empowered and freakin' awesome - so if there is a problem, we gotta fix it!

If you've accidentally ordered the wrong size or are not happy with your bangle, we'll be happy refund you, and then you can order the correct one! For more details you can read our returns & exchanges policy.
Product details

Our bangles are made with love from high quality stainless steel. They are 100% hypoallergenic, and nickel & lead free.

Size & Fit

If you're not sure what size to choose please use our sizing chart to help you find your way. You'll need to measure the widest part of your hand / knuckle circumference, while your hand is mooshed. (And yes, mooshed is a word). 

If you're still totally stuck, we recommend that you purchase a regular size bangle. We do offer exchanges if it doesn't fit!

Clasp bangles

Thinking of getting one of our clasp style bangles? Great! The clasp style bangle  eliminates the need for you to base your sizing on your hand. It can be stretched out to fit over wrists instead, woo! It's a regular size (63.7mm) when closed. 

The clasp fits around 80% of people so it is perfect for gifting!


Bangle not available in your size or preferred colour? Consider ordering it as a Custom Bangle!
Choose options