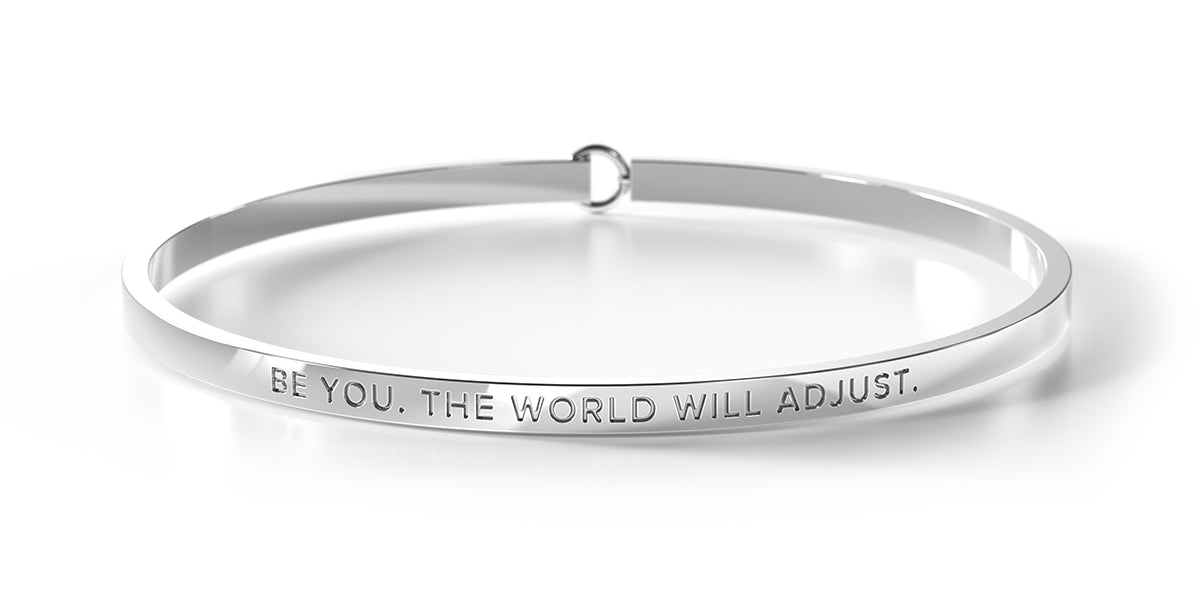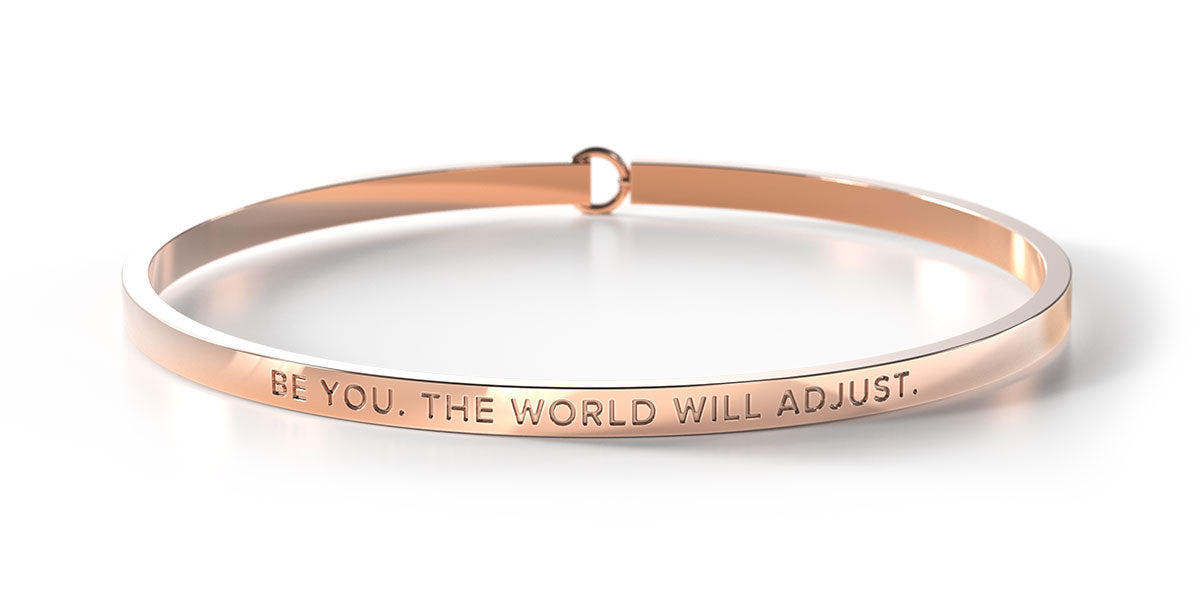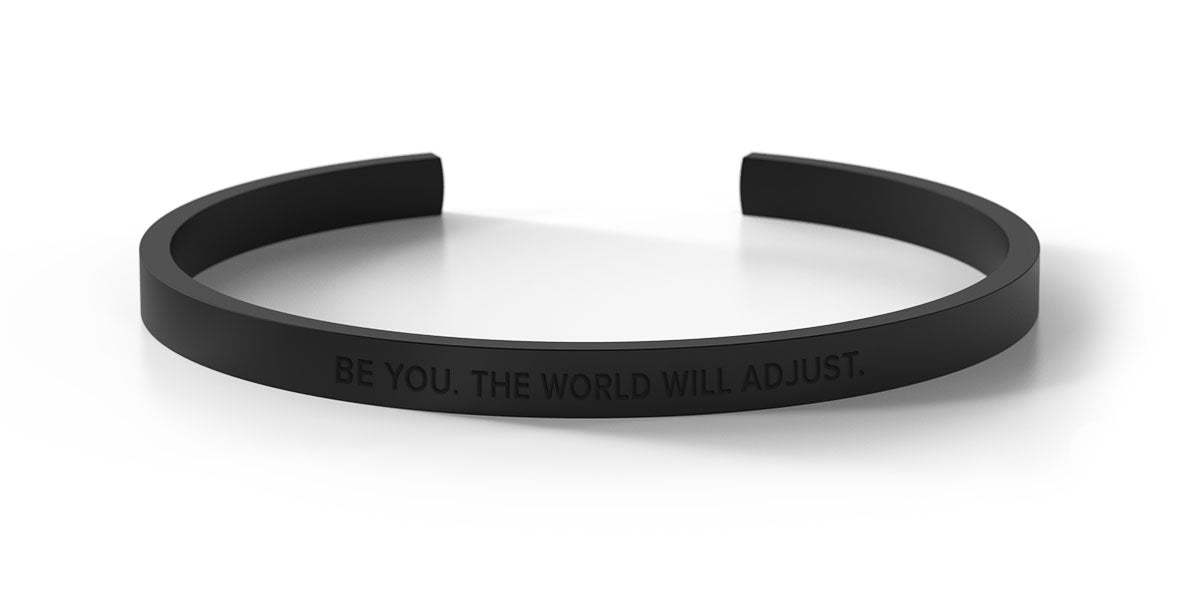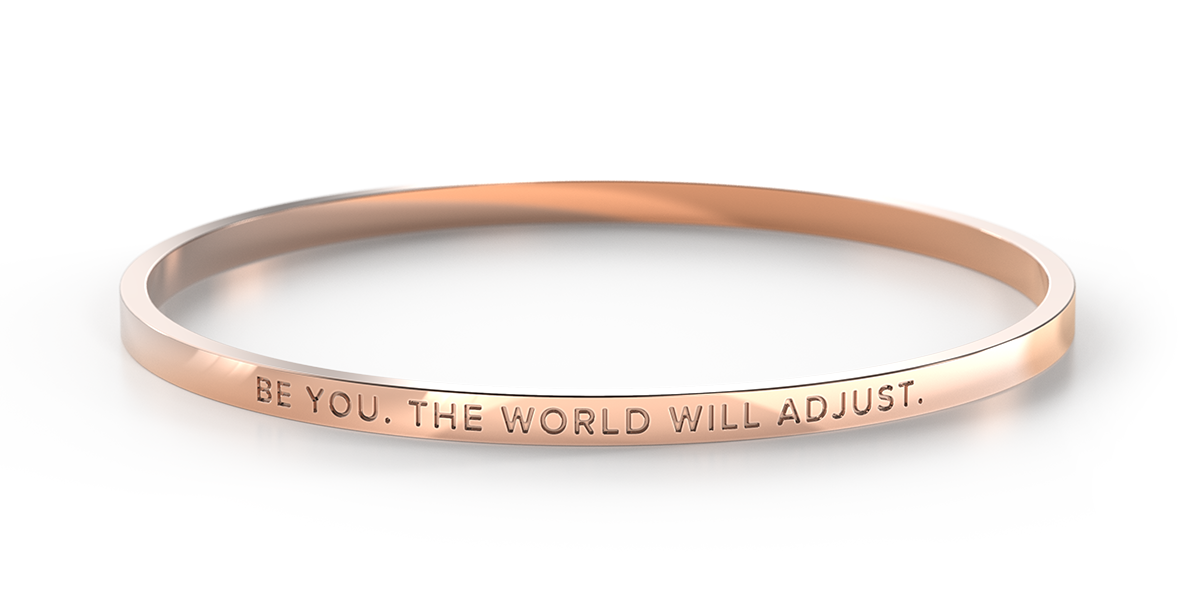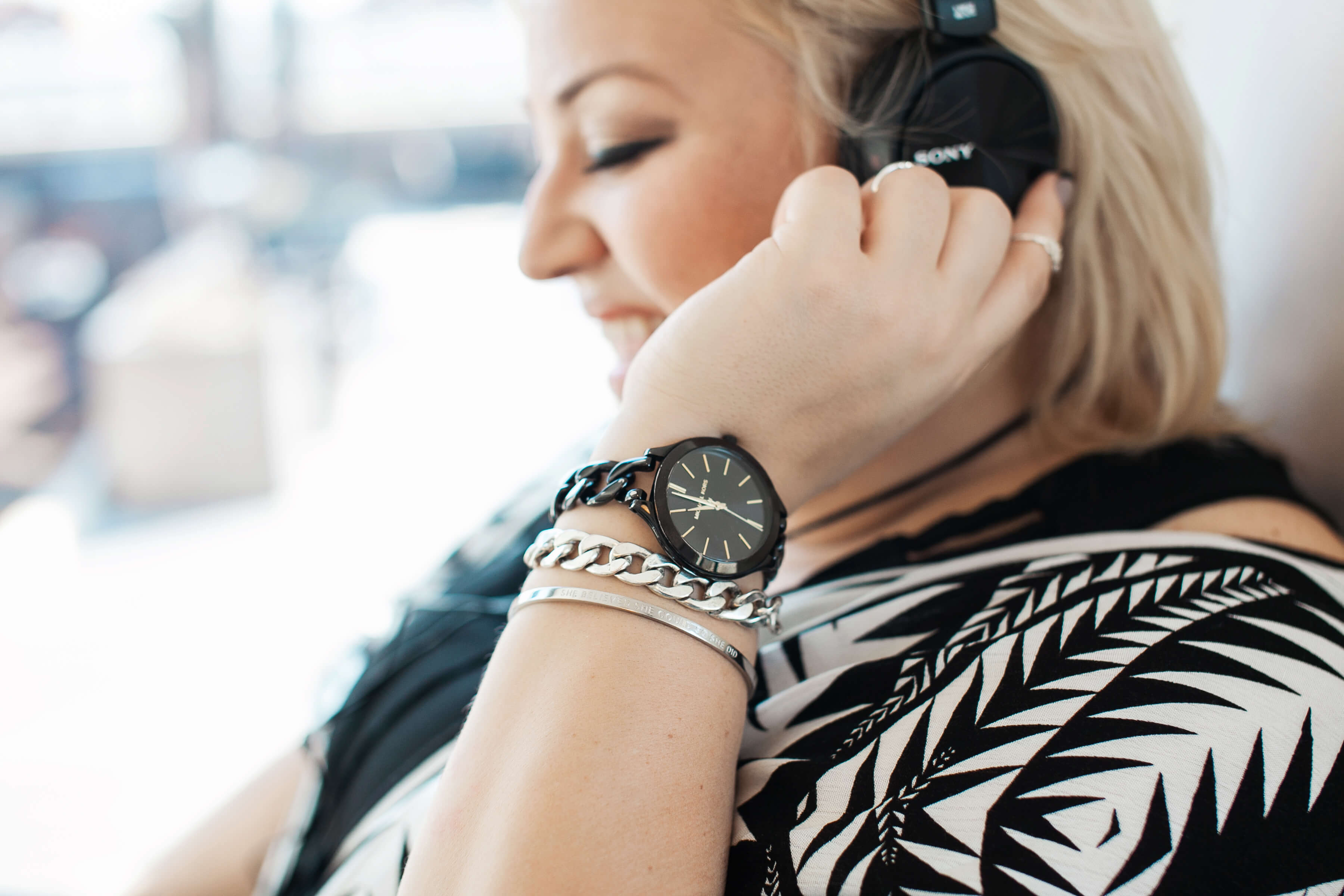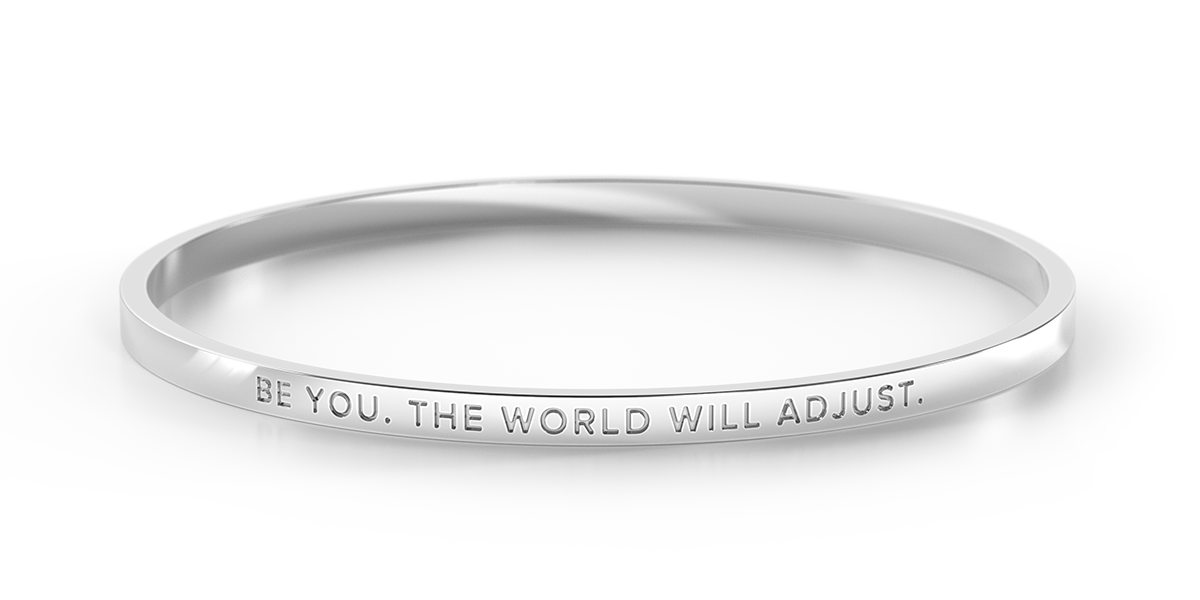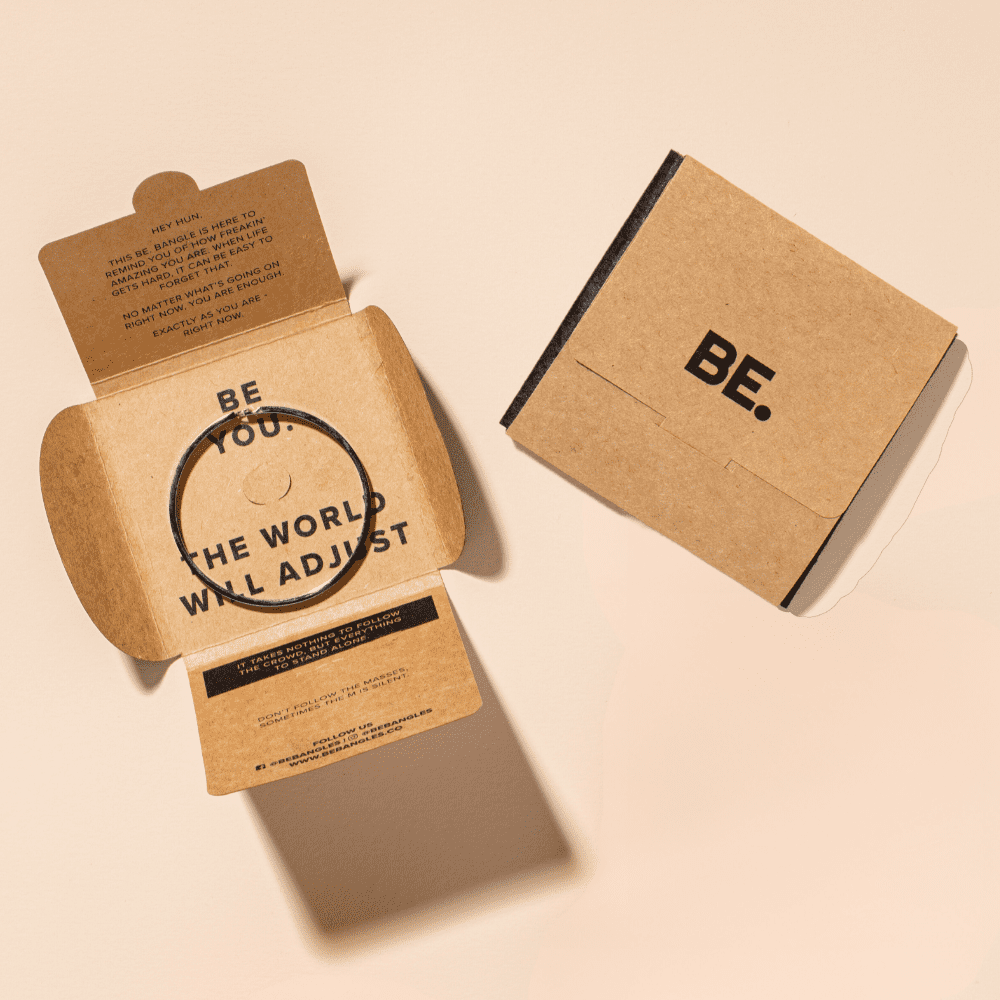 Be You. The World Will Adjust.
"I probably shouldn't be writing copy for a new bangle release when I'm feeling this miserable." 

I say to myself. 
But one look at the new bangle we're releasing and I figure I should put my money where my mouth is.
Be You. The World Will Adjust.
Okay, I guess I can't slap on a happy face and pretend everything is okay right now. (Because it's not).
In fact, I'm feeling pretty messed up. 
In a really short space of time there's been a huge amount of change in my life. In the last month, my beautiful little home that I've lived in for the last 13 months has started to fall to pieces. Mould issues / exposed asbestos issues - and now I need to find a new place to live.
That's crossed over with a huge change in my relationship. My gorgeous boyfriend moved from Geelong to Melbourne to open his first restaurant and the last month has been hell. Startups are stressful. Startups while juggling a new relationship with a woman that doesn't do well with stressful situations? Yeah, it was only a matter of time before I was a sobbing mess.
And then financially things are tough. We invested so much in the gift fair last month that I neglected our online sales, and we are feeling the pinch in a big way. I've managed the business SO WELL this year, but now I have people chasing me for bills while trying to juggle getting all our new stock in. 
It's one wave after another. 
My housing situation feels unstable, my relationship feels unstable and my finances feel unstable. So yeah. I'm feeling pretty exhausted and broken right now.
So why share it? 
Well, one of the hardest things in the world is to be yourself. Warts and all. Vulnerability and all.
We're constantly exposed to the 'perfect life' on Instagram and Facebook and how often do you find yourself playing the comparison game?
Why can't I look like them?
Why can't I be as confident/smart/pretty as them?
How do I get their life?
And then we use the answers those 'perfect' people gave us to try and feel better. 
But we're still unhappy with ourselves. 
Why?
It's simple. Because you're not you when you're following someone else's idea of perfect. 
You're only seeing the finished result of hard work (and maybe some photoshopping). You don't get to see the behind the scenes. The struggles. The insecurities. The moments when they were just like you, wondering what they can do to be happier. You don't see their journey on how they learnt the exact thing you need to learn.
Be You. The World Will Adjust.
And so I need to take this bangles advice and own it. 
Right now all I want to do is run away to a warm climate, lay on a beach and pretend none of my problems exist. (Sadly that isn't going to happen) - so the other option is to embrace the imperfectness of my life right now. Things might look all shiny fucking unicorn on the outside, but they're not. And I'm doing everything I can to just hold on and ride these bumpy waves.
Be You. The World Will Adjust.
I know in the past when I've embraced the imperfect, the quirks or the lumps and bumps of life, the whole world opens up. It's like the universe gets the message loud and clear - OH, you're being YOU. Alright sister, here, I'm gunna help you with that.
Sometimes the help doesn't look the way we want. Sometimes help means moving to a new home even though you love your old one. Or hitting pause on a relationship so you can figure out what you both need. Or trusting that your business has survived every near-death experience so far, so even though things feel tough, it will get better soon.
That beautiful quote that says "The bravest thing is to be yourself in a world that's trying to make you like everyone else."
So true. 
So hi, I'm Chantelle, and I'm pretty broken right now. But that's okay.
Because I'm going to trust that I'm me, the world will adjust. 
And (ultimately) it will be so much more beautiful.
Be You. The World Will Adjust.
Pssst... are you wanting this one in our solid sizes? you can order it as a Custom Bangle here.
 

Orders dispatched Monday, Wednesday & Friday mornings Melbourne time.

We offer Free Shipping (2 - 5 business days delivery) for all Australian jewellery orders! 

Orders including Clothing are flat rate $10 Australia wide.

You can upgrade to Express Post (2 - 4 days business days delivery) for just $10!

Internationally:
It takes 3 - 5 weeks to be delivered, and you can track your order through Australia Post. Shipping starts at $15.

If a product has been indicated as ** PRE-ORDER ** this means it's not in stock (yet). Usually these will be sent in 4 - 5 weeks from order. However, please refer to the product page for the exact details.

If you have ordered a Custom Bangle, these are made to order and will take around 7 -10 days to arrive 

Returns & Exchanges

Our bangles are designed to make you feel happy, empowered and freakin' awesome - so if there is a problem, we gotta fix it!

If you've accidentally ordered the wrong size or are not happy with your bangle, we'll be happy refund you, and then you can order the correct one! For more details you can read our returns & exchanges policy.
Product details

Our bangles are made with love from high quality stainless steel. They are 100% hypoallergenic, and nickel & lead free.

Size & Fit

If you're not sure what size to choose please use our sizing chart to help you find your way. You'll need to measure the widest part of your hand / knuckle circumference, while your hand is mooshed. (And yes, mooshed is a word). 

If you're still totally stuck, we recommend that you purchase a regular size bangle. We do offer exchanges if it doesn't fit!

Clasp bangles

Thinking of getting one of our clasp style bangles? Great! The clasp style bangle  eliminates the need for you to base your sizing on your hand. It can be stretched out to fit over wrists instead, woo! It's a regular size (63.7mm) when closed. 

The clasp fits around 80% of people so it is perfect for gifting!


Bangle not available in your size or preferred colour? Consider ordering it as a Custom Bangle!
Choose options