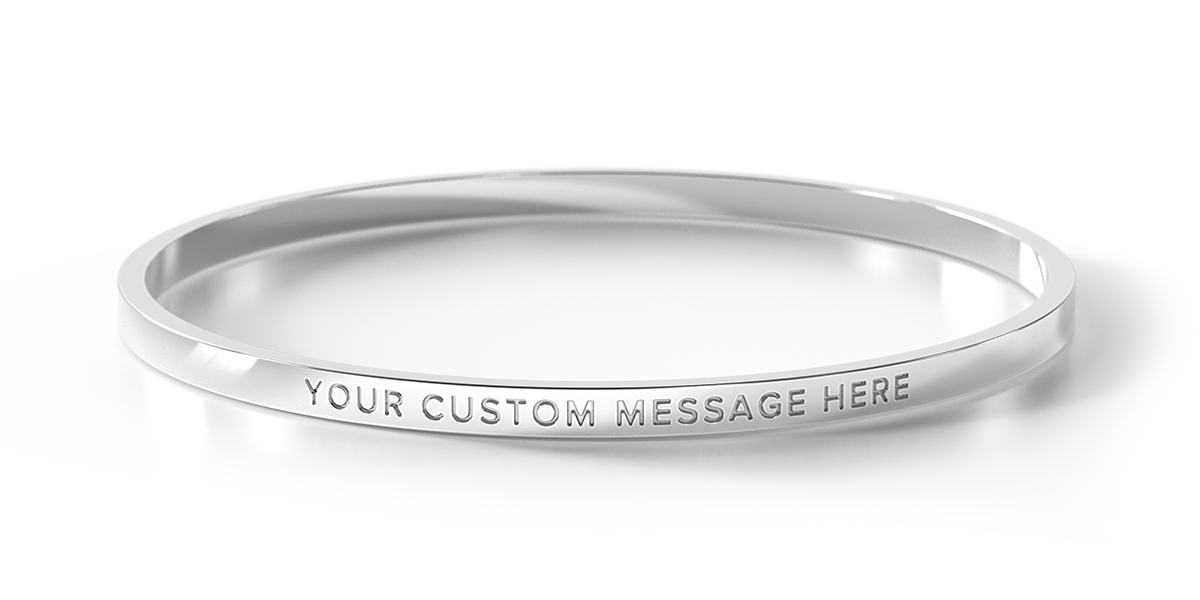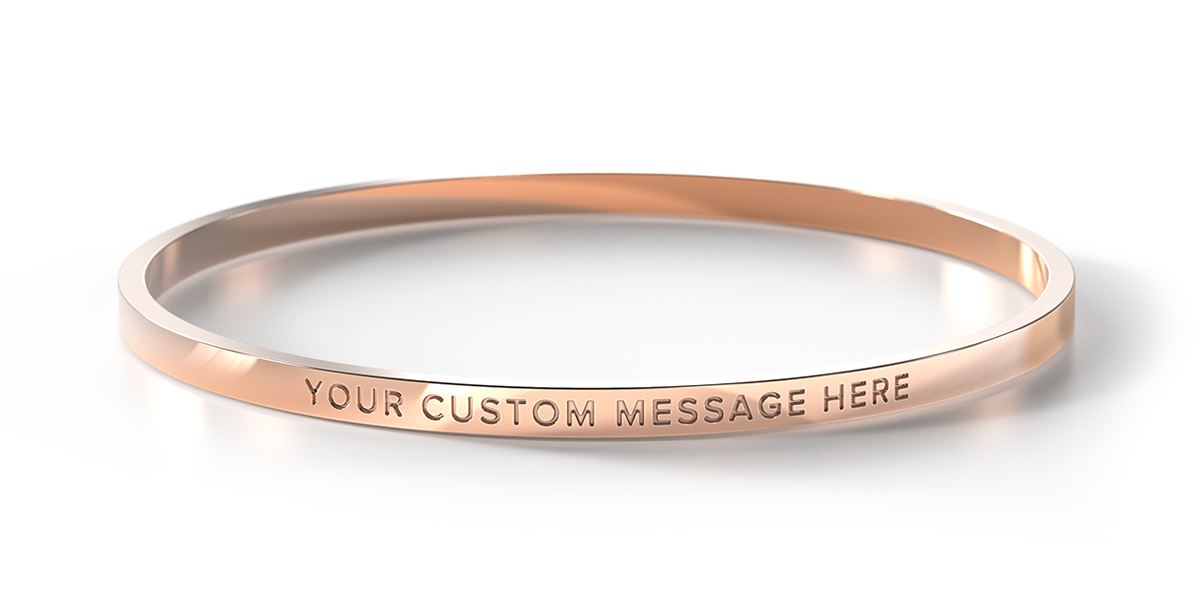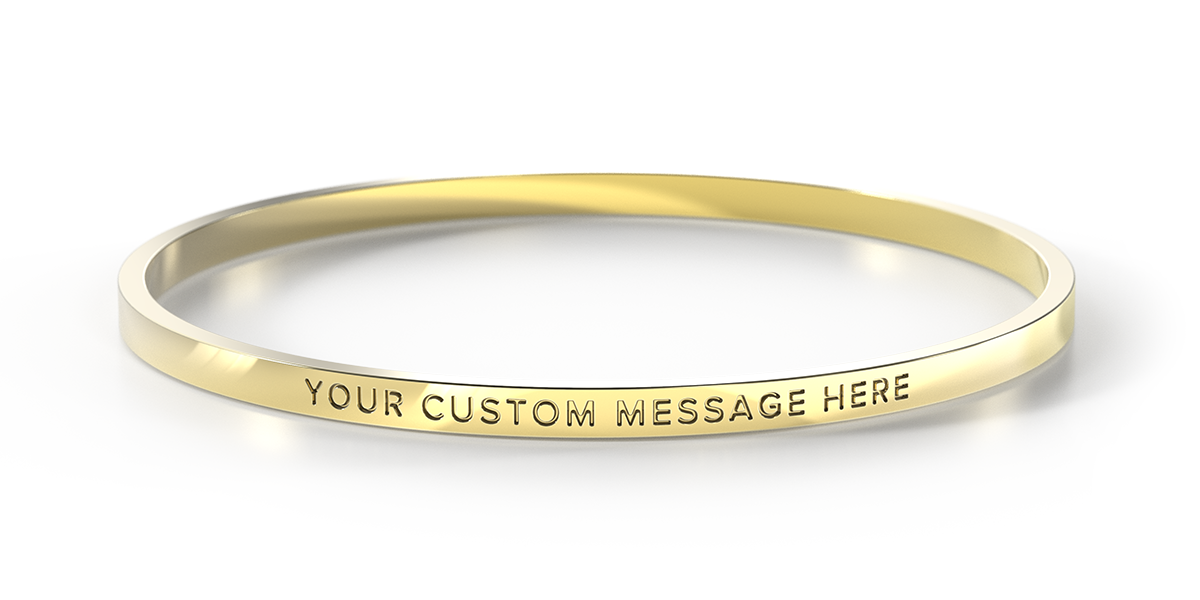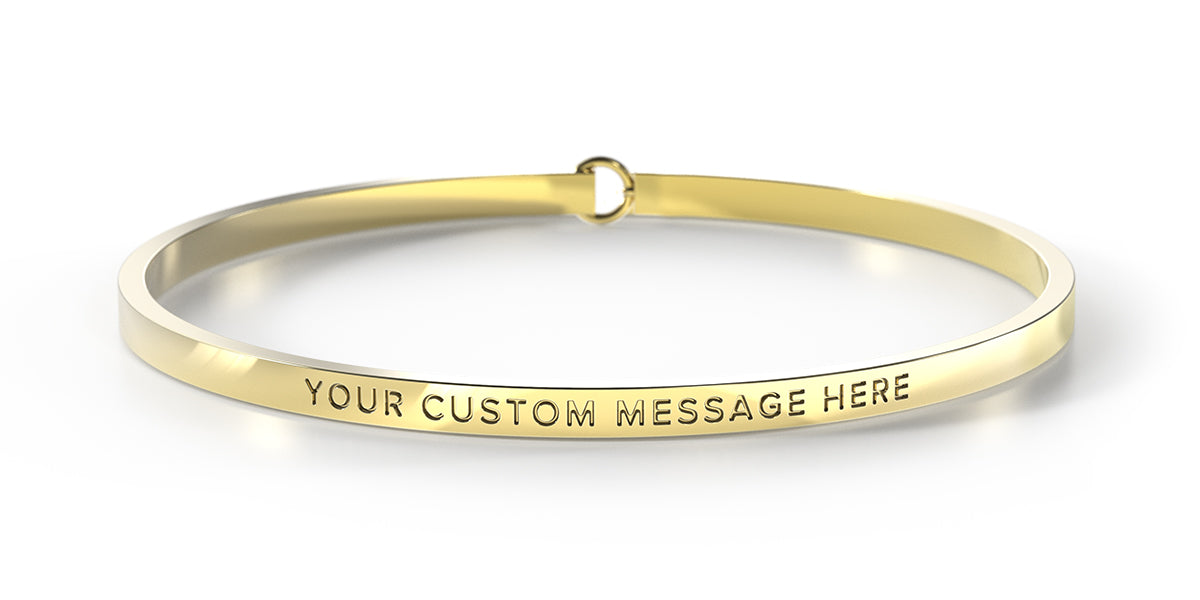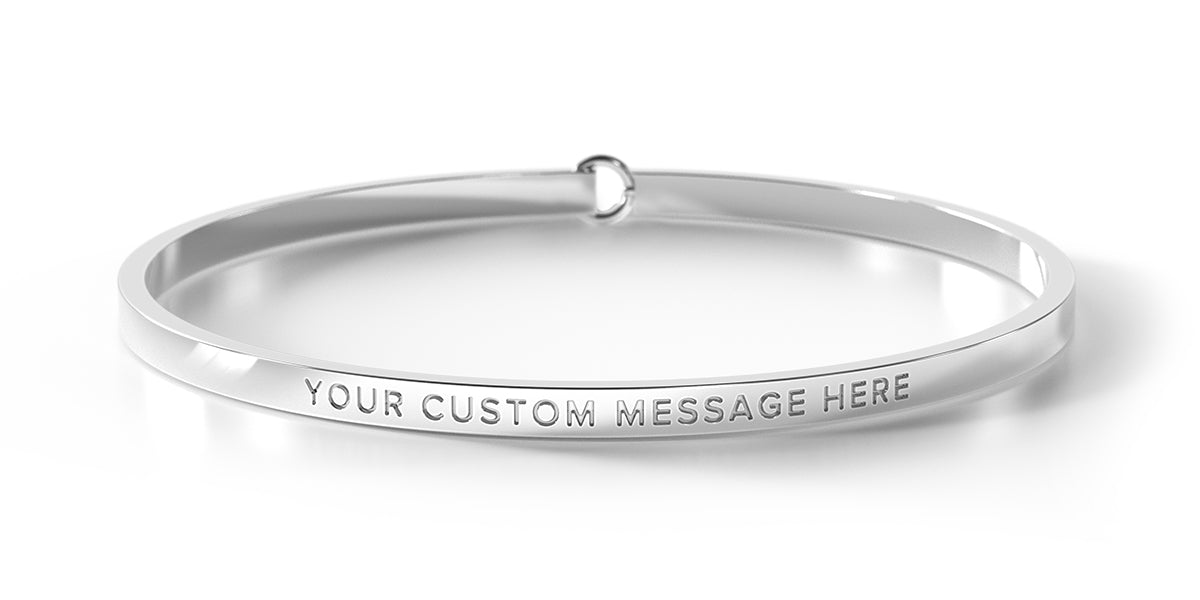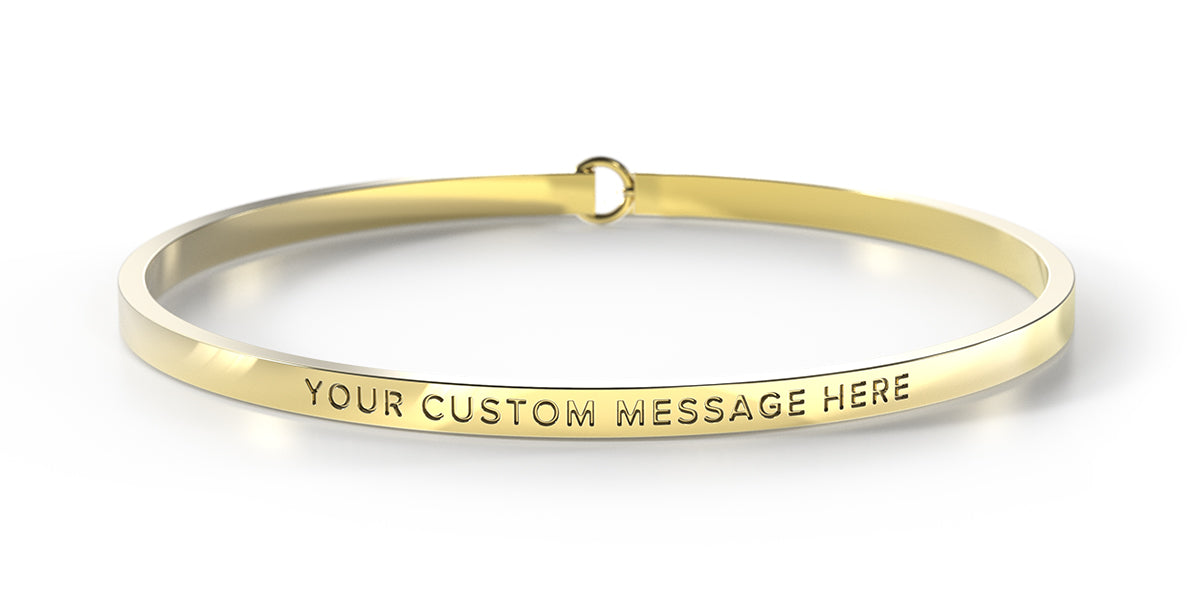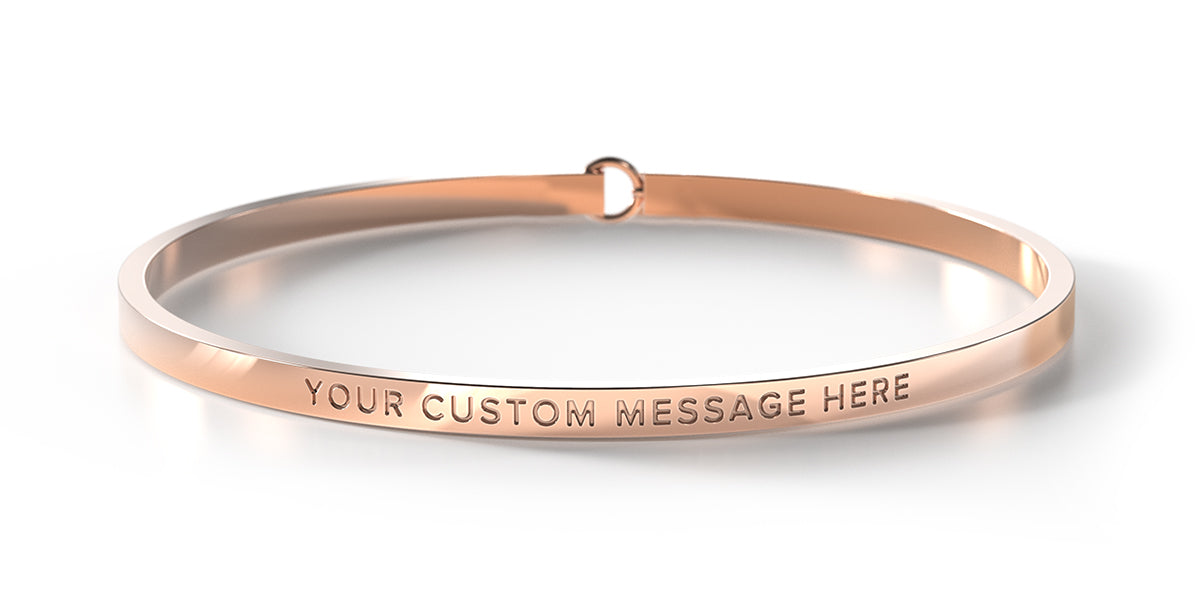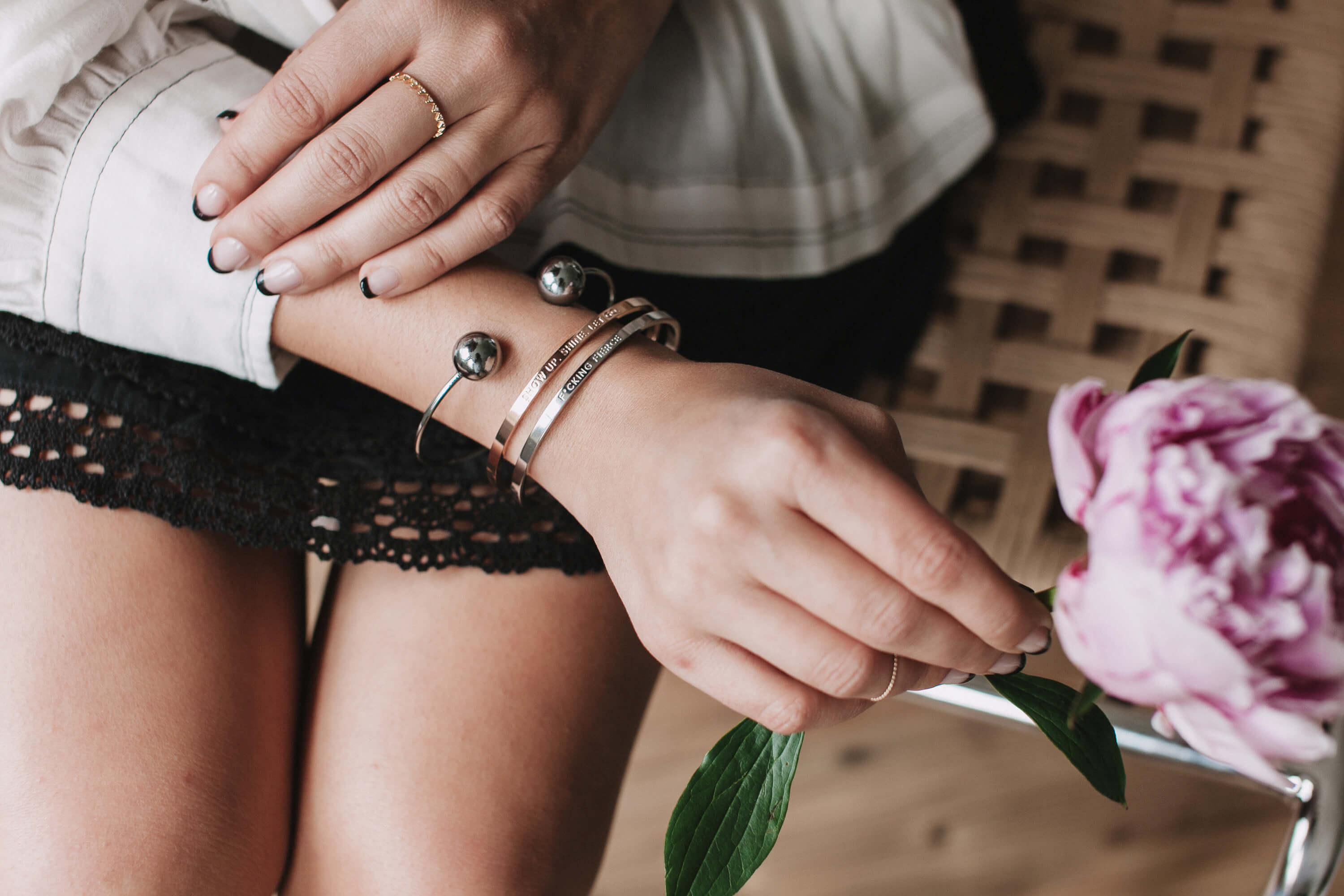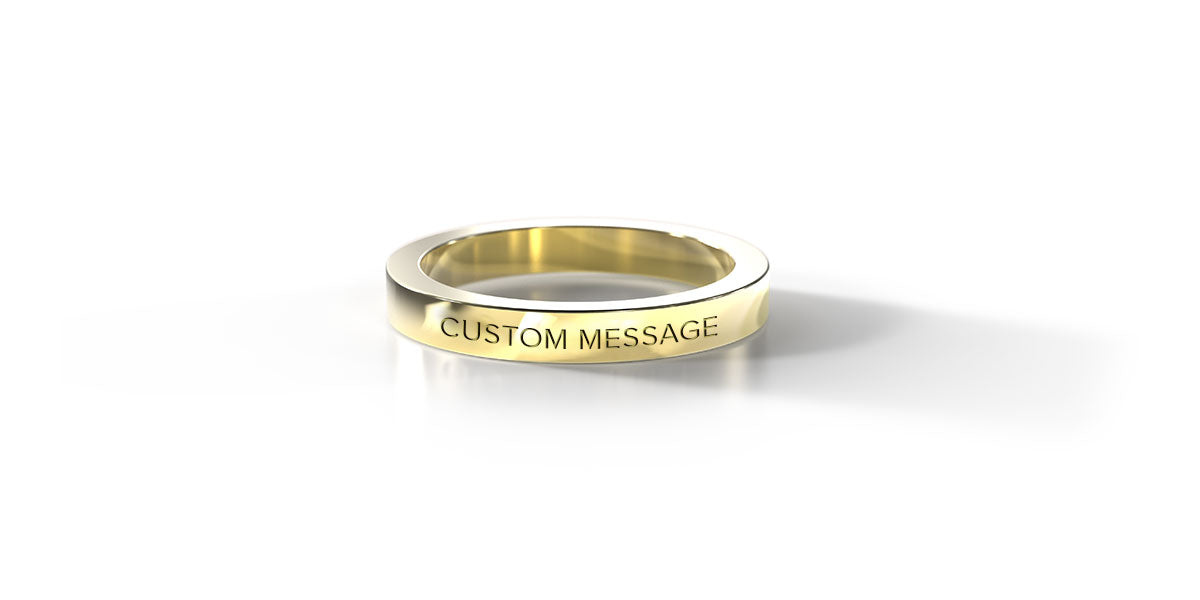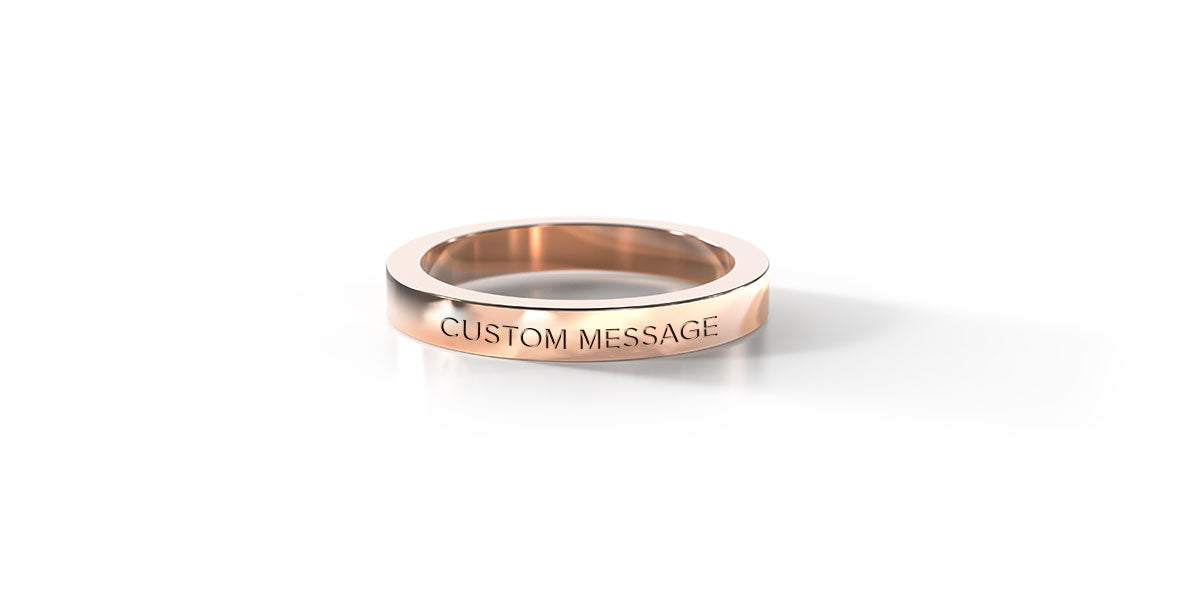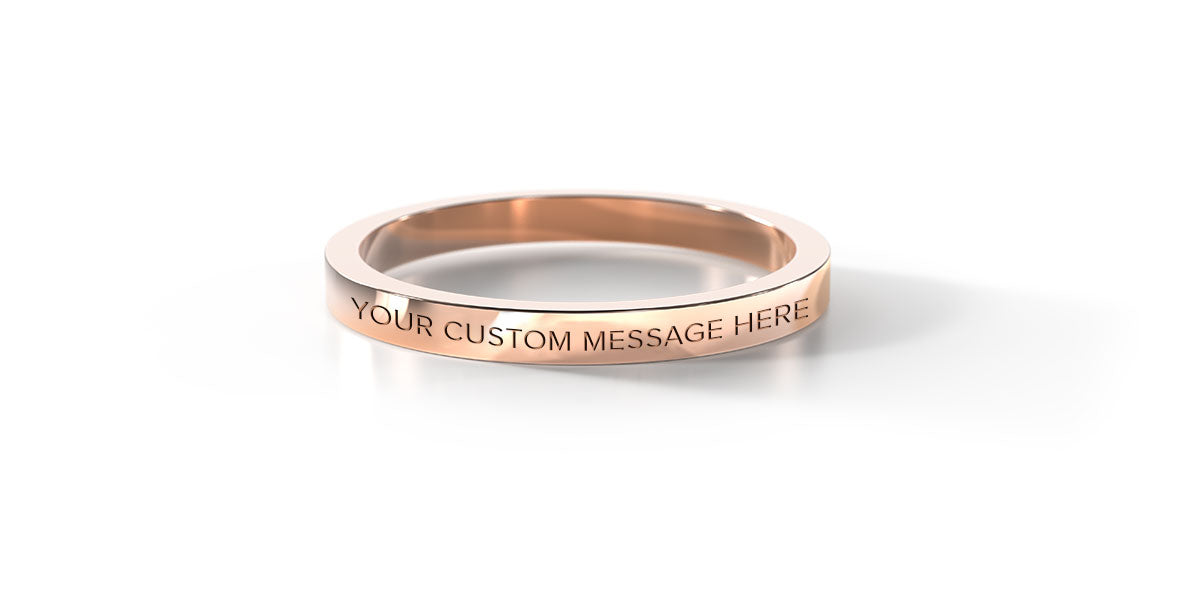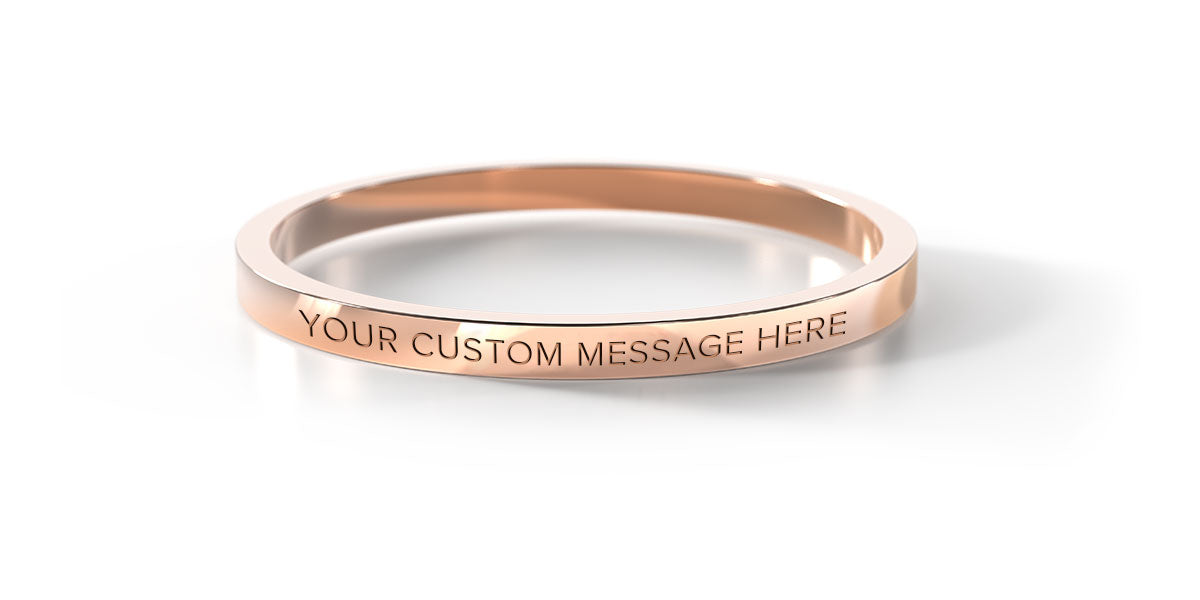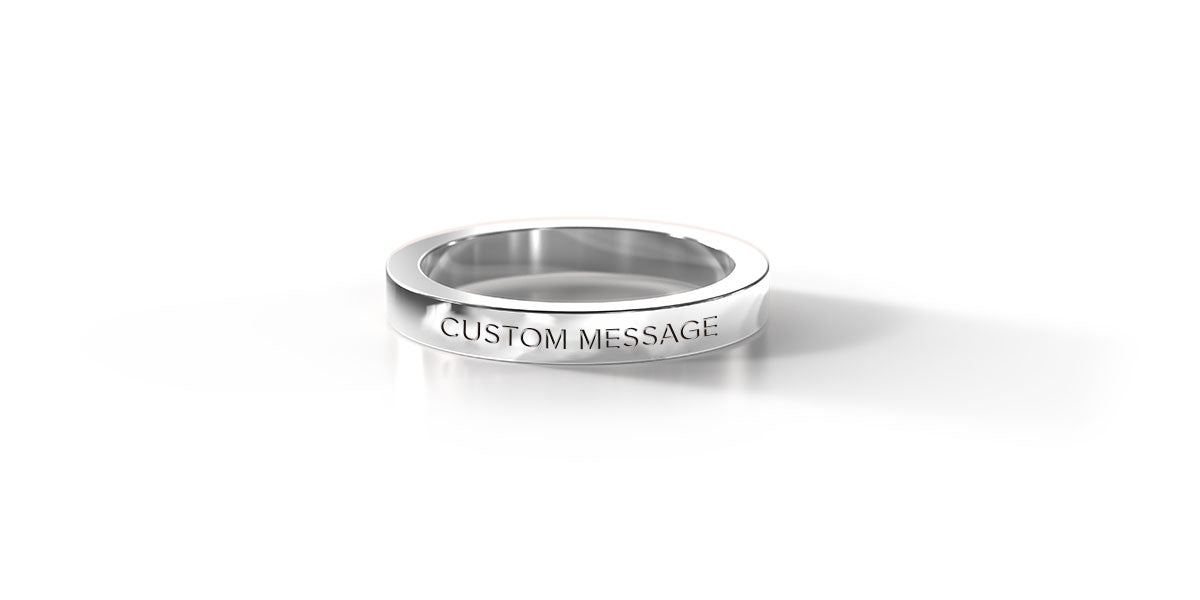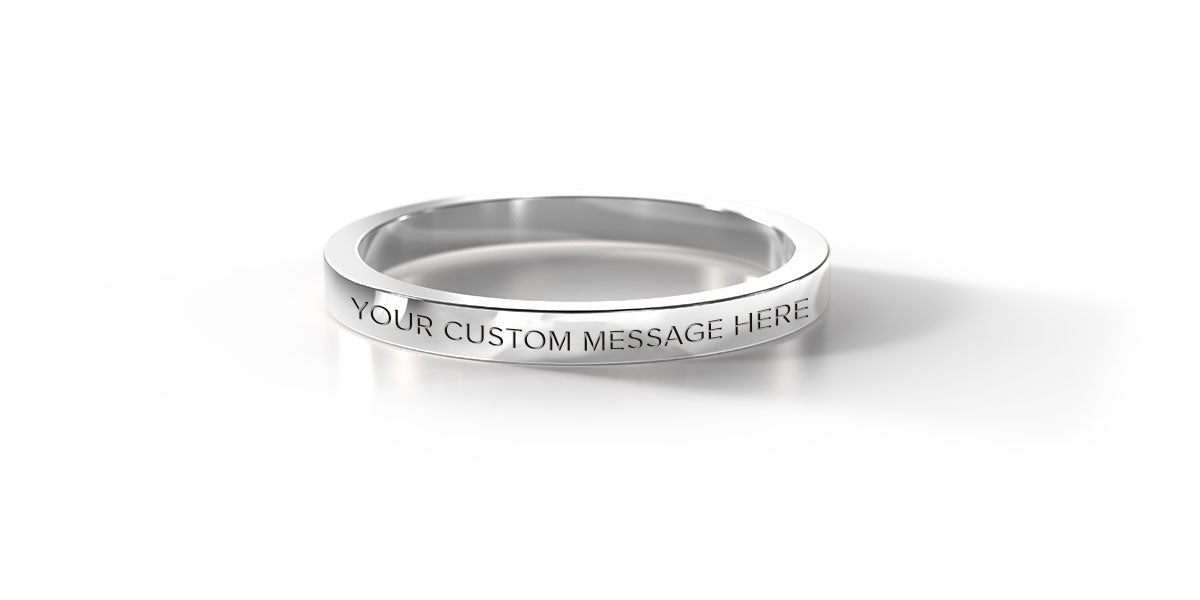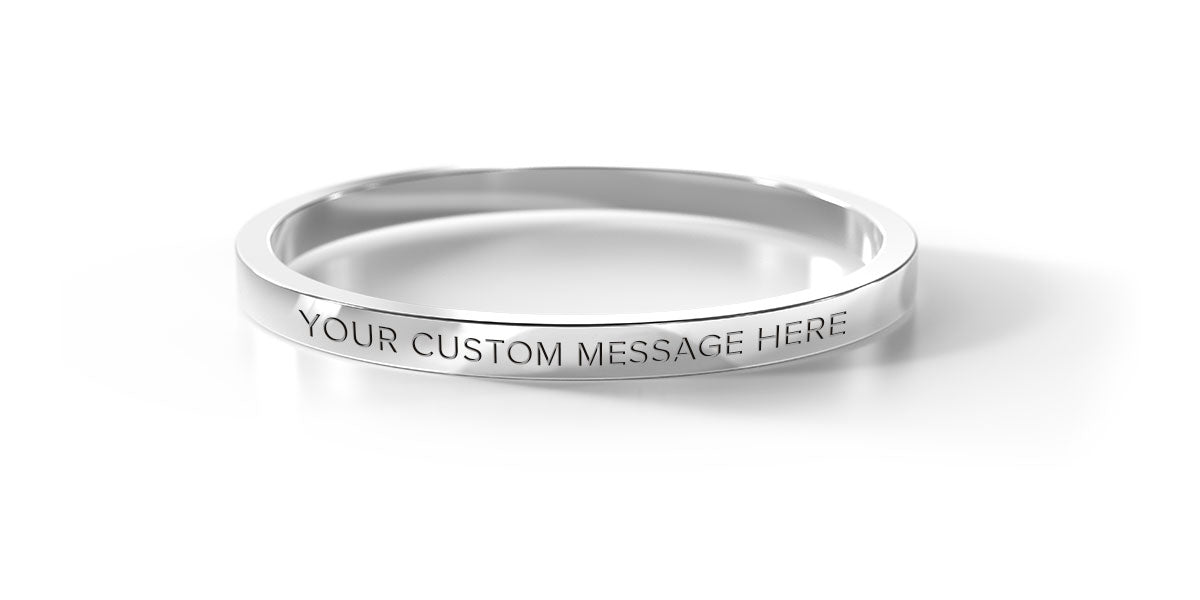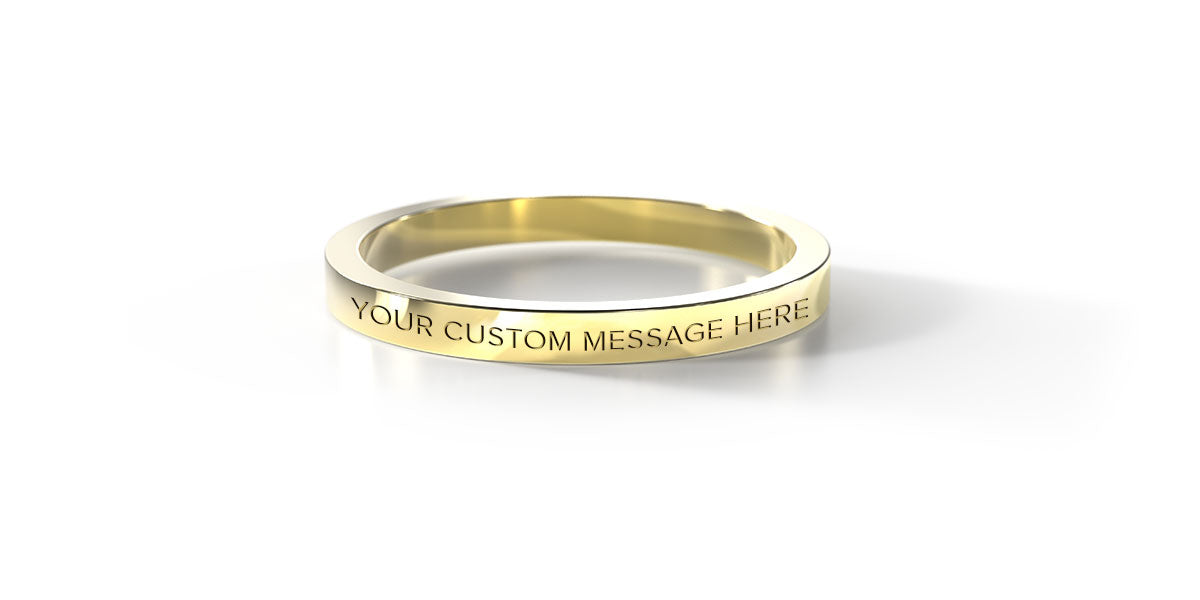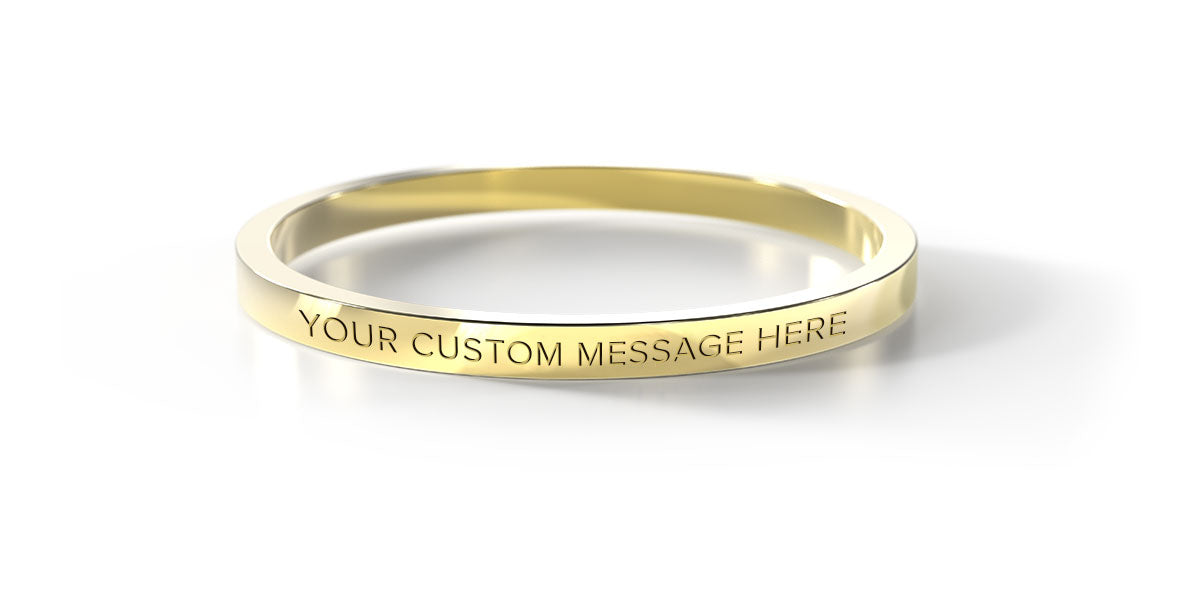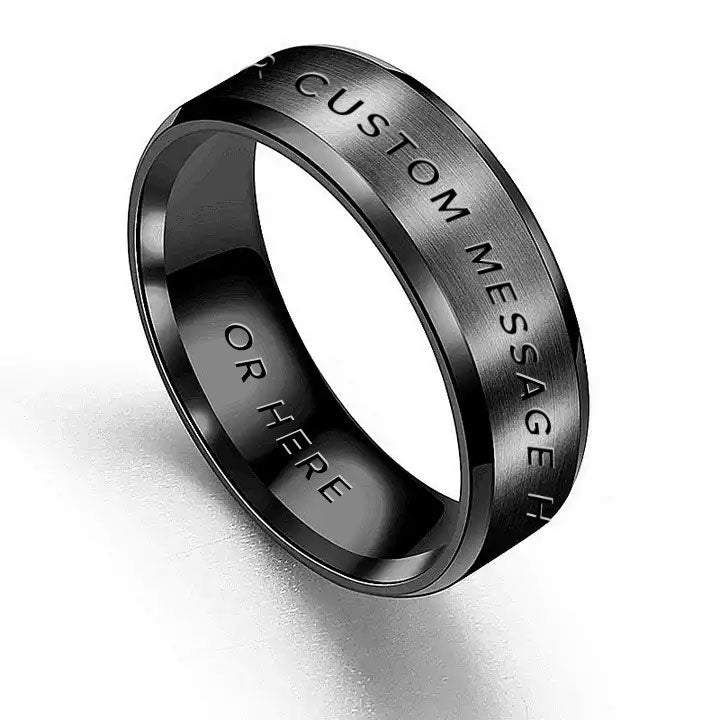 Custom Bangles - Make Your Own Be. Bangles!
NEW IN-HOUSE CUSTOMS!

You can now customise your own Be. Bangle.
These are custom-made for you and are now engraved here in our BE studio!
You can choose any size including clasp and any colour including Yellow Gold and a NEW brushed matte black stainless steel ring (that you can engrave on the outside AND inside)
(Unisex Black Cuff not available for inhouse custom engraving).
Note: there will be a variance in text appearance as it's engraved using a different process than our standard bangles. The engraving is not as deep but the font and size remains the same.
If you would prefer your custom to be identical to our current bangles, we can order this for you - they are not done inhouse so we are charged a set up fee and there is a longer turnaround time.
If you would like more information just send us an email hello@bebangles.co

Have you been obsessively stalking our website hoping that ONE quote you love has been made into a bangle?

Do you have a personal mantra that you and your best friends share that you'd love to have on a piece of jewellery?

Well, it's here. You can make your own custom bangles. Make it nice, naughty, put it in a different language, and use the word poop on it. Whatever. We won't judge.

You pick the size/colour and quote, and we get the bangles sorted for you!
Here are the all-important details! Please read them carefully.
1. Quotes are limited to 90 characters including spaces on standard-size bangs. 60 characters on 25mm and 35mm mini bangs and 45 characters on 18mm rings. We can do letters and numbers and hearts.
2. You can choose silver, rose gold and yellow gold. They are now available in both our clasp style and solid style with Extra Small, Small, Medium, Large, Extra Large AND Extra Extra Large sizes. Mini bangs come in 35mm, 25mm and 18mm.
Please TRIPLE check the size, as it will only come in that size, no exchanges. Check out the sizing guide here.
3. It is your responsibility to make sure the quote is correct! We will contact you if there are any glaring errors, but we won't take any responsibility for any mistakes. Particularly if you are using names. Please triple-check before submitting your order including UPPER and lower case.
AND, if you want more than 1 of the exact same quote - we got some discounts for ya:
| | | |
| --- | --- | --- |
| QUANTITY: | | USE THE CODE* |
| BUY 2 BANGLES | GET 15% OFF | DISCOUNT2BANGS |
| BUY 3 BANGLES | GET 20% OFF | DISCOUNT3BANGS |
| BUY 4 BANGLES | GET 25% OFF | DISCOUNT4BANGS |
| BUY 5+ BANGLES | GET 30% OFF | DISCOUNT5+BANGS |
| BUY 10+ BANGLES | GET 40% OFF | DISCOUNT10BANGS |

*Enter these codes at checkout for the discount to be applied. All bangles must be the same quote for the discount to be applied.

K-cool, you got all that? Then go nuts! Love ya!
PS. We make no guarantees for the exclusivity of your custom bangle quotes. While we will always be conscious of what has been made into custom bangles, if a similar or exact quote has been suggested and voted highly by our community, we may still choose to release it as part of our range. Your bangle will still be the very first of its kind and special to you!
 

Orders dispatched Monday, Wednesday & Friday mornings Melbourne time.

We offer Free Shipping (2 - 5 business days delivery) for all Australian jewellery orders! 

Orders including Clothing are flat rate $10 Australia wide.

You can upgrade to Express Post (2 - 4 days business days delivery) for just $10!

Internationally:
It takes 3 - 5 weeks to be delivered, and you can track your order through Australia Post. Shipping starts at $15.

If a product has been indicated as ** PRE-ORDER ** this means it's not in stock (yet). Usually these will be sent in 4 - 5 weeks from order. However, please refer to the product page for the exact details.

If you have ordered a Custom Bangle, these are made to order and will take around 7 -10 days to arrive 

Returns & Exchanges

Our bangles are designed to make you feel happy, empowered and freakin' awesome - so if there is a problem, we gotta fix it!

If you've accidentally ordered the wrong size or are not happy with your bangle, we'll be happy refund you, and then you can order the correct one! For more details you can read our returns & exchanges policy.
Product details

Our bangles are made with love from high quality stainless steel. They are 100% hypoallergenic, and nickel & lead free.

Size & Fit

If you're not sure what size to choose please use our sizing chart to help you find your way. You'll need to measure the widest part of your hand / knuckle circumference, while your hand is mooshed. (And yes, mooshed is a word). 

If you're still totally stuck, we recommend that you purchase a regular size bangle. We do offer exchanges if it doesn't fit!

Clasp bangles

Thinking of getting one of our clasp style bangles? Great! The clasp style bangle  eliminates the need for you to base your sizing on your hand. It can be stretched out to fit over wrists instead, woo! It's a regular size (63.7mm) when closed. 

The clasp fits around 80% of people so it is perfect for gifting!


Bangle not available in your size or preferred colour? Consider ordering it as a Custom Bangle!
Choose options