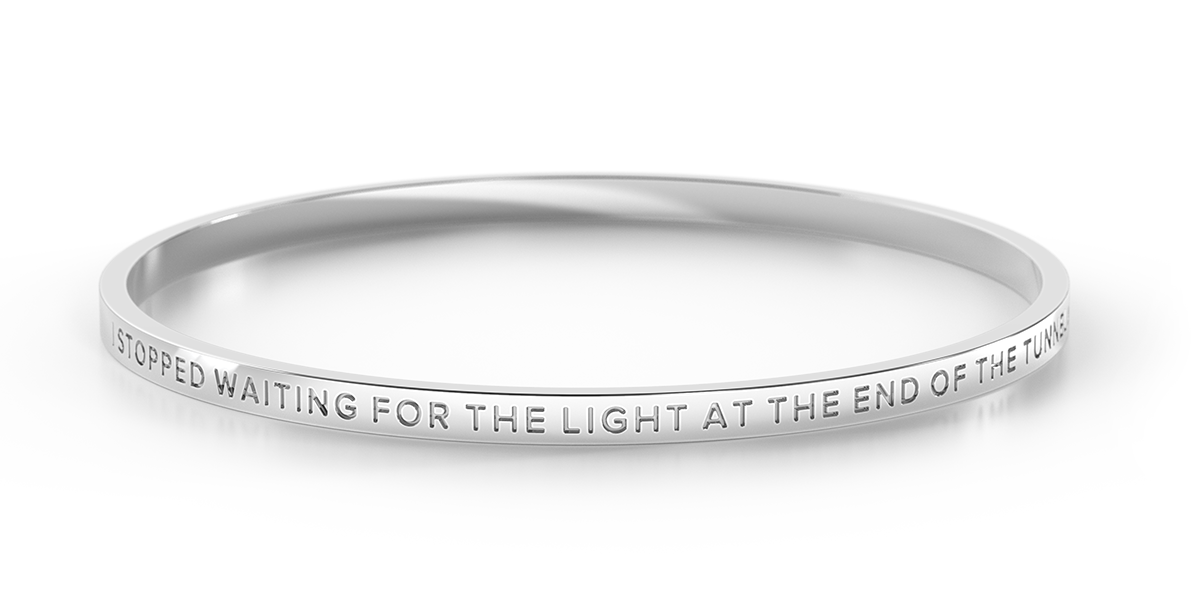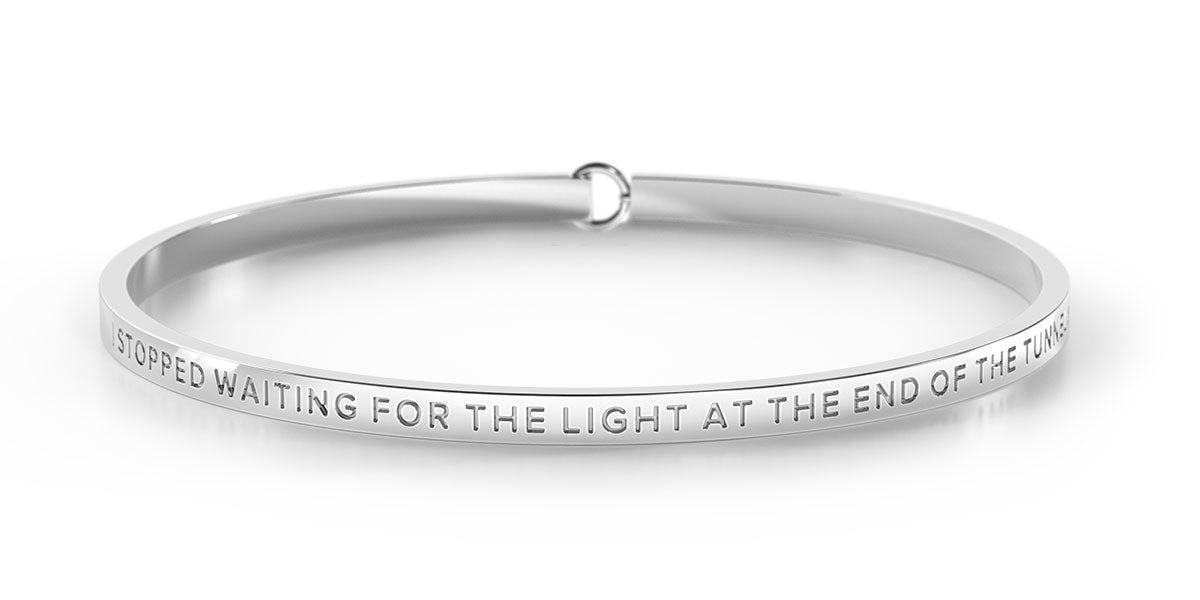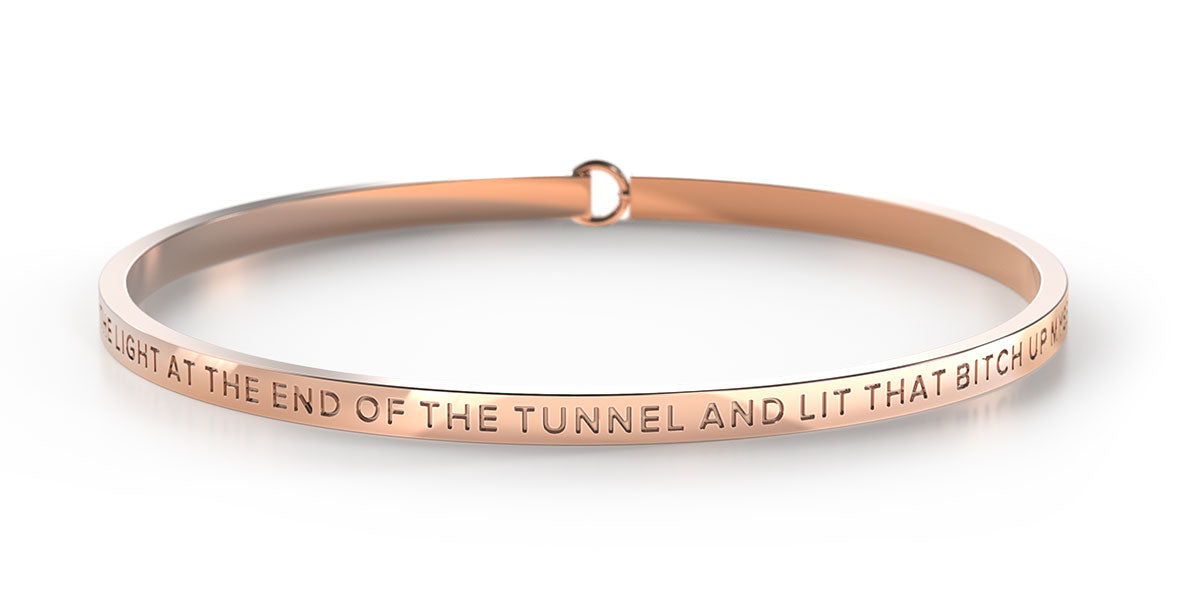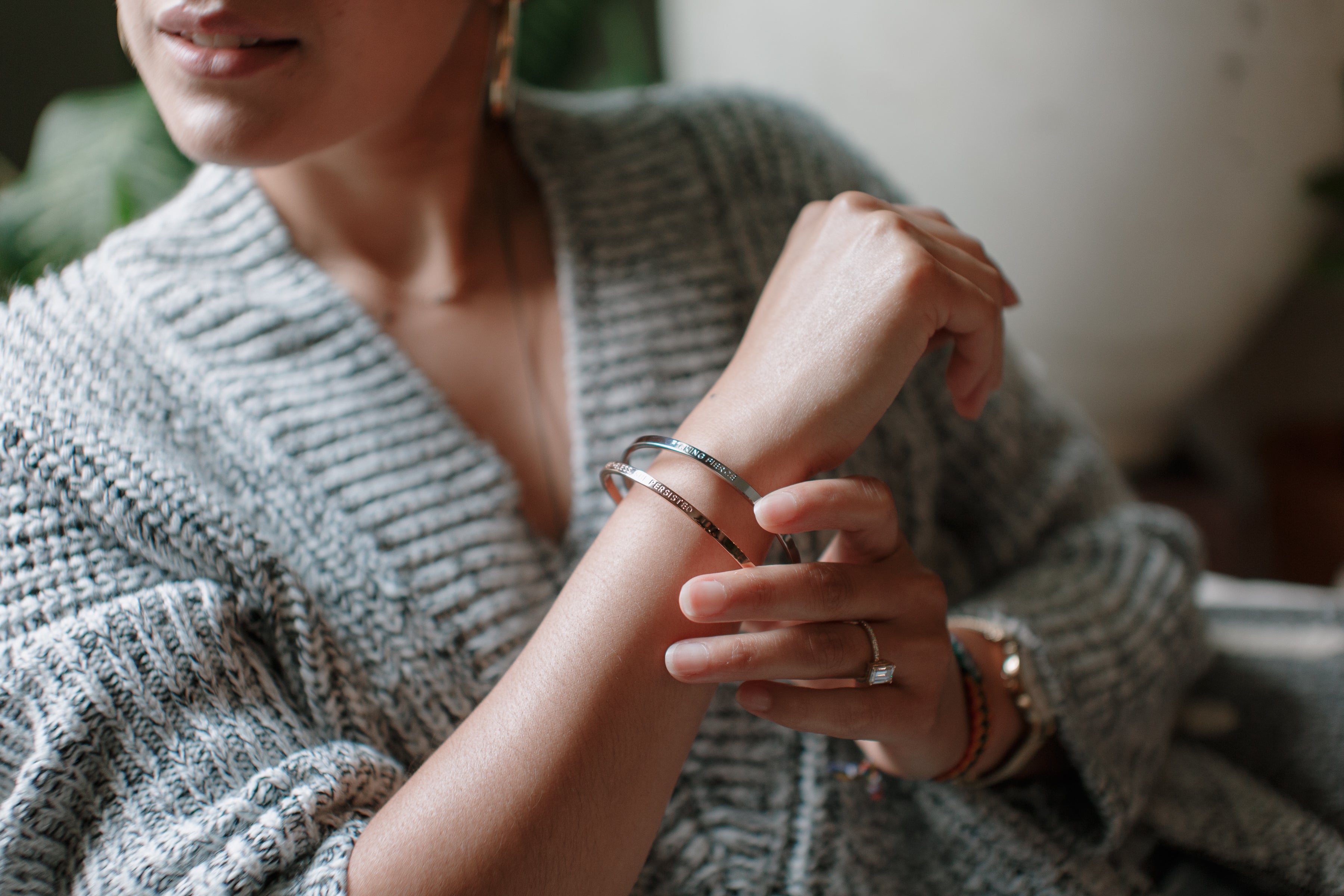 I Stopped Waiting For The Light At The End Of The Tunnel, And Lit That Bitch Up Myself - Hall Of Fame
All Flashback Bangle sales are FINAL. No exchanges or refunds. So please keep that in mind and check out our size guide to find your size.
I remember seeing the Instagram post and I instantly despised the person who posted it.

It said very succinctly -
The good news? You're a hero. The bad news? You have to save yourself.
"Save myself? Save MYSELF?" I repeated with fury. Obviously this person had no fucking idea what they were talking about. They weren't living my life. They hadn't been through the things I'd been through in the last two years.
They'd clearly missed the memo that I'd been getting loud and clear from the universe. Life was a pile of shit and there wasn't much anyone, let alone me, could do about it.
It felt like all I could do was give up, roll over and hope that the universe started dealing me some better cards.
What influence did I have over my life? Stupid Instagram post. Save myself? What a fucking joke.
Ick.
It feels a bit embarrassing even writing that down. For a company that's all about women's empowerment, it's a little mortifying to admit that for a period of time I'd completely given up on life, and the belief that I had any say over how I felt or what I could do with the cards I'd been dealt.
Which is perhaps why this new bangle is hands down, my favourite out of everything in our range. Like. BY FAR.
In the last few years, I can say without a doubt I've been to hell and back again. Everything in my life broke. My health. My family. My friends. My business. My dreams. It was like the universe yanked one thing after another away from me.
And I know for many people in our community, you've been in that place too.
I can't tell you the number of times I wanted to give up and just opt out completely. Everyone kept saying there'd be light at the end of the tunnel. But I'd been waiting for over 2 years and it wasn't showing up.
Hence, this fucking kick ass bangle.
After 2 years of waiting for something to change, I realised that if change was going to happen, it was going to be up to me.
I had to gather all my resources, all my support people, and find a way out of the blackest and longest tunnel I'd ever been in.
Just like the bangle says -
"I Stopped Waiting for The Light At The End of The Tunnel, And Lit That Bitch Up Myself"
And you know what? I fucking did.
I took the power back over my health, decided to ditch the incurable label and work every single day towards healing.
I let go of every single person in my life that was not consistently loving, caring, supportive and kind. That meant almost my entire family of origin except for my amazing big sister. Was that an easy decision? Fuck no. But was it the right one? Yes.
Friend's I loved with all my heart had chosen to leave as well, and I had to graciously let them go without burning the relationship to the ground as they exited. 
I had to take control back of my business, and be okay with the fact that I'm in an 'in-between' phase right now. My dreams currently involve a quiet, anonymous life living by the ocean - and for the first time ever, that's okay.
I can't change the cards I was dealt - the abusive relationships. Being assaulted by a man I thought was my best friend. The complex PTSD and chronic pain diagnosis. But what I can do is show up every fucking day and keep shining a light on the path I want to go down.
A new tunnel. A much brighter and more joyous one. A path of happiness, health and truly living a life I love. Not a life that just looks good on social media.
Stop waiting for the light at the end of the tunnel and light that bitch up yourself. If I can do it, you can too.
Lots of love,
Chantelle
Pssst... are you wanting this bangle? you can order in any size or colour it as a Custom Bangle here.
 

Orders dispatched Monday, Wednesday & Friday mornings Melbourne time.

We offer Free Shipping (2 - 5 business days delivery) for all Australian jewellery orders! 

Orders including Clothing are flat rate $10 Australia wide.

You can upgrade to Express Post (2 - 4 days business days delivery) for just $10!

Internationally:
It takes 3 - 5 weeks to be delivered, and you can track your order through Australia Post. Shipping starts at $15.

If a product has been indicated as ** PRE-ORDER ** this means it's not in stock (yet). Usually these will be sent in 4 - 5 weeks from order. However, please refer to the product page for the exact details.

If you have ordered a Custom Bangle, these are made to order and will take around 7 -10 days to arrive 

Returns & Exchanges

Our bangles are designed to make you feel happy, empowered and freakin' awesome - so if there is a problem, we gotta fix it!

If you've accidentally ordered the wrong size or are not happy with your bangle, we'll be happy refund you, and then you can order the correct one! For more details you can read our returns & exchanges policy.
Product details

Our bangles are made with love from high quality stainless steel. They are 100% hypoallergenic, and nickel & lead free.

Size & Fit

If you're not sure what size to choose please use our sizing chart to help you find your way. You'll need to measure the widest part of your hand / knuckle circumference, while your hand is mooshed. (And yes, mooshed is a word). 

If you're still totally stuck, we recommend that you purchase a regular size bangle. We do offer exchanges if it doesn't fit!

Clasp bangles

Thinking of getting one of our clasp style bangles? Great! The clasp style bangle  eliminates the need for you to base your sizing on your hand. It can be stretched out to fit over wrists instead, woo! It's a regular size (63.7mm) when closed. 

The clasp fits around 80% of people so it is perfect for gifting!


Bangle not available in your size or preferred colour? Consider ordering it as a Custom Bangle!
Choose options