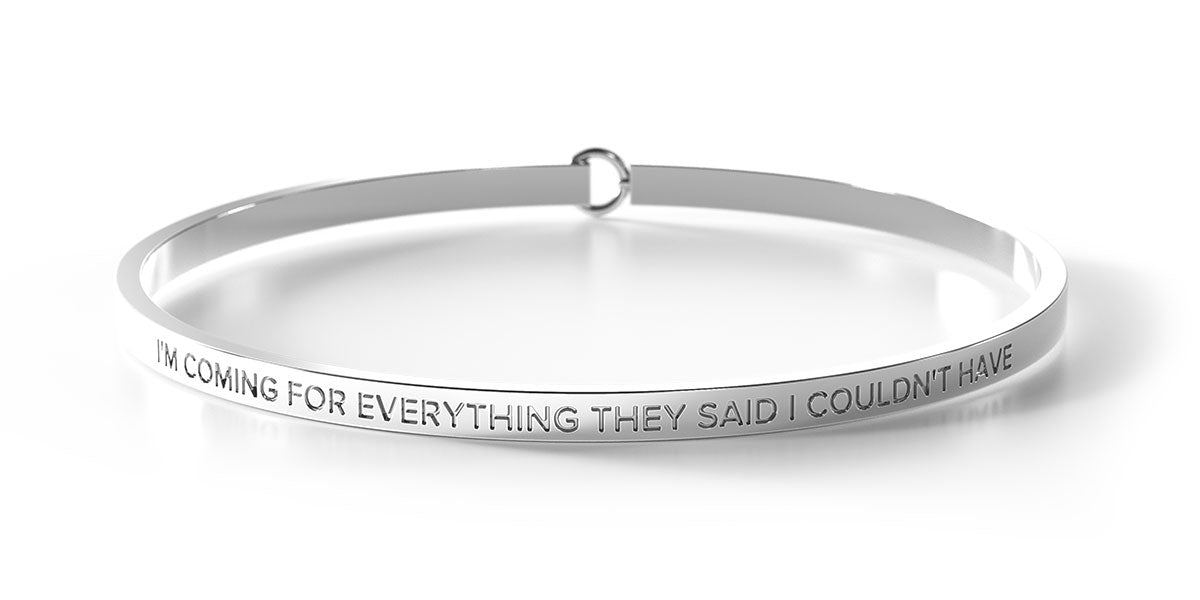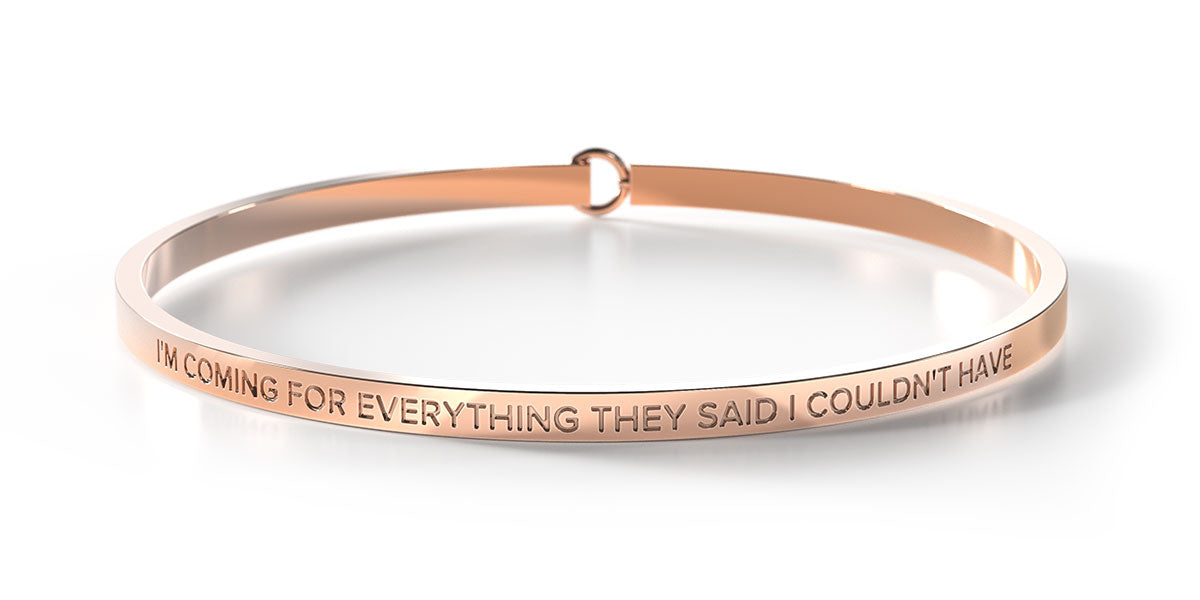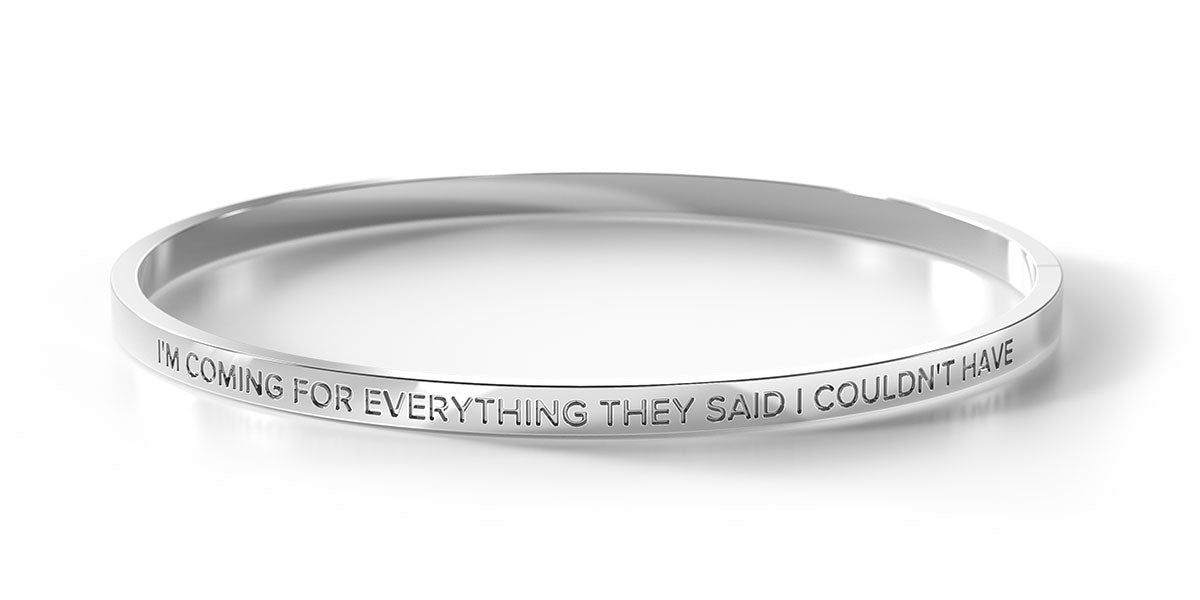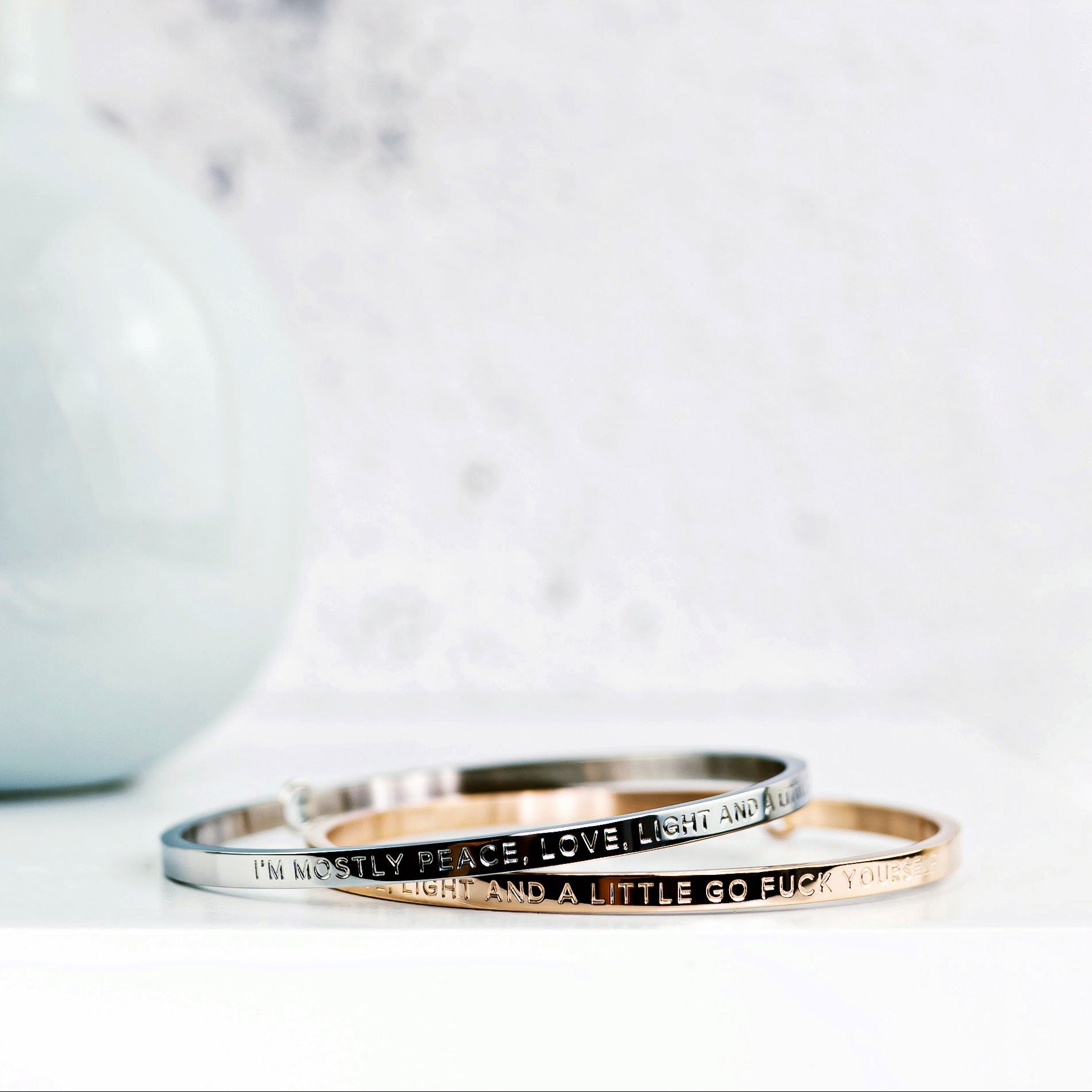 I'm Coming For Everything They Said I Couldn't Have - Hall Of Fame
 Well, THIS is unexpected.
I'm sitting in a cafe, computer in front of me, writing the final story for the last bangle I'll be launching with Be. This one. I'm Coming For Everything They Said I Couldn't Have.
And honestly? I never thought I'd be here.

Why? Coz I was told I couldn't have it.

I look back over the journey it was to build this amazing company - starting with high hopes, having everything take off VERY quickly, then getting sick. Sicker than I knew it was even possible to be. There was a point where I was terrified I was going to lose my ability to walk. I couldn't cook for myself, take care of myself and I needed full-time care.

If only I could send a message to the beautiful young woman back then and tell her that everything was going to work out - no matter what the people around her were saying.

See, I wasn't meant to get better. I wasn't meant to heal from a condition that was supposedly 'progressive and incurable'. 

And after taking a year off due to illness, and coming back into the business a year later - I was still pretty sick. Oh, AND the business was $100k in debt. 
I certainly wasn't meant to work my little butt off to turn it around, pay off the debt, and sell it to an amazing new owner 2.5 years later. 

But here I am. Standing on the precipice of a completely new life. 
A new future. Not just for me, but for Nikki (the new owner) too.

I wonder how different my life would've looked if I'd listened to the nay-sayers. To the haters. To the people who told me that I shouldn't, or even worse, that I COULDN'T do the things I wanted to do. That I couldn't have the things I wanted to have. That I wouldn't get better.

I didn't know it back then, but I was coming for everything they said I couldn't have. And now, I've done it.

And Nikki has too. She's faced the same nay-sayers. Who is SHE to take on the business of her dreams and create a new life for herself and her family?
Well, who is she not too?

We are just two of the many women who have had to stand up to all the obstacles, the doubting looks and the "You can't do that" comments, that come when you start relentlessly pursuing your dreams.

And there are countless other women out there doing the same thing. And from our heart to yours we're going to say - KEEP AT IT.

It takes SO MUCH courage to stand up, go against the grain and say - I don't care what people tell me. I'm coming for everything they said I couldn't have.

So to the beautiful Be. women - You stand the fuck up. And you start coming for EVERYTHING you've been told that you can't have. We have one life, one opportunity, one shot (hello Eminem), and it's up to you to make the most of it - no matter what anyone else says.
I couldn't think of a better bangle to go out on - much love to you all! I'm COMING FOR IT ALL BABY!

- Chantelle
 

Orders dispatched Monday, Wednesday & Friday mornings Melbourne time.

We offer Free Shipping (2 - 5 business days delivery) for all Australian jewellery orders! 

Orders including Clothing are flat rate $10 Australia wide.

You can upgrade to Express Post (2 - 4 days business days delivery) for just $10!

Internationally:
It takes 3 - 5 weeks to be delivered, and you can track your order through Australia Post. Shipping starts at $15.

If a product has been indicated as ** PRE-ORDER ** this means it's not in stock (yet). Usually these will be sent in 4 - 5 weeks from order. However, please refer to the product page for the exact details.

If you have ordered a Custom Bangle, these are made to order and will take around 7 -10 days to arrive 

Returns & Exchanges

Our bangles are designed to make you feel happy, empowered and freakin' awesome - so if there is a problem, we gotta fix it!

If you've accidentally ordered the wrong size or are not happy with your bangle, we'll be happy refund you, and then you can order the correct one! For more details you can read our returns & exchanges policy.
Product details

Our bangles are made with love from high quality stainless steel. They are 100% hypoallergenic, and nickel & lead free.

Size & Fit

If you're not sure what size to choose please use our sizing chart to help you find your way. You'll need to measure the widest part of your hand / knuckle circumference, while your hand is mooshed. (And yes, mooshed is a word). 

If you're still totally stuck, we recommend that you purchase a regular size bangle. We do offer exchanges if it doesn't fit!

Clasp bangles

Thinking of getting one of our clasp style bangles? Great! The clasp style bangle  eliminates the need for you to base your sizing on your hand. It can be stretched out to fit over wrists instead, woo! It's a regular size (63.7mm) when closed. 

The clasp fits around 80% of people so it is perfect for gifting!


Bangle not available in your size or preferred colour? Consider ordering it as a Custom Bangle!
Choose options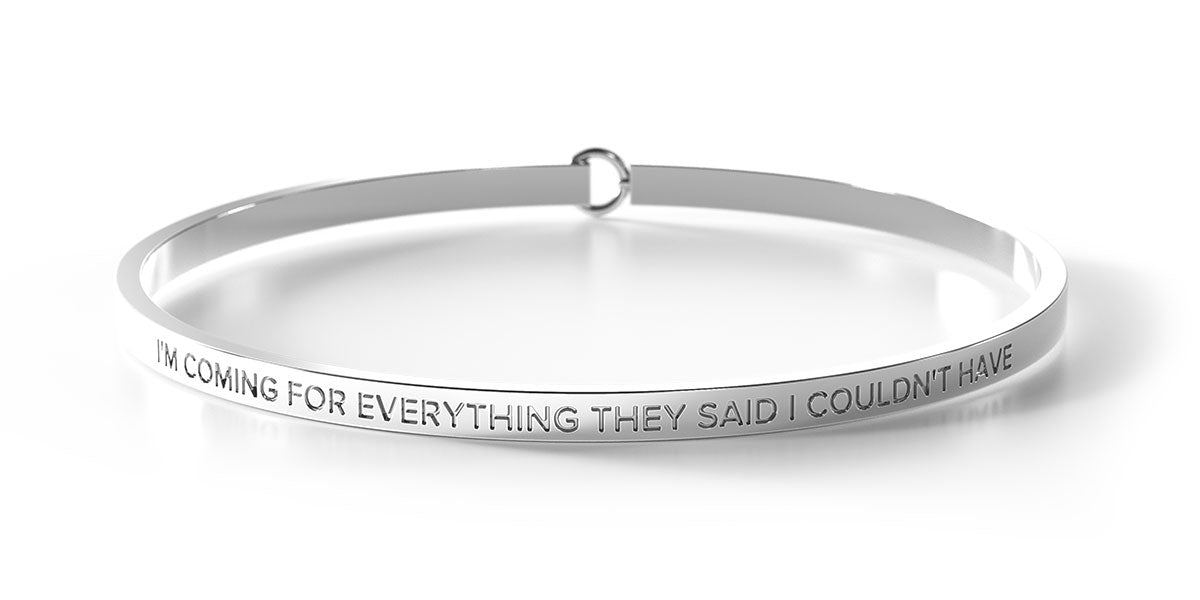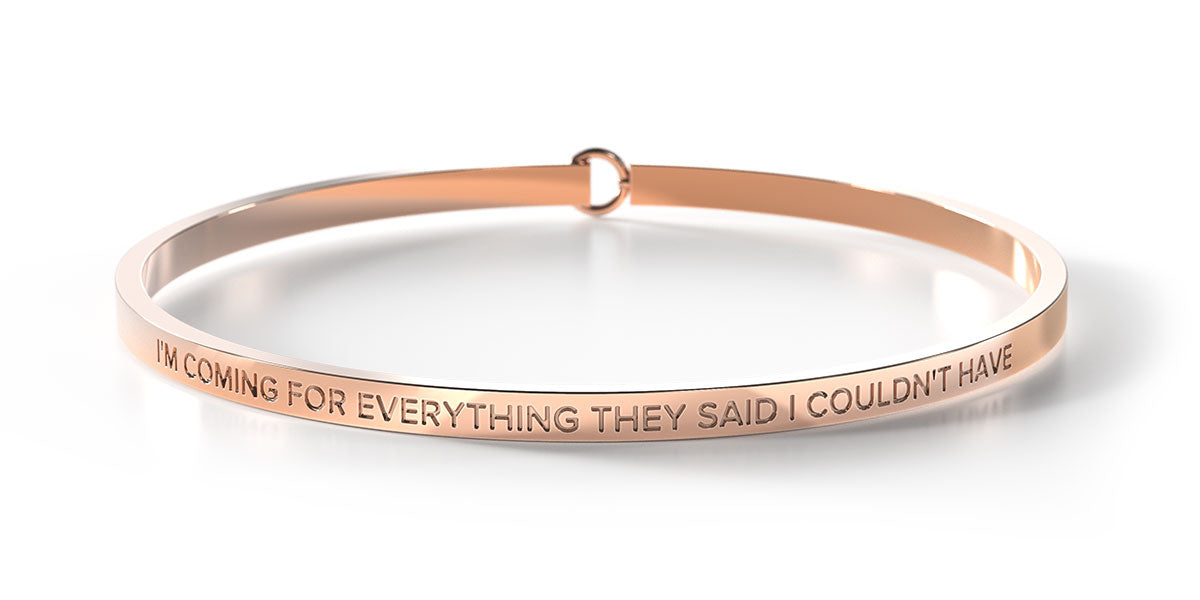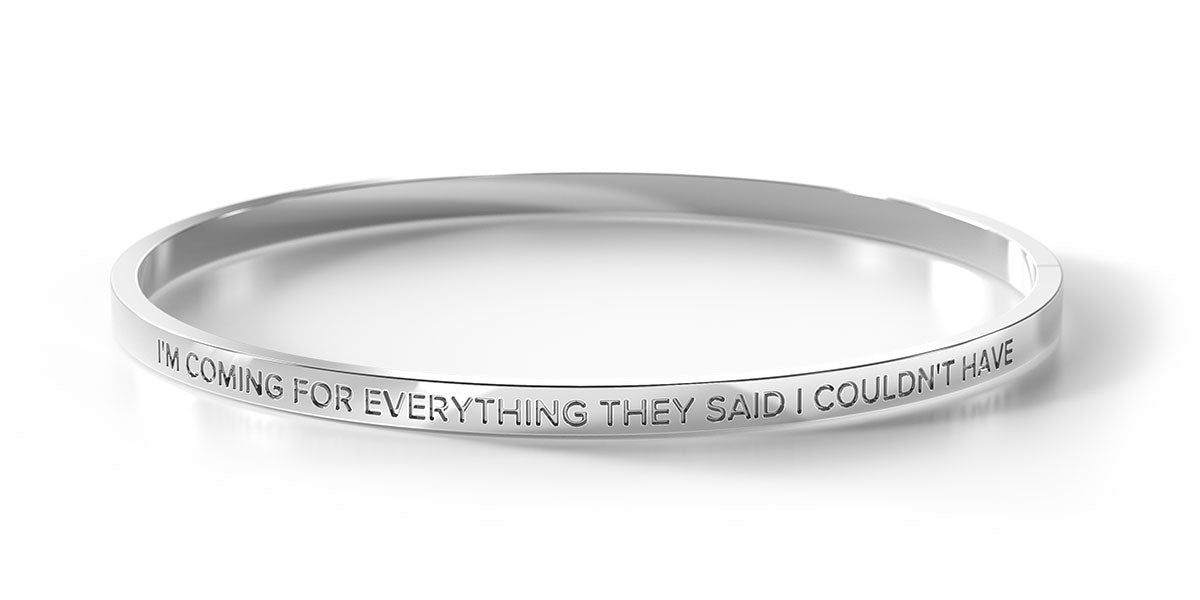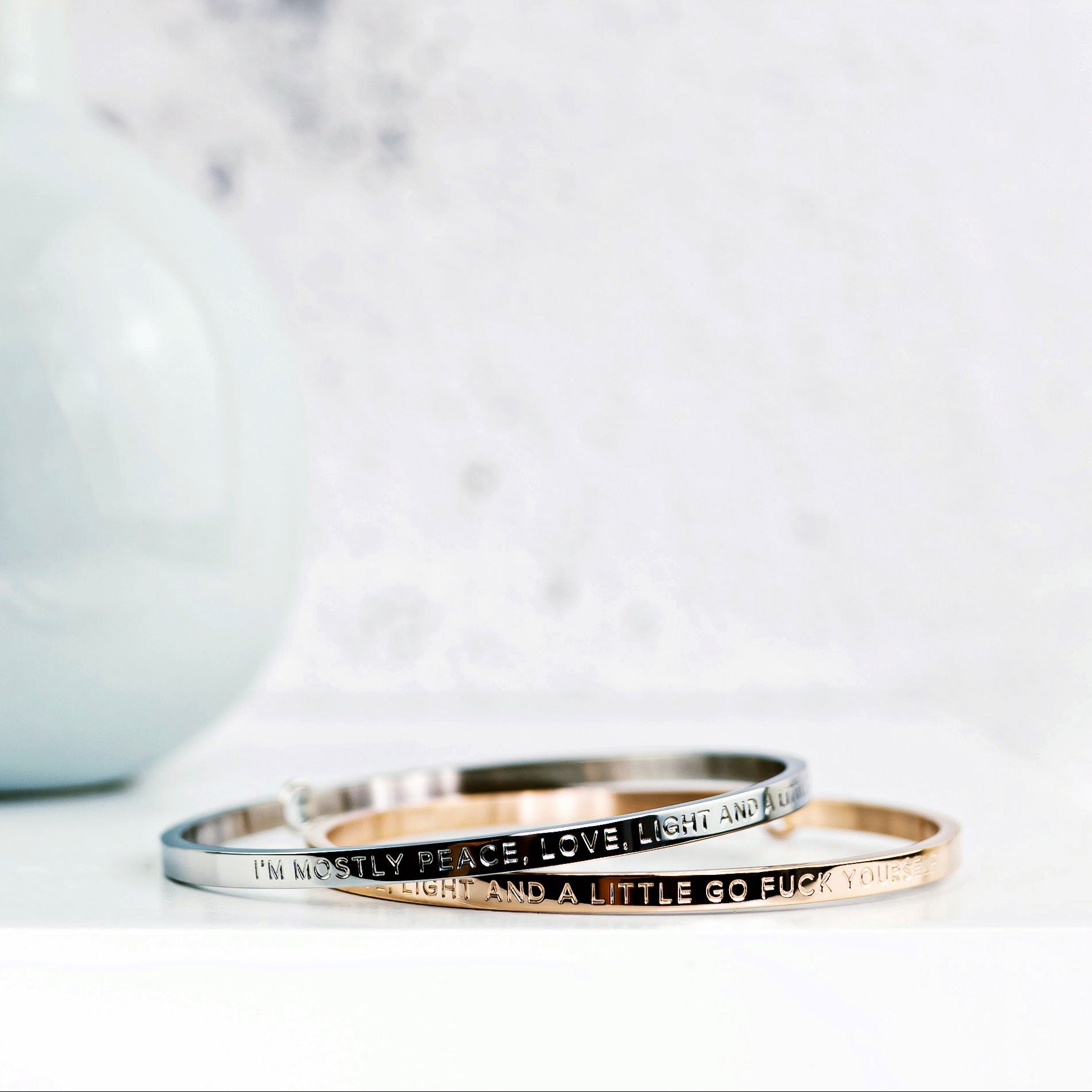 Sale price

$21.00 USD
Regular price

$34.00 USD
(/)
View details