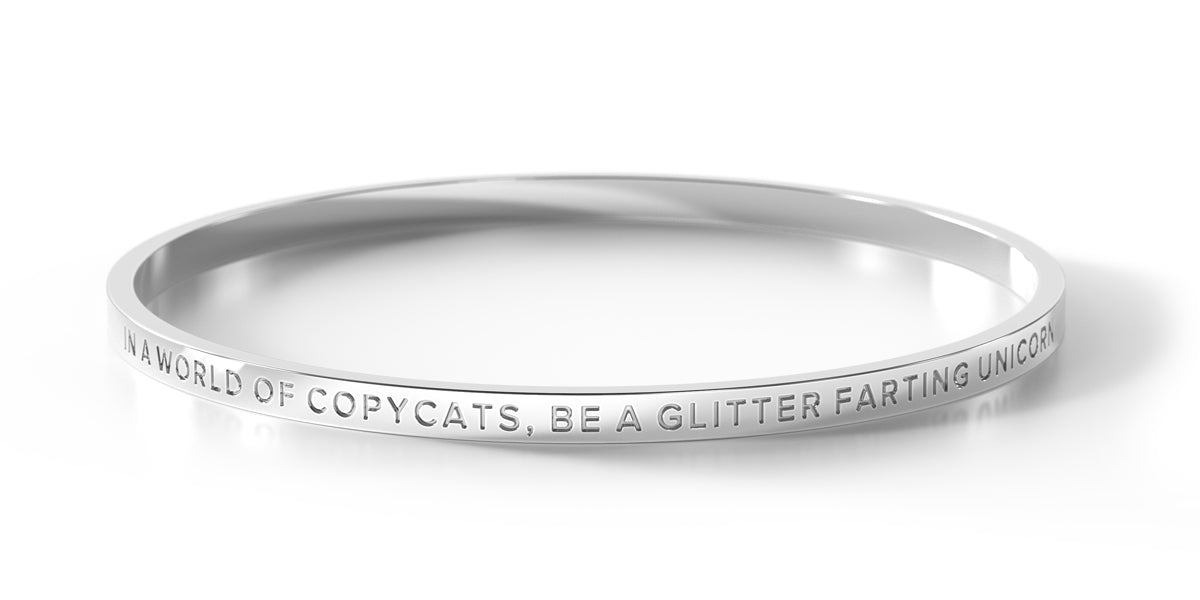 In A World Of CopyCats, Be A Glitter Farting Unicorn - Hall Of Fame.
I never thought I'd be in a position where I'd be comparing myself to a Fart.

But after a hilarious conversation with my friend Caroline the other day, I decided I needed to share the piece of wisdom she passed on to me.

We've made this

 

Limited Edition Bangle

 

partially because it was hilarious, but also partially because

 

So Many People Loved this quote -

 

In A World Of CopyCats, Be A Glitter Farting Unicorn.

But why?

Well as Caroline so eloquently explained to me...

This bangle is the ultimate expression of Not Giving a Fuck about What Anyone Else Thinks of You.

(She went on to use her fart analogy).

We're taught that our Farts are meant to be quiet and odourless.

God forbid we ever let one rip in public, or drop a silent but deadly one in a packed elevator

 

(I am guilty of this - dear packed elevator, I'm so sorry).

But in so many ways, we're taught that WE'RE meant to be quiet and odourless. We spend so much time hiding parts of ourselves, or we avoid doing the things we really want to do because we're concerned about what people might think of us.

So if "Correct Fart Etiquette" states that farts are meant to be quiet and odourless - what's the opposite of that?

Farts that drop like cannons and shoot Glitter Bombs across the room.

Farts that announce in a not even remotely subtle way that we don't give a shit about what anyone else thinks of us - because the Glitter Farting Unicorn is here.

And the Glitter Farting Unicorn isn't interested in being like everyone else.

She's a rare, unique creature. Someone who looks for the silver lining, even in shitty situations. Someone who laughs when she shouldn't and flounces around doing her own thing. She doesn't need to fit in.

Seriously, who wants their farts to be quiet and odourless when you could fart glitter instead?

Caroline said to me,

 

"I've never followed the crowd and I've never been the popular one.

I've never done what was expected of me. I didn't aim to break moulds or rules - but neither does the

 

glitter farting unicorn.

She's just dancing around, farting out glitter bombs, not giving a shit about what other people think.

It's not even rebellion, because what other people think doesn't even cross her mind.

When a

 

glitter farting unicorn

 

decides to do something, she does it because it's right for her. She isn't afraid to be who she is a stand out from the crowd. While everyone around her is trying to become some kind of carbon copy, she's not afraid to stand alone."

I smiled when I heard what Caroline I said.

I thought in a way, releasing this bangle is the ultimate Glitter Farting Unicorn act. Did I ever think we put the word Fart on a bangle? No. (Just as I wouldn't have guessed we'd put the c-bomb on a bangle a couple of years ago).

But I'm proud to stand out from the crowd, proud to be myself, proud to be a Glitter Farting Unicorn AND to have a bunch of amazing Glitter Farting Unicorns standing alongside me.

So can we put Glitter Farting Unicorns on a bangle?
Hell yeah we can. And we did.
 

Orders dispatched Monday, Wednesday & Friday mornings Melbourne time.

We offer Free Shipping (2 - 5 business days delivery) for all Australian jewellery orders! 

Orders including Clothing are flat rate $10 Australia wide.

You can upgrade to Express Post (2 - 4 days business days delivery) for just $10!

Internationally:
It takes 3 - 5 weeks to be delivered, and you can track your order through Australia Post. Shipping starts at $15.

If a product has been indicated as ** PRE-ORDER ** this means it's not in stock (yet). Usually these will be sent in 4 - 5 weeks from order. However, please refer to the product page for the exact details.

If you have ordered a Custom Bangle, these are made to order and will take around 7 -10 days to arrive 

Returns & Exchanges

Our bangles are designed to make you feel happy, empowered and freakin' awesome - so if there is a problem, we gotta fix it!

If you've accidentally ordered the wrong size or are not happy with your bangle, we'll be happy refund you, and then you can order the correct one! For more details you can read our returns & exchanges policy.
Product details

Our bangles are made with love from high quality stainless steel. They are 100% hypoallergenic, and nickel & lead free.

Size & Fit

If you're not sure what size to choose please use our sizing chart to help you find your way. You'll need to measure the widest part of your hand / knuckle circumference, while your hand is mooshed. (And yes, mooshed is a word). 

If you're still totally stuck, we recommend that you purchase a regular size bangle. We do offer exchanges if it doesn't fit!

Clasp bangles

Thinking of getting one of our clasp style bangles? Great! The clasp style bangle  eliminates the need for you to base your sizing on your hand. It can be stretched out to fit over wrists instead, woo! It's a regular size (63.7mm) when closed. 

The clasp fits around 80% of people so it is perfect for gifting!


Bangle not available in your size or preferred colour? Consider ordering it as a Custom Bangle!
Choose options