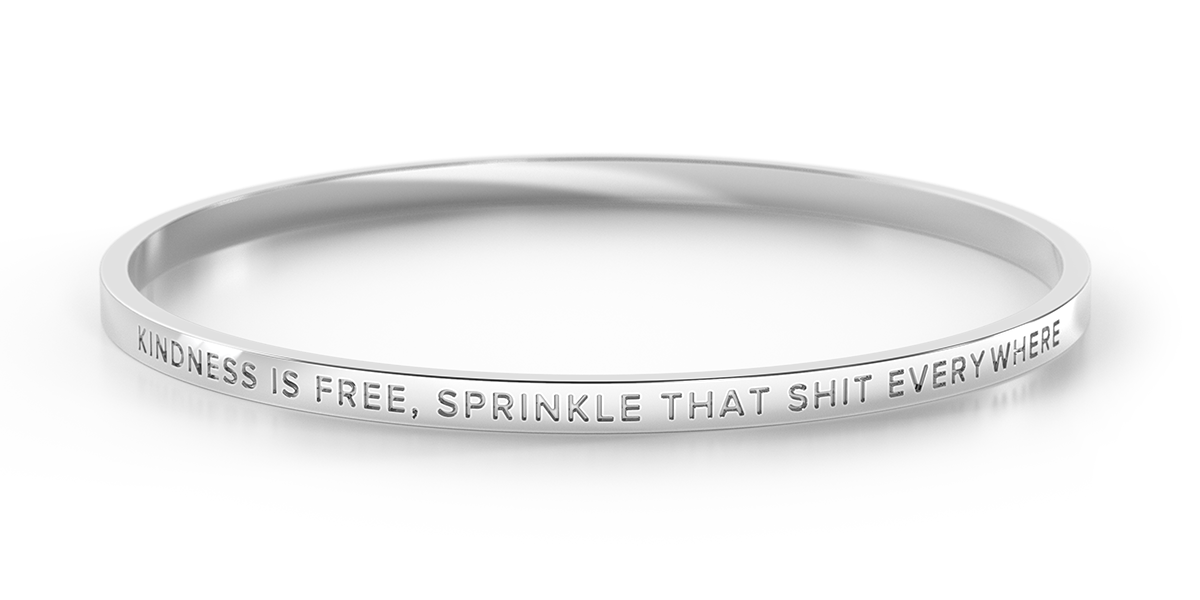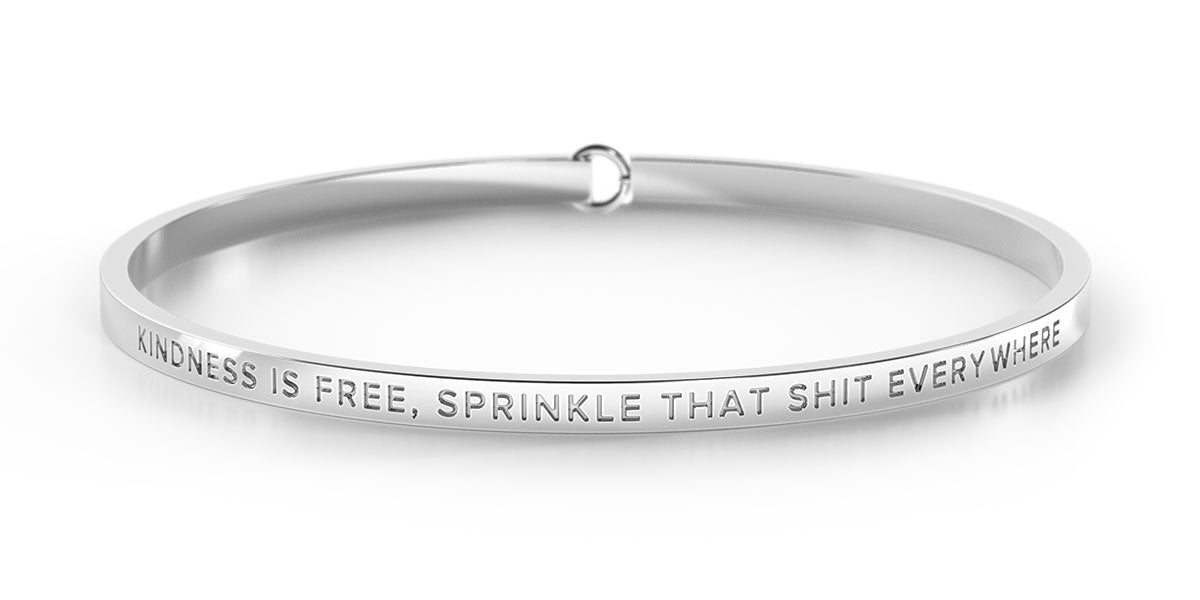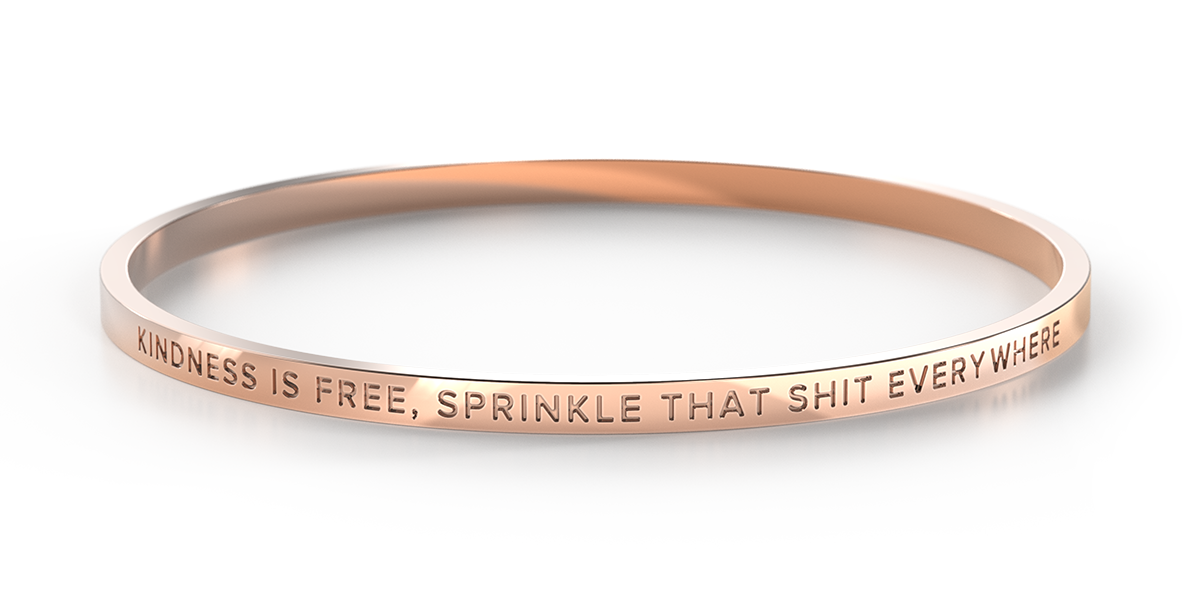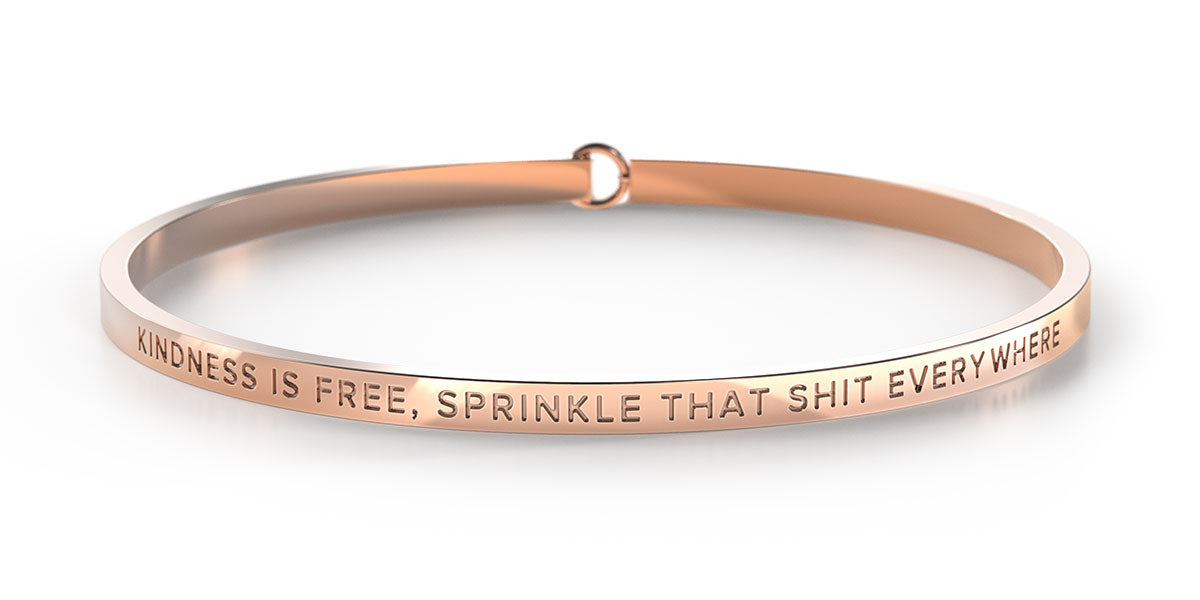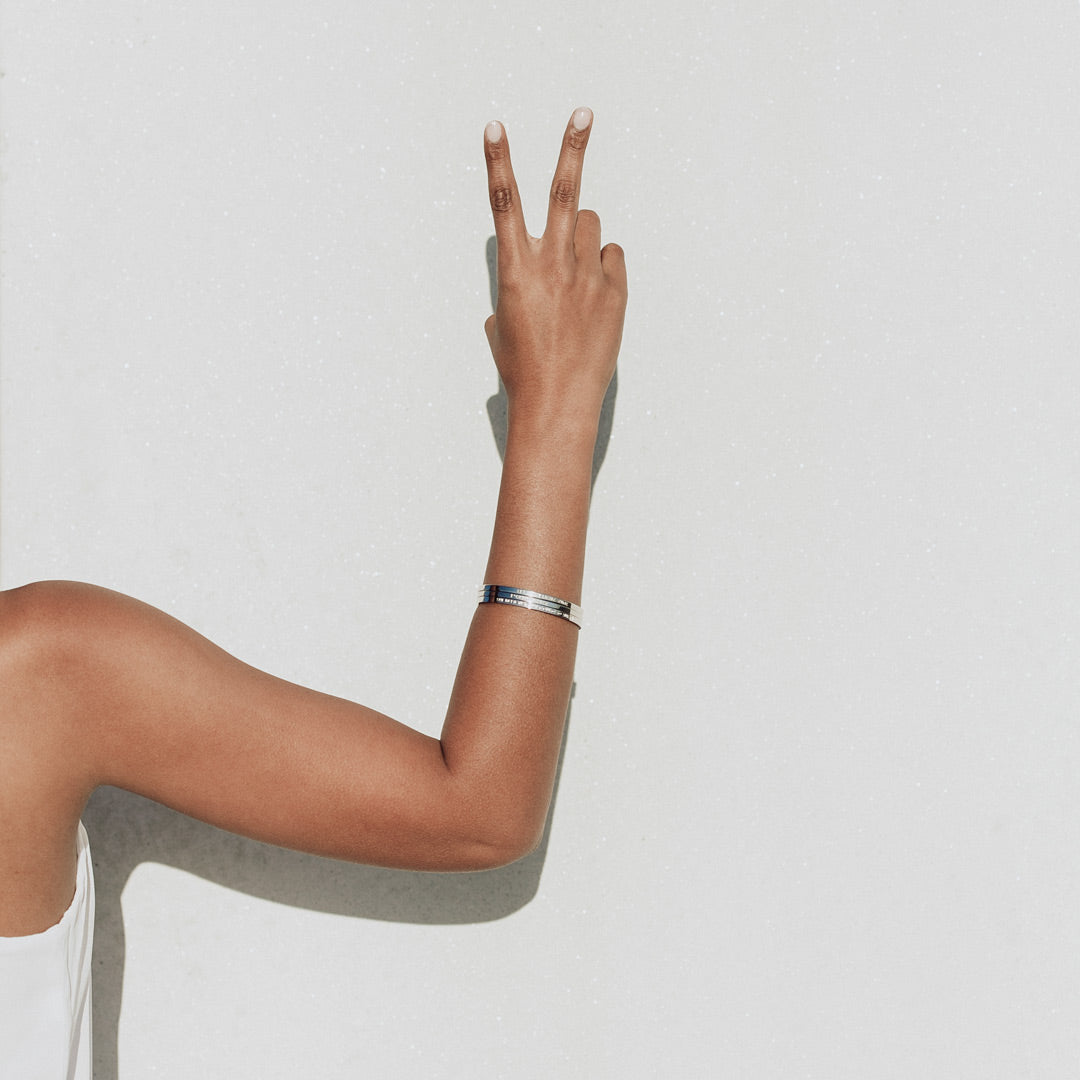 Kindness Is Free, Sprinkle That Shit Everywhere - Hall Of Fame
All Flashback Bangle sales are FINAL. No exchanges or refunds. So please keep that in mind and check out our size guide to find your size.
For me, the biggest act of kindness I've ever received was in the form of one word - Yes.

My friend and I were in Dubai for New Years. Our hotel wanted to charge us $500 to go to the roof to see the fireworks. Instead, we decided to spend our day in the mall and then walk to the fountains to watch them at midnight.
As first-time travellers, we were naive. We knew New Years in Dubai was big, but not as big as 100's of 1000's of people all crammed on a footpath leading to the fountain big. We could barely breathe with all the people. And then, slowly, I felt a hand from behind me creeping up from my bum to my waist.
I was being groped. He reached my hip and crushed me flush against him. Then slid his hands between my legs. I signalled urgently to my friend that we needed to GET OUT now. I didn't care about seeing the fireworks. I couldn't escape this man without leaving this crush of people. I couldn't call him out. I couldn't report it. She nodded and we turned. I turned straight to face my attacker. In the movement, he had moved his hand up to hold my breasts. I slapped his hand away. He smiled.
I was terrified. And furious. Furious because I followed every single guideline to be 'safe' in Dubai, I wore appropriate clothing and followed the laws, but yet I was still groped. Furious because If I reported it, it would be me who was put in jail.
Terrified because his smile showed he knew all that, and knew he could get away with it. And I was terrified at the thought that he might do worse to someone else next time.  
We finally got away. Free from the crowd, we sat by the traffic control fence. It was close to midnight so we decided to watch the fireworks from there. We were surrounded by families so I felt safe enough to do so. I thought the worst was over. 
But then we had to get back to our hotel. Which was a 40-minute taxi drive away. 
The problem with 100's of 1000's of people all watching the fireworks? Well, they all wanted to go home at the same time. No taxis were available. We were directed to the train station. We had no idea what train to catch or where to buy tickets. And we were corralled into the men's lane, who then screamed at us to leave. There were police with dogs herding everyone to stay in the lines. 
We had to be at the airport for a flight at 5am. It was now 2am. We couldn't wait for the train. 
We turned and went back to the main highway. In desperation, we stood in the median strip. Signalling to every taxi that went past. Begging them to let us inside. 
Finally, one stopped. It had an old couple in the back. We asked the taxi driver if we could jump in. He shrugged and said it was up to the passengers. 
We looked to them, and the women simply nodded and said 'Yes'. When we got in the back with them, we saw that they had been in the taxi already for nearly an hour. Their fee was nearing $300. Yet, they were still happy to pause and help us get home safely. 
I can't say this simple act of kindness saved our lives, but it did mean we got back to our hotel safely and in time for our flight. I can never thank those kind people enough for that.
And this is why this bangle is one I'm going to be wearing on my wrist:
Kindness is free, sprinkle that shit everywhere. 
My reminder that a simple word, a small action, can change everything.
Kindness is free, sprinkle that shit everywhere. 
Especially during this time of year. 
Where everyone gets a bit… crazy. Testy. Impatient. Tired. Grinch-like even though they are SO excited for Christmas. 
It's a most wonderful, and stressful, and infuriating, time of year. 
And I get it. This time of year, you feel like you have NO TIME at all. Everything is on the clock, getting presents in time, organising events and making sure you have everything in order before you go on holidays. It's CRAZY. So you let the little things slide. 
You leave the trolley in the middle of the road for someone else, or a staff member, to deal with. 
You stop saying please and thank you. 
You leave clothes and shoes on the shop floor. 
You feel like you don't have the time, so you make it up by doing those little things that you will probably never think of again.
But these things? They aren't kind. And I've been guilty of doing them too.
Kindness doesn't have to be grand gestures. It's not necessary to buy things or donate to be kind. In fact, kindness in its best form is free. 
Kindness is thinking forward about your choices. Thinking 'Okay if I do or don't do this, who will be affected?' It's putting the trolley away in the designated spot. It's a simple thank you to a retail worker. It's putting away what you put out of place. It is saying please. It is maybe inconveniencing yourself just a little bit, so you don't inconvenience someone else later. 
The acts of kindness are small, insignificant, and you may not even notice them. But for those on the receiving end, it can make their day just that little bit easier.
Kindness is free, sprinkle that shit everywhere.
So maybe instead of the tinsel and the sparkles. Maybe try sprinkling some kindness this festive season. You never know what it could mean to someone else.
Kindness is free, sprinkle that shit everywhere.

-Sarah
 

Orders dispatched Monday, Wednesday & Friday mornings Melbourne time.

We offer Free Shipping (2 - 5 business days delivery) for all Australian jewellery orders! 

Orders including Clothing are flat rate $10 Australia wide.

You can upgrade to Express Post (2 - 4 days business days delivery) for just $10!

Internationally:
It takes 3 - 5 weeks to be delivered, and you can track your order through Australia Post. Shipping starts at $15.

If a product has been indicated as ** PRE-ORDER ** this means it's not in stock (yet). Usually these will be sent in 4 - 5 weeks from order. However, please refer to the product page for the exact details.

If you have ordered a Custom Bangle, these are made to order and will take around 7 -10 days to arrive 

Returns & Exchanges

Our bangles are designed to make you feel happy, empowered and freakin' awesome - so if there is a problem, we gotta fix it!

If you've accidentally ordered the wrong size or are not happy with your bangle, we'll be happy refund you, and then you can order the correct one! For more details you can read our returns & exchanges policy.
Product details

Our bangles are made with love from high quality stainless steel. They are 100% hypoallergenic, and nickel & lead free.

Size & Fit

If you're not sure what size to choose please use our sizing chart to help you find your way. You'll need to measure the widest part of your hand / knuckle circumference, while your hand is mooshed. (And yes, mooshed is a word). 

If you're still totally stuck, we recommend that you purchase a regular size bangle. We do offer exchanges if it doesn't fit!

Clasp bangles

Thinking of getting one of our clasp style bangles? Great! The clasp style bangle  eliminates the need for you to base your sizing on your hand. It can be stretched out to fit over wrists instead, woo! It's a regular size (63.7mm) when closed. 

The clasp fits around 80% of people so it is perfect for gifting!


Bangle not available in your size or preferred colour? Consider ordering it as a Custom Bangle!
Choose options