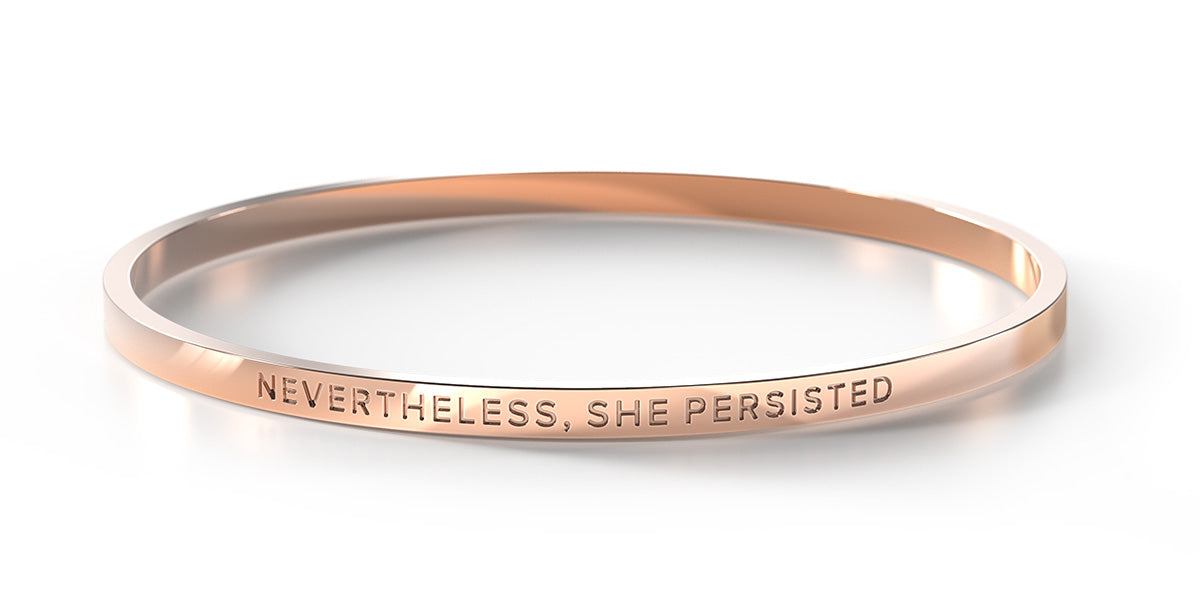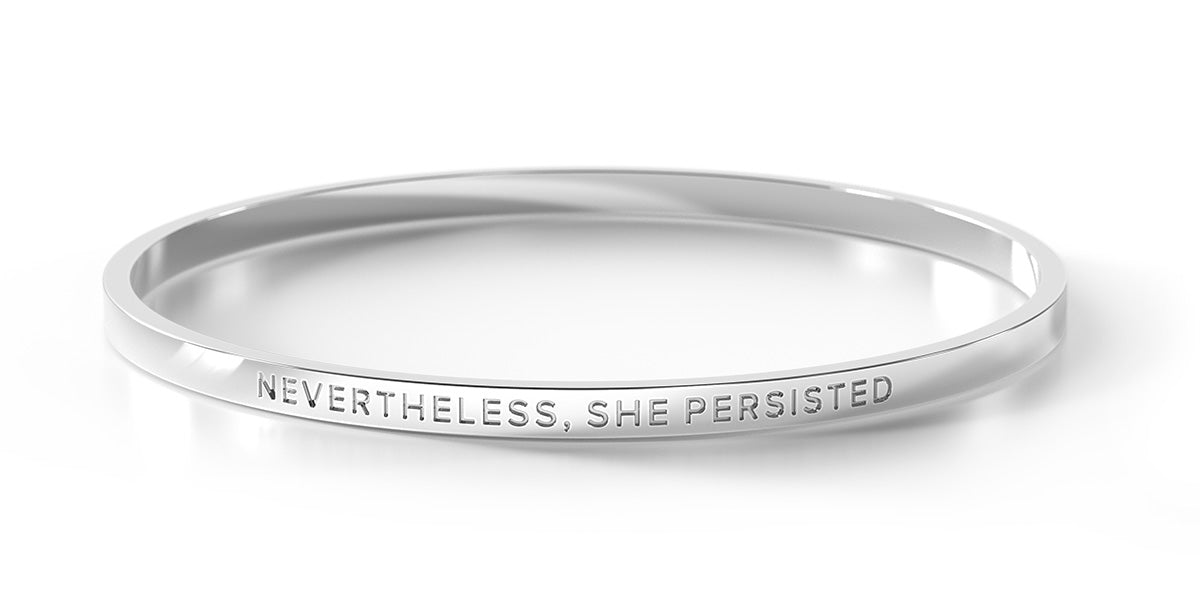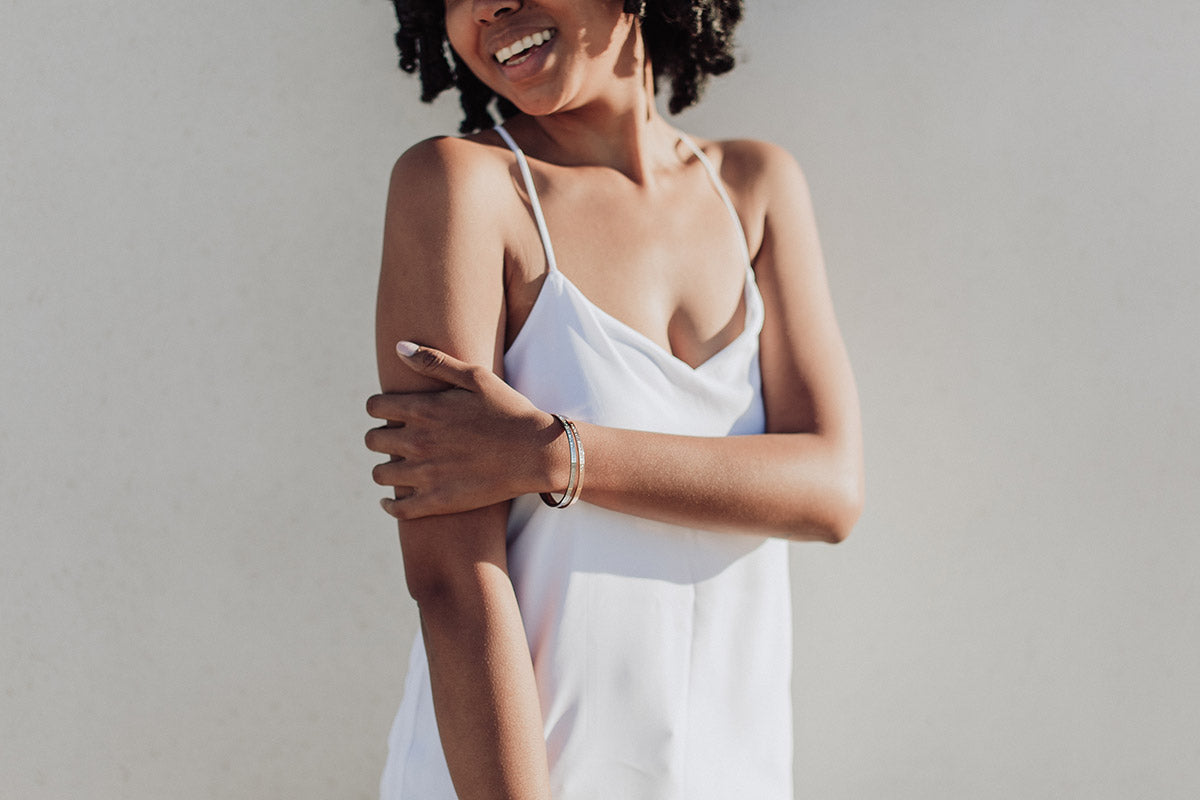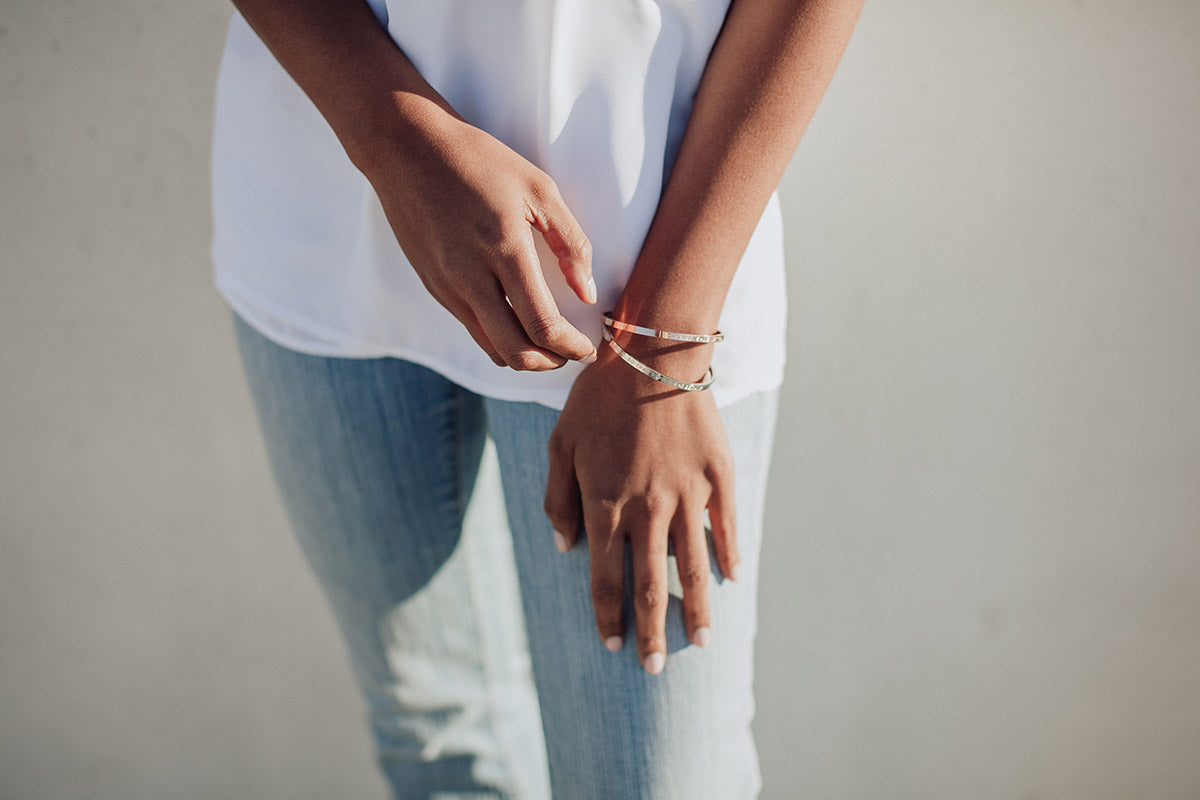 Nevertheless, She Persisted - Hall Of Fame
All Flashback Bangle sales are FINAL. No exchanges or refunds. So please keep that in mind and check out our size guide to find your size.
To the most courageous woman I have ever met,

I'm writing to you from your bedside, again. Worried for your life, yet again.
When we first met 6 years ago; would you ever have believed that we'd end up here?
Life has kicked you in the guts. You've been through hell. In all honesty, hell might've been a holiday. The only constants you've had is stress, chaos and fear.
When I stop and think about all that you've experienced I am reminded of the expression...
Nevertheless, She Persisted.
You started this journey already burnt out. Running on empty, a shell of your former self - but you had to keep going. If I were to write a book on the last 24 months of your life, nobody would believe it. 
It's too bizarre, too strange, too incomprehensibly horrific. You've experienced more in 2 years than most will in a lifetime.
You moved across the globe into a house of horror, feeling more alone than you have ever felt. 
Your family said "so fucking what - get over it" when you shared vulnerably about the rape and abuse you experienced as a child.
You spent months burning alive in your own body. Invisible chronic neuropathic pain. The worst known to man. How you survived, I'll never know.
A trip to a psych ward because you wanted to die. They said there was no way to stop the pain. But it needed to end. You couldn't live like that.
I remember lying next to you. Both of us sobbing. You were begging me to help you die. My heart broke.
But still..
Nevertheless, She Persisted.
You discovered the treatments you needed when it all got too much and your brain and mind couldn't cope on their own anymore. Countless books on neuroplasticity, epigenetics and the bodies ability to heal.
You spent months healing yourself of an "incurable" condition. One you were told couldn't be cured.
All the while, the people you thought would be by your side abandoned you when you needed them the most.
You discovered your boyfriend of 3 years was a malignant narcissist with sociopathic tendencies. He'd been cheating on you the entire relationship. The gaslighting, the manipulation, and the trail of women he left behind him. Each with their own stories of emotional, psychological and sexual abuse. You'd been living with a Harvey Weinstein. 
He tried to break you.
And he almost did.
But still…
Nevertheless, She Persisted.
You made the difficult decision to move back to Australia - to let go of your American dream - and in doing so, you had to leave your dog behind. Your heart and soul. The light of your life. The one constant in a sea of unknowns. Not knowing if you'd be able to ever get her home and see her again.
But you had to keep fighting. You had to keep moving forward.
And the final straw, the grand finale…
Discovering that your best friend and mentor of 10 years assaulted you while you were mentally, physically, and emotionally vulnerable. When you were counting on him to take care of you, he turned into a monster. When you realised what he'd done, he continued trying to manipulate and lie to you - and the people around you. 
"She's lying. She's overreacting. It never happened."
"I did it because I thought it's what was best for her."
He sickens me.
As we've discovered, he's a benevolent narcissist too.
When more women came forward with their stories about him, that nearly broke you too.
The two men you once trusted most in the world.
Both predators.
Both narcissists.
Both dangerous.
And now, 3 trips to the ER for the horrendous stomach pain and digestive issues you've had for weeks.
And still…
Nevertheless, She Persisted.

Is it any wonder you feel like you're floating in an abyss with nothing to hold onto? Not that your bucket is empty, but that there is no bucket at all?
You've been through more in the last 24 months than majority of people experience in an entire lifetime. Yet as I write this today, you are still having to fight.
You've used every inch of your being to get here. You've used every morsel of energy you could muster. You've healed so much of your body when most doctors believed you were a lost cause.
How's that for making the impossible possible?! 
I'm so proud of your courage. Of your strength. Of your wisdom. Of your vulnerability. 
And I know it feels like you can't persist anymore.
But the time has come for you to rest. A deep, deep, rest. To heal your heart. To nourish your soul. To gently put a new foundation underneath yourself, so you can go forward from here one step at a time. To meet yourself with an extraordinary amount of compassion. 
In this moment, I understand that it's a leap of faith for you to believe that you'll find your way through this. So please, borrow my faith in you.
I am so proud to call you my best friend, my business partner, my soul sister.
I love you.
Lauren x
Pssst... are you wanting this bangle? you can order in any size or colour it as a Custom Bangle here.
 

Orders dispatched Monday, Wednesday & Friday mornings Melbourne time.

We offer Free Shipping (2 - 5 business days delivery) for all Australian jewellery orders! 

Orders including Clothing are flat rate $10 Australia wide.

You can upgrade to Express Post (2 - 4 days business days delivery) for just $10!

Internationally:
It takes 3 - 5 weeks to be delivered, and you can track your order through Australia Post. Shipping starts at $15.

If a product has been indicated as ** PRE-ORDER ** this means it's not in stock (yet). Usually these will be sent in 4 - 5 weeks from order. However, please refer to the product page for the exact details.

If you have ordered a Custom Bangle, these are made to order and will take around 7 -10 days to arrive 

Returns & Exchanges

Our bangles are designed to make you feel happy, empowered and freakin' awesome - so if there is a problem, we gotta fix it!

If you've accidentally ordered the wrong size or are not happy with your bangle, we'll be happy refund you, and then you can order the correct one! For more details you can read our returns & exchanges policy.
Product details

Our bangles are made with love from high quality stainless steel. They are 100% hypoallergenic, and nickel & lead free.

Size & Fit

If you're not sure what size to choose please use our sizing chart to help you find your way. You'll need to measure the widest part of your hand / knuckle circumference, while your hand is mooshed. (And yes, mooshed is a word). 

If you're still totally stuck, we recommend that you purchase a regular size bangle. We do offer exchanges if it doesn't fit!

Clasp bangles

Thinking of getting one of our clasp style bangles? Great! The clasp style bangle  eliminates the need for you to base your sizing on your hand. It can be stretched out to fit over wrists instead, woo! It's a regular size (63.7mm) when closed. 

The clasp fits around 80% of people so it is perfect for gifting!


Bangle not available in your size or preferred colour? Consider ordering it as a Custom Bangle!
Choose options