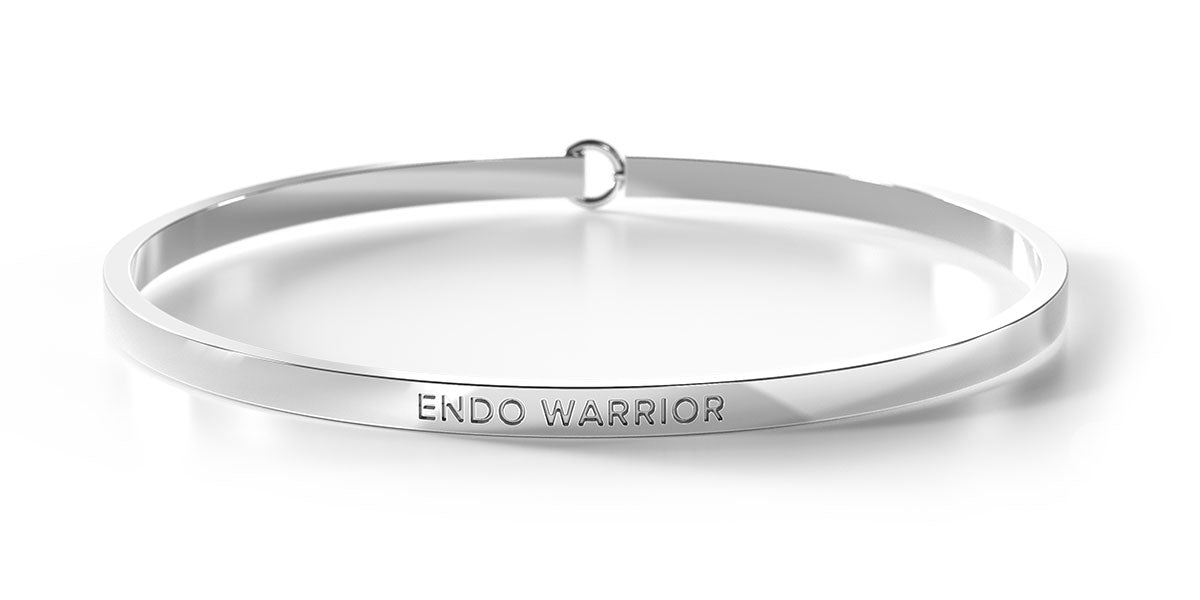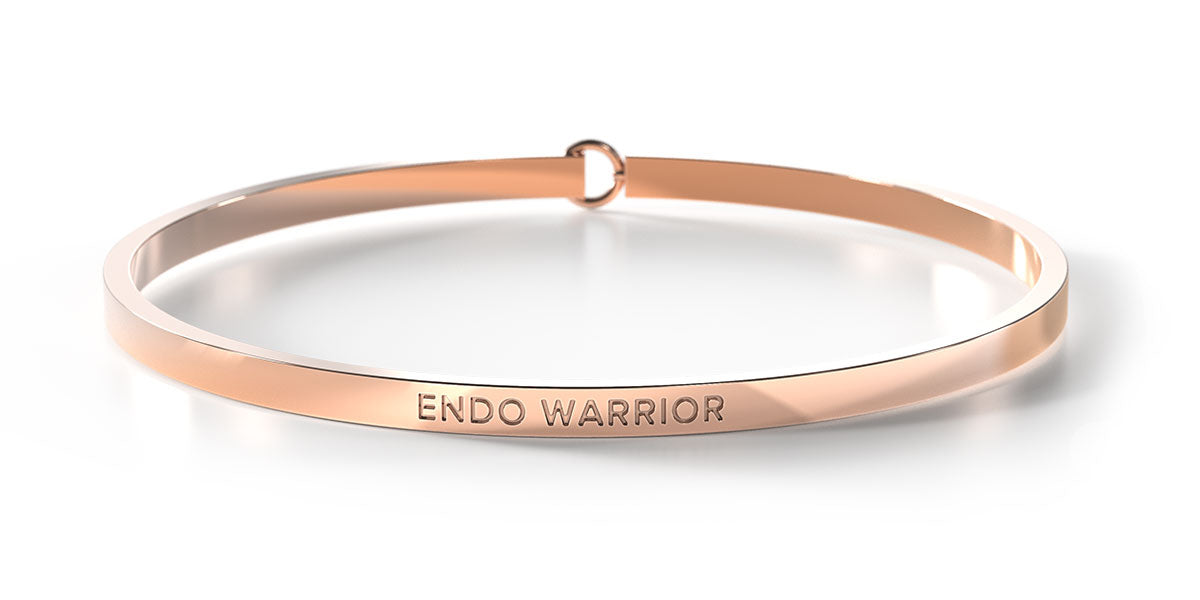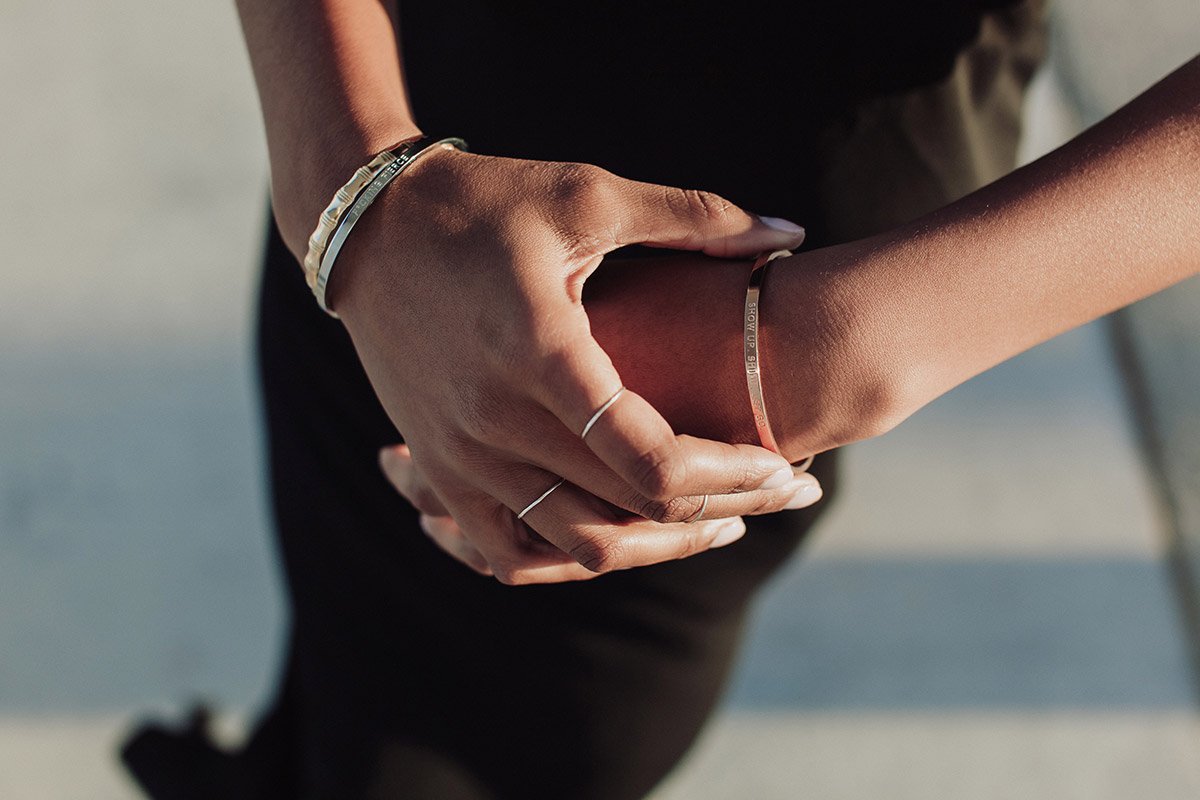 Endo Warrior
"It's not just bad period pain
It's a chronic illness that can take so much from our lives not just physically, financially with the average cost for an Endo warrior being $30,000 per year.
It's taken away my fertility but it will never take away my strength to keep fighting it".
A very dear friend of mine approached me and asked if I would be interested in doing a bangle to raise awareness of Endo. I'm not a sufferer myself but I know plenty of Wonder Women who do suffer.
I have seen the impact it has on their lives, their choices, and their relationships.
Endo is a prevalent disease affecting 1 in 9 women, making it as common as asthma or diabetes, but with little funding, recognition and so much stigma.
I reached out to our wonderful BE community – I knew we would have many warriors and I wanted them to share in their words how Endo impacts them.
"Hey, endo sufferer here. Spent 12 years being misdiagnosed, changing diets, IBS regime, & indescribable pain"
"Hi endo sufferer here!! Suffered for 20 odd years and ended up needing ivf to have my son and hysterectomy at 28"
"What about people who have EVERY SINGLE SYMPTOM AND SIGN of endo and have been asking Drs for 16 years to take them seriously but still being pushed aside and told 'this is just how you are'. Yes, crippling pain and borderline anaemic every month is quite normal apparently."
"I want people to know more about Endo, we deserve to have better care, a shorter diagnosis time frame on average it takes 7-12 years to be diagnosed, we live with chronic pain daily but just on our period I had major surgery in 2019 needing my ovary, tube and 20cm of my bowel removed due to Endo 
Financially it's crushing 
People who live with endo are the strongest people I know x"
 "Long history of endo - had pretty much everything said to me from your too young, it's in your head, harden up it's just a period to have a baby that'll fix it. Multiple surgeries for treatment and test case for drugs."
BE supports everyone being unapologetically themselves.
This bang is for all the Endo Warriors out there.
We see you
We believe you
We are in awe of your strength and determination
Where we shine a light, things change.
Nikki
xx
 

Orders dispatched Monday, Wednesday & Friday mornings Melbourne time.

We offer Free Shipping (2 - 5 business days delivery) for all Australian jewellery orders! 

Orders including Clothing are flat rate $10 Australia wide.

You can upgrade to Express Post (2 - 4 days business days delivery) for just $10!

Internationally:
It takes 3 - 5 weeks to be delivered, and you can track your order through Australia Post. Shipping starts at $15.

If a product has been indicated as ** PRE-ORDER ** this means it's not in stock (yet). Usually these will be sent in 4 - 5 weeks from order. However, please refer to the product page for the exact details.

If you have ordered a Custom Bangle, these are made to order and will take around 7 -10 days to arrive 

Returns & Exchanges

Our bangles are designed to make you feel happy, empowered and freakin' awesome - so if there is a problem, we gotta fix it!

If you've accidentally ordered the wrong size or are not happy with your bangle, we'll be happy refund you, and then you can order the correct one! For more details you can read our returns & exchanges policy.
Product details

Our bangles are made with love from high quality stainless steel. They are 100% hypoallergenic, and nickel & lead free.

Size & Fit

If you're not sure what size to choose please use our sizing chart to help you find your way. You'll need to measure the widest part of your hand / knuckle circumference, while your hand is mooshed. (And yes, mooshed is a word). 

If you're still totally stuck, we recommend that you purchase a regular size bangle. We do offer exchanges if it doesn't fit!

Clasp bangles

Thinking of getting one of our clasp style bangles? Great! The clasp style bangle  eliminates the need for you to base your sizing on your hand. It can be stretched out to fit over wrists instead, woo! It's a regular size (63.7mm) when closed. 

The clasp fits around 80% of people so it is perfect for gifting!


Bangle not available in your size or preferred colour? Consider ordering it as a Custom Bangle!
Choose options