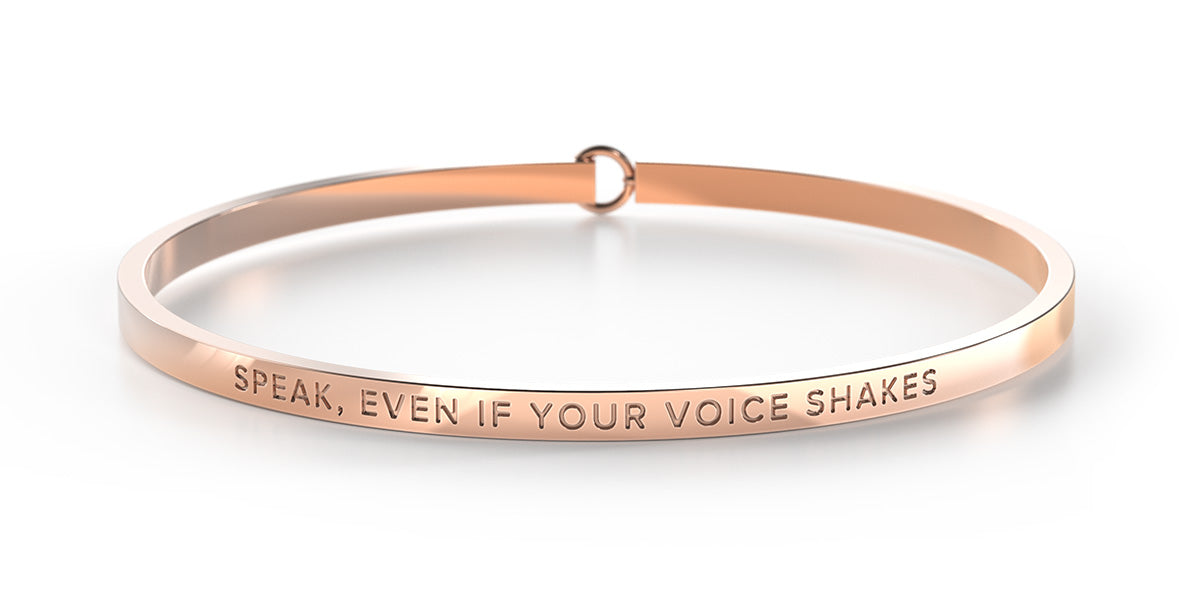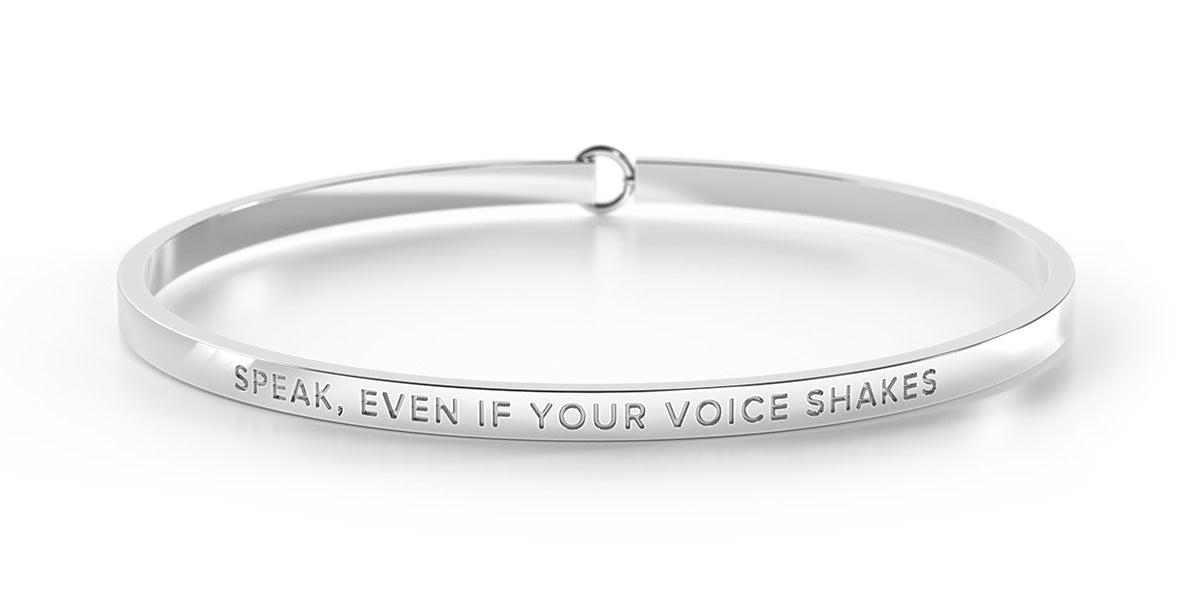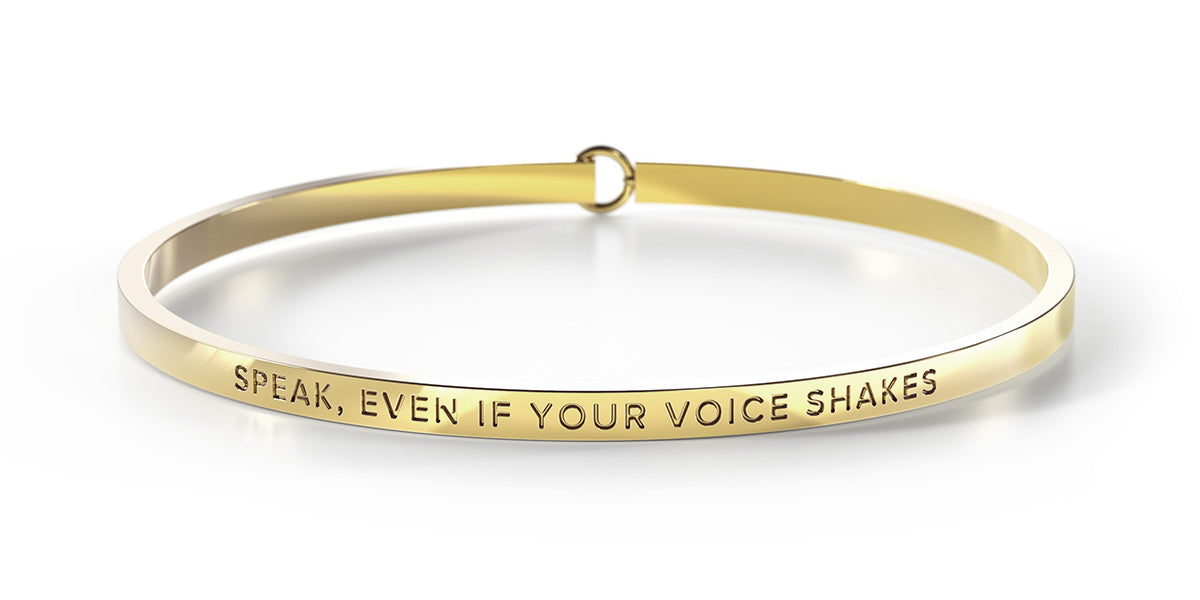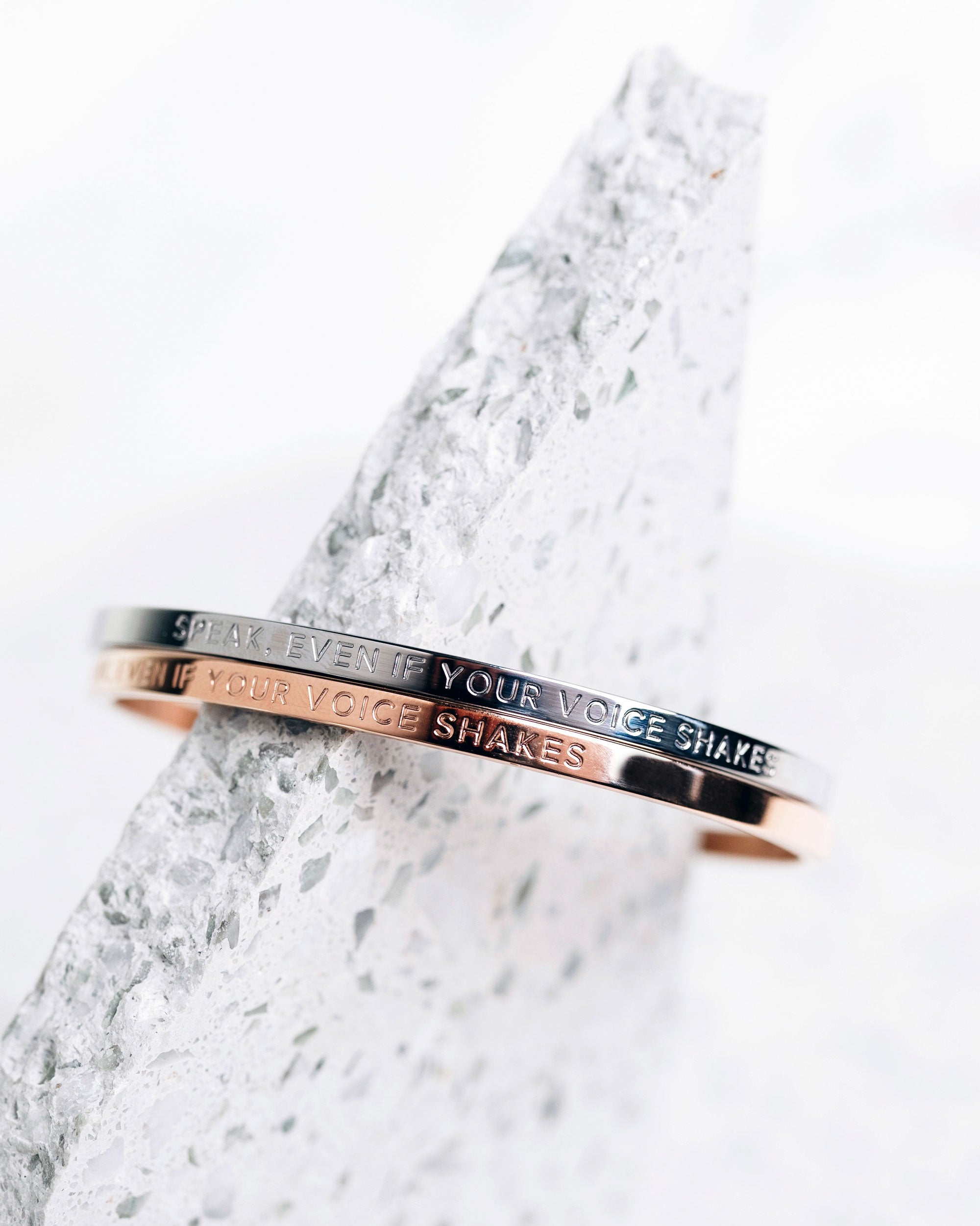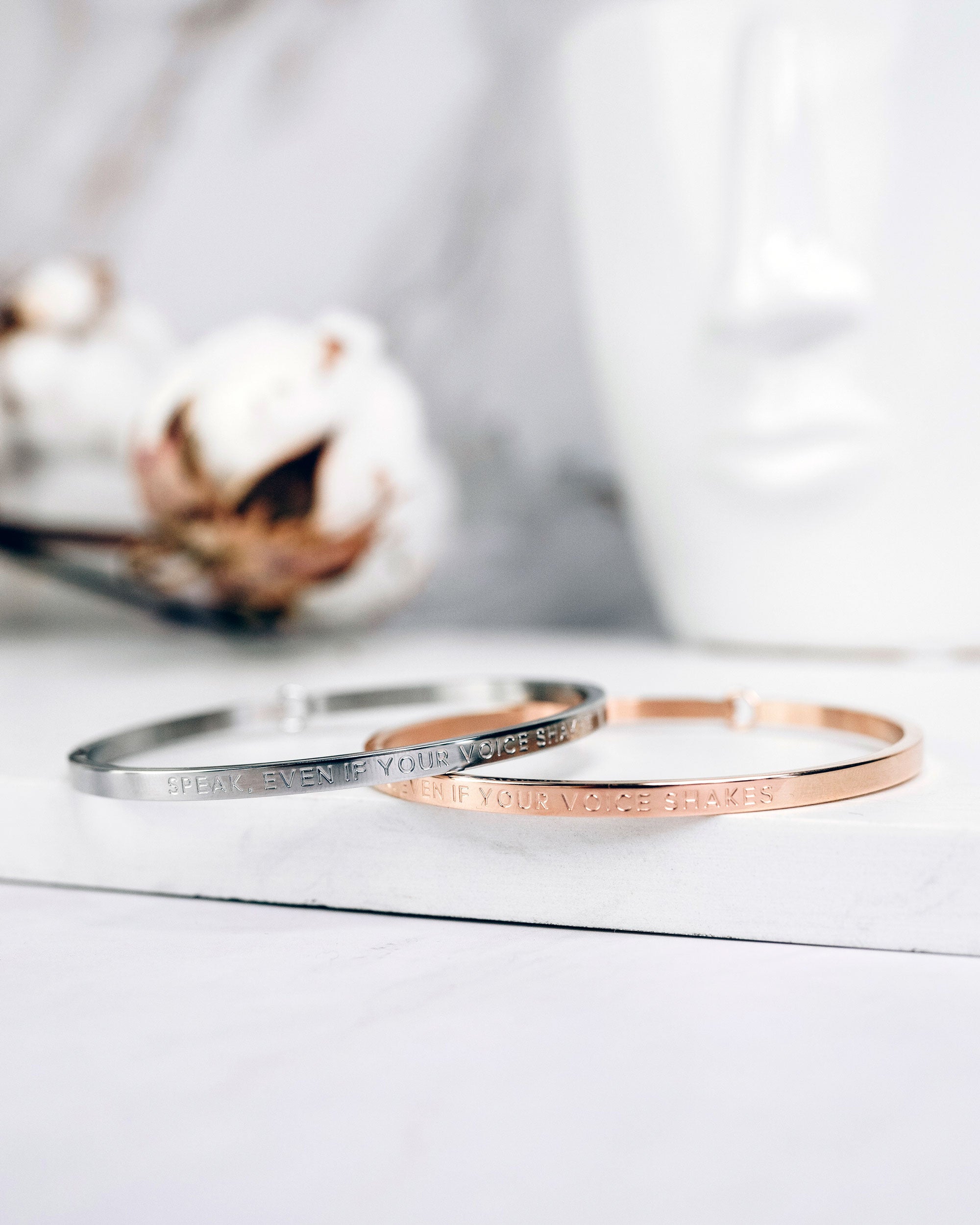 Speak, Even If Your Voice Shakes - Hall of Fame
NOTE: This is clasp style bangle that eliminates the need for you to base your sizing on your hand. It can be stretched out to fit over wrists instead, woo!
It's a regular size (63.7mm) when closed, check our sizing guide to make sure it will fit!
I stood on the steps of the Sexual Assault and Family Violence Centre, wondering if I was brave enough to walk through the doors.
My inner critic was going crazy. "What the hell are you doing here? You never experienced violence you whinging little bitch. Nothing bad ever happened to you. You're a fraud. Keep your fucking mouth shut."
I stuffed down that inner voice, wiped away the tears and walked through those doors. 
I'd kept secrets inside of me for decades, and now it was finally time to speak. 
Terrified as I was to do it.
"I don't know if I'm supposed to be here," I told the intake officer. "I'm not sure if I'm in the right place."
"That's okay," she gently responded. "We're going to do something called a risk assessment, and that will help determine if you're in the right place. This might be triggering, but you just say yes if you have experienced any of these things. If it gets too hard, we can take a break."
"Okay." I responded.
And so we began.
Have you ever been kicked, punched, or beaten? "Yes." I replied.

Have you been sexually assaulted or abused? "Yes."
Has anyone ever withheld money or access to financial resources to try and control your behaviour? "Yes."
Have you been verbally abused? "Yeah. One of my parents used to call me a vindictive little bitch. They also nicknamed me Viper Mouth. I think I was 14 when I was given that name. Every time I spoke after that they'd just call me a Viper Mouth and I'd shut up."

All through the interview, I alternated between tears of relief and a deep sense of shame. 
I wasn't supposed to be talking about this. I felt afraid.
When the interview was finished, I asked her again - "Um, so do you think I'm in the right place?"
She looked at me sadly, "Yes honey, I can assure you that you're in the right place. I promise. I'm so sorry for what's happened to you." 
And despite her reassurance, I still walked out of the Centre feeling like I'd done something wrong. 
When you experience abuse or bullying, often our first instinct is to stay quiet. 
After so many years of chronic abuse, I had internalised everything that had happened to me - believing that it was my fault. 
I thought that I was a horrible human being, rotten to the core, and that was the only reason all these things had been done to me.
And just over 2 weeks ago, almost 10 months after I walked through those doors, with months of intensive therapy and soul searching, I finally realised that WHAT HAPPENED TO ME WASN'T MY FAULT.
I didn't deserve it. There is nothing inherently broken or wrong about me. And there never was to begin with. 
I was an outspoken child who spoke up about injustice, and that made me the biggest threat inside an abusive family system.
And now that I've left that system - for the first time in my adult life, I'm finding my real voice. AND the courage to speak.
I'm owning my reality, my past and my experiences AND I'm sharing about them. 
In all their dirty, shame-filled glory. 
And with every story that I share, the lighter I feel. Because speaking your truth destroys shame. They can't exist in the same space.
If you're someone who has been put down, bullied or abused, remember that the person who hurt you has a vested interest in keeping you quiet.
They WANT you afraid. Because people who live in fear don't speak up.
Well, FUCK. THAT.
It's time to face that fear.
It's time to speak, even if your voice shakes.
Is someone abusing you?
Speak, even if your voice shakes.
Are you being bullied at work? At home? At school?
Speak, even if your voice shakes.
Is something telling you that it's all your fault? That you deserved what happened to you?
Speak, even if your voice shakes.
Speaking isn't easy. In fact, it was one of the most difficult things I've ever had to do.
But a wise person once told me - we're only as sick as our secrets - and nobody deserves to live with shame burning holes inside of them.
Speak, even if your voice shakes. 
Own what happened to you. It's your truth. Your experience. 
SPEAK UP. The world needs your voice.
And I promise it will be the best thing you ever do.
 

Orders dispatched Monday, Wednesday & Friday mornings Melbourne time.

We offer Free Shipping (2 - 5 business days delivery) for all Australian jewellery orders! 

Orders including Clothing are flat rate $10 Australia wide.

You can upgrade to Express Post (2 - 4 days business days delivery) for just $10!

Internationally:
It takes 3 - 5 weeks to be delivered, and you can track your order through Australia Post. Shipping starts at $15.

If a product has been indicated as ** PRE-ORDER ** this means it's not in stock (yet). Usually these will be sent in 4 - 5 weeks from order. However, please refer to the product page for the exact details.

If you have ordered a Custom Bangle, these are made to order and will take around 7 -10 days to arrive 

Returns & Exchanges

Our bangles are designed to make you feel happy, empowered and freakin' awesome - so if there is a problem, we gotta fix it!

If you've accidentally ordered the wrong size or are not happy with your bangle, we'll be happy refund you, and then you can order the correct one! For more details you can read our returns & exchanges policy.
Product details

Our bangles are made with love from high quality stainless steel. They are 100% hypoallergenic, and nickel & lead free.

Size & Fit

If you're not sure what size to choose please use our sizing chart to help you find your way. You'll need to measure the widest part of your hand / knuckle circumference, while your hand is mooshed. (And yes, mooshed is a word). 

If you're still totally stuck, we recommend that you purchase a regular size bangle. We do offer exchanges if it doesn't fit!

Clasp bangles

Thinking of getting one of our clasp style bangles? Great! The clasp style bangle  eliminates the need for you to base your sizing on your hand. It can be stretched out to fit over wrists instead, woo! It's a regular size (63.7mm) when closed. 

The clasp fits around 80% of people so it is perfect for gifting!


Bangle not available in your size or preferred colour? Consider ordering it as a Custom Bangle!
Choose options