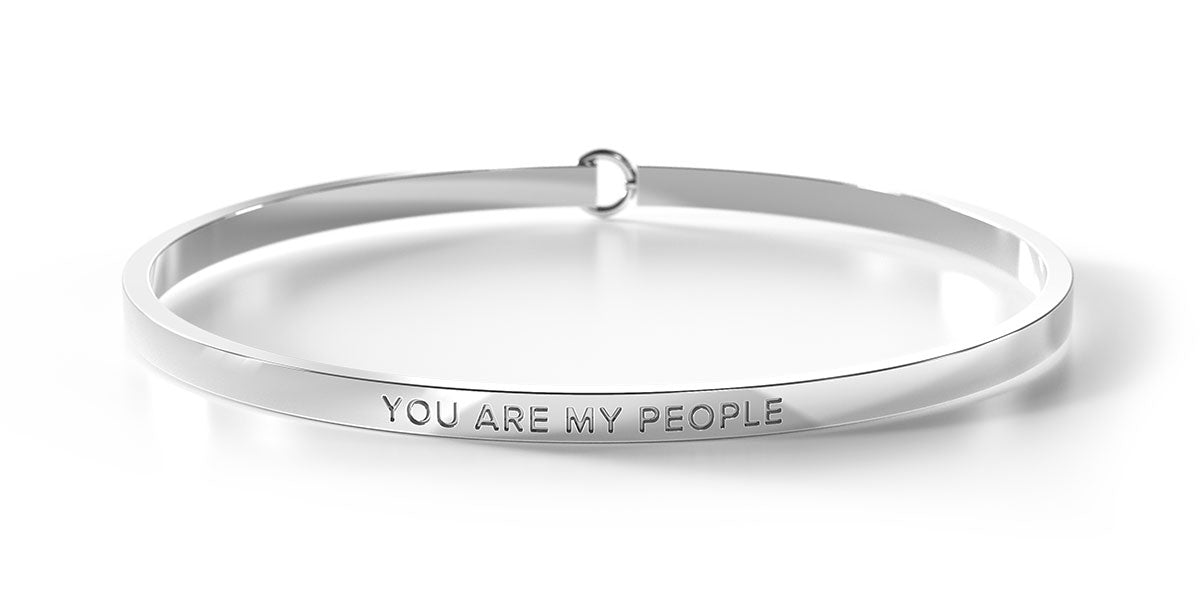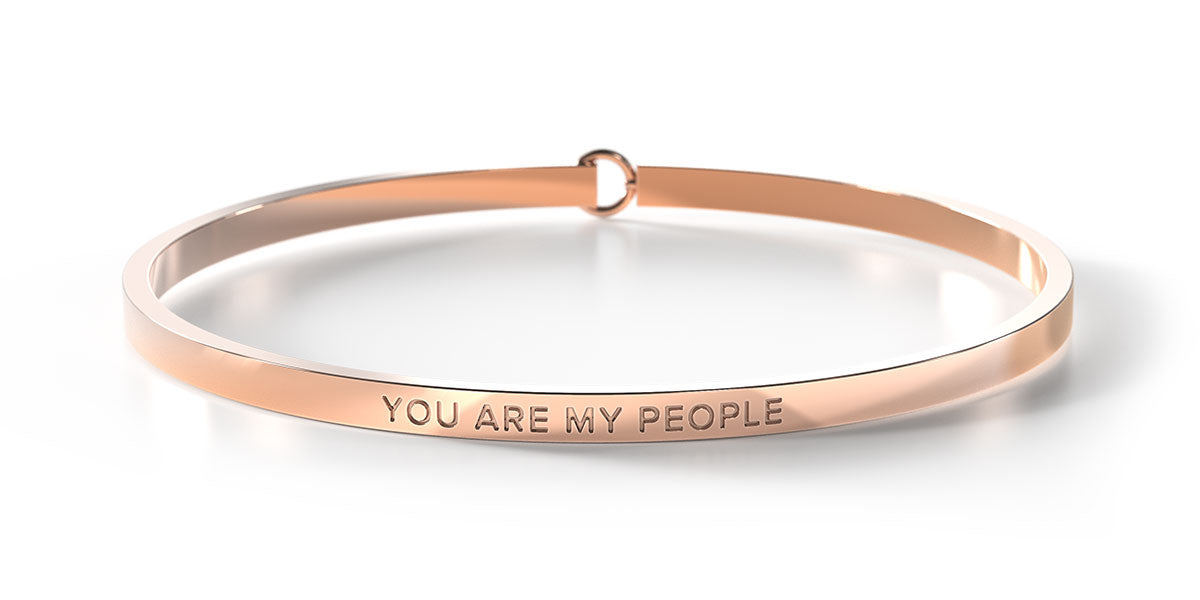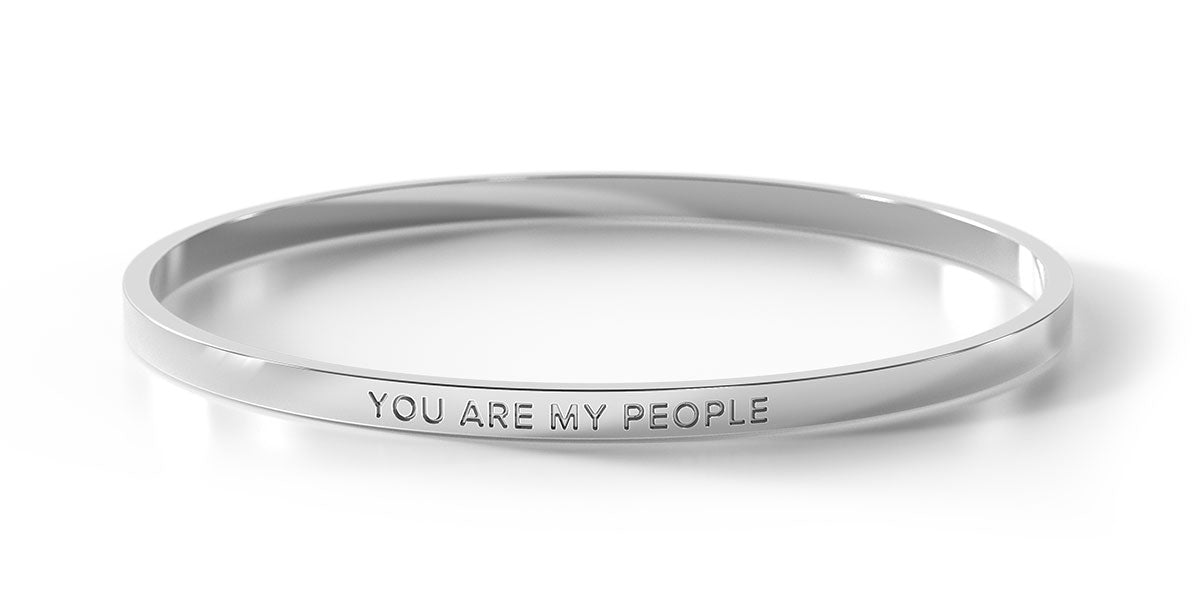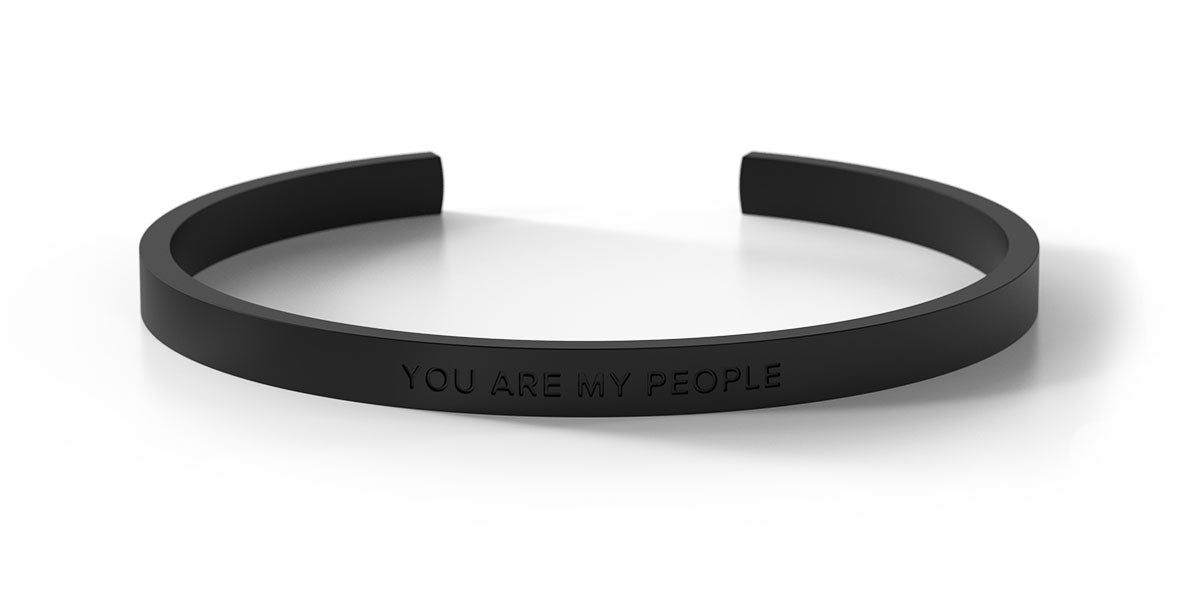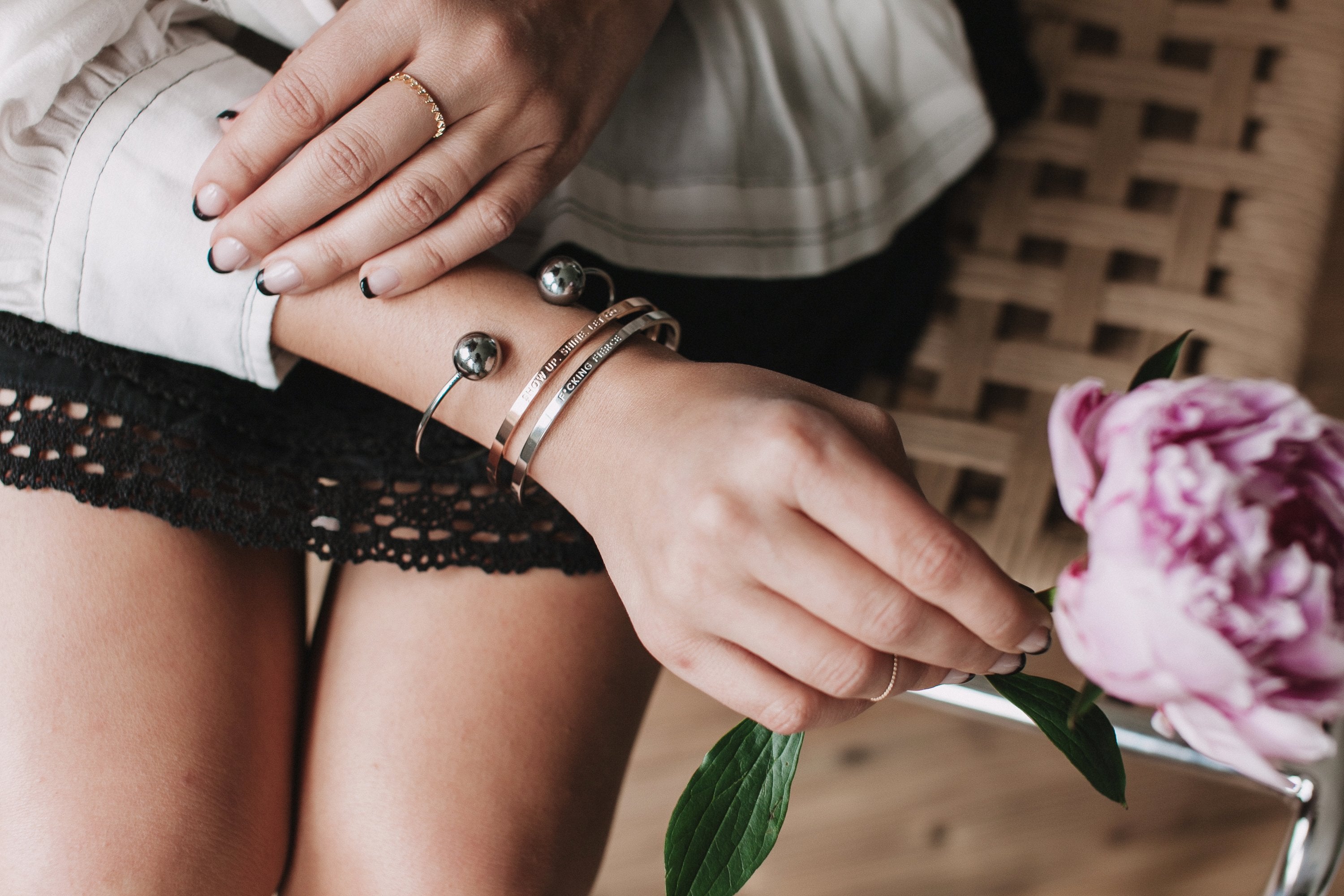 You Are My People
You are my people - the perfect bangle for your best friends, the one who'd help you bury a body, dance the night away, and be a shoulder to cry on. 
When did you realise you found your people?
For me, it was 5 years ago. It was 3am. It was in London on a study tour. It was our last night together and we went out to a pub to celebrate. Within two weeks, people I had barely known were now the best people in my life. They became my people.
I went on this study tour on the back of a break up that left me broke, broken and without a sense of identity. I'd been with this person since high school and shaped myself around them to fit. I didn't really have any friends that weren't his friends. 
So to find myself in a group of people who liked the things I liked (history, old buildings and Shakespeare - it was a Shakespeare tour), and who happily offered a shoulder on the hard days, even when they didn't really know me that well. It was freeing. For the first time in a long time, I felt myself turning into the person I actually wanted to be, and not being shaped by someone else's desires and needs.
On our final night, we had so much fun dancing and celebrating that we forgot that buses had a closing time. All 20 of us rushed to the nearest bus stop, still dancing and singing. In less than 24 hours, we'd each go to separate parts of the world, and maybe never see each other again. But at that moment, it didn't matter. We'd each been changed by our experiences and friendship over the past two weeks. We'd laughed together, cried together, drank too much cider together, and made memories that would last a lifetime.
These people will forever be my people, no matter the distance or time that separates us.
 

Orders dispatched Monday, Wednesday & Friday mornings Melbourne time.

We offer Free Shipping (2 - 5 business days delivery) for all Australian jewellery orders! 

Orders including Clothing are flat rate $10 Australia wide.

You can upgrade to Express Post (2 - 4 days business days delivery) for just $10!

Internationally:
It takes 3 - 5 weeks to be delivered, and you can track your order through Australia Post. Shipping starts at $15.

If a product has been indicated as ** PRE-ORDER ** this means it's not in stock (yet). Usually these will be sent in 4 - 5 weeks from order. However, please refer to the product page for the exact details.

If you have ordered a Custom Bangle, these are made to order and will take around 7 -10 days to arrive 

Returns & Exchanges

Our bangles are designed to make you feel happy, empowered and freakin' awesome - so if there is a problem, we gotta fix it!

If you've accidentally ordered the wrong size or are not happy with your bangle, we'll be happy refund you, and then you can order the correct one! For more details you can read our returns & exchanges policy.
Product details

Our bangles are made with love from high quality stainless steel. They are 100% hypoallergenic, and nickel & lead free.

Size & Fit

If you're not sure what size to choose please use our sizing chart to help you find your way. You'll need to measure the widest part of your hand / knuckle circumference, while your hand is mooshed. (And yes, mooshed is a word). 

If you're still totally stuck, we recommend that you purchase a regular size bangle. We do offer exchanges if it doesn't fit!

Clasp bangles

Thinking of getting one of our clasp style bangles? Great! The clasp style bangle  eliminates the need for you to base your sizing on your hand. It can be stretched out to fit over wrists instead, woo! It's a regular size (63.7mm) when closed. 

The clasp fits around 80% of people so it is perfect for gifting!


Bangle not available in your size or preferred colour? Consider ordering it as a Custom Bangle!
Choose options